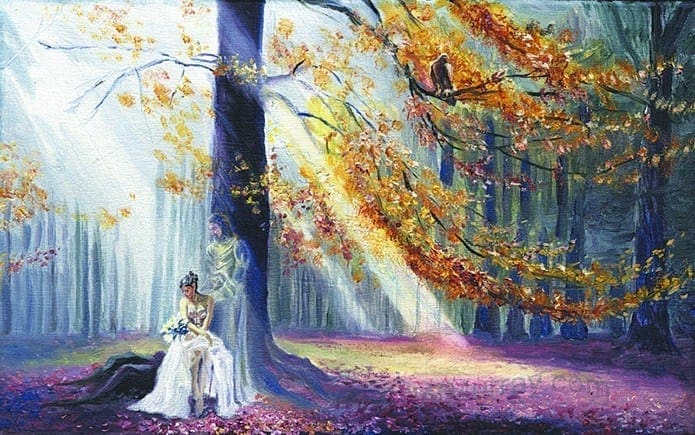 By LORRAINE V. MURRAY, Commentary
|

Published September 17, 2015

As a child, I sometimes pictured God as a sugar daddy in the sky who would reward me when I was good. Obviously sometimes that worked out, but when he failed to give me, say, the puppy I dearly desired, I felt crushed.

I'll admit I sometimes fall back on that immature image of God as someone who doles out goodies to the nice folks and withholds them from the bad guys. This concept, though, is so shaky that when some catastrophe befalls you, odds are good you'll walk away from God forever.

As my readers know, a catastrophe did befall me when my husband, Jef, died of a heart attack while taking his everyday walk.

Since then, something strange has happened—and I don't mean the deepening day-by-day descent into a grief so wrenching it becomes impossible to answer the simple question, "How are you?"

Nor do I mean the loneliness in an empty house that screams out that the center of your life is gone forever. Nor the moments when you're in a crowd of happy people and all you can think about is getting home so you can cry.

Something else has happened, something mysterious and moving, something mystical and magical—and it reminds me of my past. Fifteen years ago, after surgery for breast cancer, I came home from the hospital and fell into a heavy sleep—expecting to awaken the next morning in pain.

Instead I surprised myself by greeting the dawn refreshed—with no need of painkillers—and heading down to the garden in search of roses. At that time hundreds of people were praying for me—a hidden benefit of being a newspaper writer—and I felt strongly that these petitions were helping me heal.

I feel this same mysterious sensation now, as I amaze myself by getting through another hour, another day—by tapping into the energy of other people's prayers.

Prayers don't stem my tide of tears, nor do they dull the agonizing realization that I will never again see the man I love with all my heart—at least not on this earth.

But prayers have spurred me to accomplish monumental tasks like unearthing the keys to his motor scooter and office, figuring out the passwords to his computers and balancing his checkbook.

Even more astonishing perhaps, I now can prepare a simple supper—stir-fry beef, roasted asparagus and toast—without burning the house down. You see, he was the chief cook in our home, while I was the cleanup crew. Now the chef's hat has been handed to me, and I must bravely step up to the plate—and the bowl as well.

The relatives have left, so each day I awaken alone, which is not so bad because he worked mornings—and was often gone before I started my day. But I no longer find oatmeal waiting for me on the stove and hot coffee in the pot.

Sometimes I spend time in my beloved's art studio, staring at a stirring scene that shows the figure of a man—clearly a spirit—standing protectively behind a woman who sits beneath a tree. When Jef first created this painting, I was deeply drawn to it—with no inkling that my reaction was a foretaste of things to come.

As the afternoon hits, I realize he isn't returning home, and I busy myself getting through the hours until evening. Friends have rallied with supper invitations and visits—and kind neighbors have dropped off chocolates and homemade pastries.

I mustered up the courage to make an appointment with a counselor, ignoring the voice of my frugal self who yammered on about money issues—and instead imagining my husband advising, "Go ahead and get all the help you can."

Prayers from readers, friends and relatives have become my daily bread, the one thing essential for living. They have sated my hunger and quenched my thirst as I weep with Christ in the garden.

Obviously God doesn't always give us what we beg for, nor does life turn out as we might have hoped—but I believe the Lord heeds the fervent pleas from people who love us.

I count my sweetheart among this group, someone who is still standing near me and watching over me while sending up his petitions in some golden and glorious realm.
---
Artwork by Jef Murray. Lorraine's email is lorrainevmurray@yahoo.com.