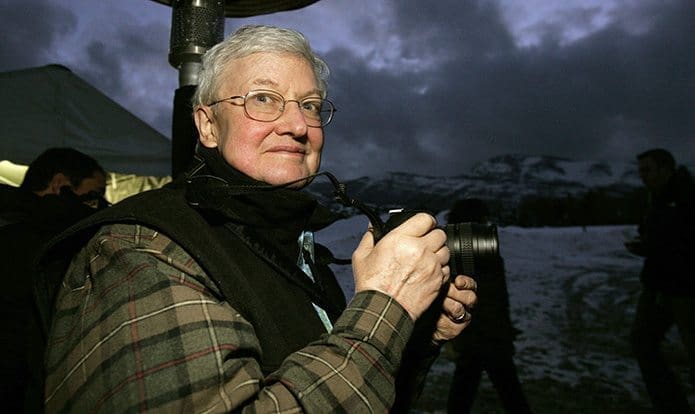 By DAVID A. KING, Ph.D., Commentary
|

Published December 23, 2014

His face, in the months before his death, some might have called grotesque, fitted as it was with a prosthetic jaw and fixed with what appeared to be an artificial clownish smile.

For others who knew him, if only through his work, that face was beautiful. It affirmed not only life, but life lived according to purpose, to what the Church calls vocation.

For the man himself, who always questioned, who always considered an issue with empathy and intelligence, the face probably presented yet another puzzle, another work to be carefully considered and evaluated.

However one views the face of the great film critic Roger Ebert, who died of cancer last year at age 70, one thing is certain: though cancer stole his face and took his speech, it could never silence his voice. Until his death on April 4, 2013, Roger Ebert was still writing about the movies; more importantly, he was writing about why the movies matter to life.

You see, Roger Ebert was a Catholic. He was a struggling Catholic, but he was a Catholic nonetheless, and he knew that all things in life—visible and invisible, known and unknown—have a purpose. Further, he used his gift for writing about the one thing he knew best, the movies, as a means to communicate with other people what it means to be fully human. As he wrote in an eloquent defense of how the movies unite us through collective memory, "We live in a box of space and time. Movies are windows in its walls."

There was much more to the man than the face! And there was more to his work than "movie reviews" or "two thumbs up." Roger Ebert left a legacy unique among those who chronicle and critique contemporary culture, and at Christmas, when movie attendance soars, his voice is sorely missed among the chatter and clutter of what constitutes discourse.

Roger Ebert was born in 1942 in Urbana, Illinois, and was raised by a Catholic mother and a non-practicing Lutheran father. He attended St. Mary's school and served as an altar boy, experiences which shaped his worldview and which he remembered with sincere affection throughout his life. Indeed, in the time before his death, Ebert wrote often about his Roman Catholic childhood, and his essay "Mary We Crown Thee with Blossoms Today" is an evocative and genuine tribute to his Catholic faith formation.

Ebert was a bright boy, and in high school and college he showed promise as a writer. He planned to become a professor, an academic, and though he maintained an affinity for colleges and universities throughout his life, he could not afford the cost of the Ph.D. program at the University of Chicago. In 1967, shortly after he began his doctoral studies, he took a job as a film critic at the Chicago Sun Times, meaning only to cover his tuition. He left the university. He never left the paper.

Ebert was meant to be a film critic, and he blossomed in the role, transforming what had generally been a pragmatic consumer guide column into works of insight, intelligence and beauty in their own right. Following the lead of earlier critics such as James Agee, who understood film as an art form, and recognizing the cultural importance of the work of younger critics such as Pauline Kael and Andrew Sarris, Ebert quickly became an important voice in the new American cinema of the 1960s and 1970s. Kael even called him the finest film critic in American newspapers.

Yet though his work would eventually be syndicated in over 200 newspapers around the world, Ebert didn't just write a film column. He became a national celebrity when he teamed with Chicago Tribune film critic Gene Siskel for the popular television shows "Sneak Previews" and "At the Movies," and his on-air persona became iconic. Owl-eyed in wire-rimmed glasses and clad almost always in a sweater vest, the chubby Ebert seemed older and wiser than his years. He was like a beloved college professor, who while making you laugh also made you think. He was articulate and smart and the chemistry he shared with Siskel was brilliant. The show was a smash, and millions of people planned their weekend movie-going around the pair's opinions. The phrase "two thumbs up," which was granted only to films both Siskel and Ebert liked, entered the national language and was eventually trademarked. In a short time, a movie without the "two thumbs up" endorsement was almost doomed to a poor opening weekend.

After Siskel's death in 1999, Ebert found a new partner in Richard Roeper, and the show remained a success. Yet his work with Gene Siskel had given Ebert an audience far beyond the Chicago newspaper. His annual movie guides were an inextricable part of the booming home video phenomenon. He lectured and taught courses on college campuses. He hosted conferences and film festivals, many of which became fixtures still conducted today. He wrote over 20 books, among them indispensable contributions to the growing canon of film, including his essential "The Great Movies" series, his lovingly edited "Roger Ebert's Book of Film," and the invaluable guide to fellow misunderstood Catholic Martin Scorsese "Scorsese by Ebert." When the Internet arrived, Ebert was one of the first to understand its importance, and his blog was one of the early highlights of a World Wide Web saturated with ignorance and confusion.

Honors accompanied the growing body of work. In 1975, Ebert had been the first film critic to win a Pulitzer Prize. He was named a member of the National Society of Film Critics and appointed as a Sight and Sound Poll contributor. He was the first film critic to be given a star on the infamous Hollywood Walk of Fame. Most importantly, he was named an honorary member of the Directors Guild of America.

In 2002, Ebert was diagnosed with cancer of the thyroid and the salivary glands. He suffered for 11 years, and those years of intense and even humiliating suffering—coupled with his Catholicism—accomplished something remarkable: they made Ebert's work better than it had ever been before.

Ebert had always exhibited a true gift in his film criticism. He was, first of all, a fine writer. In fact, many academics and "serious" critics often snubbed Ebert as being "too easy." Yet while these critics were writing convoluted sentences and embracing often ridiculous and pretentious theory, Ebert was writing clear English prose that appealed to readers' intelligence and emotions and that never assumed superiority over the audience. Further, Ebert loved movies. His passion for film and his knowledge of film history were engaging and comprehensive. Ebert wasn't just reviewing films; he was teaching, and to be a regular reader of his work was to be his student.

Readers of Ebert had long been aware of his Catholic identity, for he frequently addressed his personal life in his writing. They knew that he had been to Catholic school, that he had considered the priesthood, that he had loved the Latin Mass of his youth, and that his Catholicism had shaped his understanding of the world and his place in it. They knew that Ebert was quick to defend the faith from movies that undermined or insulted it. They knew he didn't suffer fools, particularly when it came to matters related to the Catholic Church. They knew that he advocated greater accessibility to films from other countries and cultures, and that he was a staunch supporter of quality films for children. And they knew that Ebert was quick to deplore any film that was morally repugnant, that he saw art and faith as almost inseparable.

Ebert's readers also knew that he thought for himself, that he had struggled to reconcile his conscience with Church teaching, that he questioned his faith. As the Internet grew, he was labeled by turns an agnostic, a secular humanist, an outright atheist. In fact, he was just thinking, and he was humble enough to share, honestly, his deepest thoughts with his readers.

In an essay about his Catholicism, Ebert proclaimed "I consider myself Catholic—lock, stock, and barrel," but the same essay announced the existence of his doubt, a doubt he had harbored since childhood when he lay awake at night, using reason alone to prove for himself the existence of God. "Roger," a nun said to him when he confided in her, "pray for faith."

As his illness worsened, and Ebert lost his speech, he continued to write. Others spoke for him, reading from statements he had prepared. For a time he used simulated vocal technology, similar to that used by Stephen Hawking.

Ebert never really disappeared from view. In addition to his writing, he made public appearances, and while some were shocked at his face, others recognized his acceptance of suffering as testament to what deep in his heart he believed.

Of death, Ebert said, "I know it is coming, and I do not fear it . . . I was perfectly content before I was born, and I think of death as the same state."

At his funeral Mass in Chicago's Holy Name Cathedral, the celebrant imagined the angels singing a chorus of "two thumbs up."

I like to think that maybe they just watched a movie instead.
---
David A. King, Ph.D., is an associate professor of English and film studies at Kennesaw State University and an adjunct faculty member at Spring Hill College, Atlanta. He is also the director of adult education at Holy Spirit Church, Atlanta.