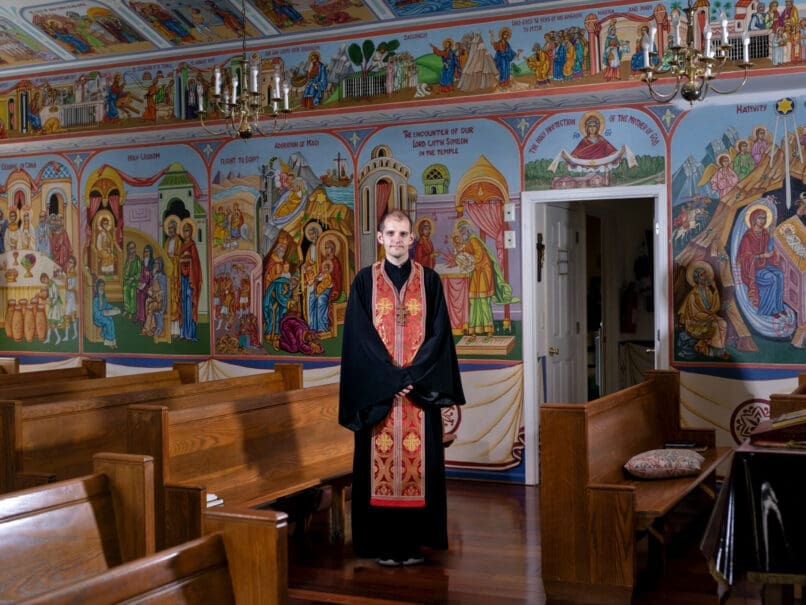 By ANDREW NELSON, Staff Writer
|

Published November 16, 2023

CONYERS—Thousands of miles from home and concerned for family living through wartime conditions, Mariana Liabyha, 32, found a place of peace at Mother of God Ukrainian Catholic Church.   

"For me, it's a piece of Ukraine here," said Liabyha about her church family.  

She and her husband arrived in the United States in September 2022 from their native country. Liabyha, switching between English and Ukrainian, said at the parish she connects with people who share her language, culture and deep concerns about their country suffering through a war almost two years old.   

"It's like a family. We worry about everyone," she said. If someone has been absent for a while, phone calls are made to check in.  

In October 1998, this church east of Atlanta was dedicated to serve the region's Ukrainian immigrant community. There are about 200 members of the church, with more than half with roots in Ukraine.  

It is a member of the Eparchy of St. Josaphat, located in Parma, Ohio. The Ukrainian Catholic Church is the largest of the Byzantine Eastern Catholic Churches. Its ancient faith is celebrated with elaborate rituals, with Pope Francis holding the highest religious authority. Another Ukrainian Catholic Church is in Augusta.  

Father Volodymyr Petrytsya has led the community since 2015.  

The 25th anniversary marks the church as a building, but what is important is celebrating people's continuing desire to worship in this special place, he said in an email. "I hope it means for (the church members) confidence our Lord blesses our community and gives us strength to overcome any hardships that we can face as a community," he wrote.  

Ukrainian pride is on display. In the parish hall, a yellow and blue national flag is hung, signed by members of the Ukrainian armed forces. Some 15,268 residents of Georgia trace their roots to the Eastern European country, according to the 2019 American Community Survey. And just under 12,000 call the Atlanta region home. 
A place to be together 
A sense of being at home is at the heart of the community at the small, icon-rich Mother of God Ukrainian Catholic Church. Divine Liturgy is split between English and Ukrainian languages. The two communities come together during special holy days and community events.  
Father Volodymyr said the parish is made up of people who are coming not just to enjoy religious services but also to search for God in their lives. It reminds him of a big family; everybody is looking forward to praying and spending time together, he said.  
Judith and Michael O'Connor mingled with parishioners after English Divine Liturgy, as they've done almost every Sunday since it opened its doors. Though raised Roman Catholic, the couple felt a spiritual kinship to the tight-knit community and its rituals.  
For him, this congregation is a reminder of the universality of the church and how believers span traditions of worship and languages.  
"It's a very good opportunity for Latin Rite Catholics to become familiar with and appreciate there are a number of churches within the big Catholic family that are very beautiful and offer a view of the universal church," said O'Connor.  
After the 10 a.m., Ukranian Mass, the scene repeated itself, but Ukranian replaced English in conversations around the tables. Youngsters took over the refurbished playground while at the long tables, men sat with men and women sat with women for a hearty potluck meal of Ukrainian and American foods.  
Many of its Ukrainian members, living in northern Atlanta suburbs, might drive for more than an hour to get there. 
With such a distance, the parish becomes an all-day hub of activity. Youngsters celebrate milestones, like the birthday of Liabyha's son. People here share things like navigating immigration and other aspects of American life.  
"I feel better. I feel more calm. I like to come here," said Liabyha. She said she attended church back home but was not as intentional about it. It feels different being in a tight-knit community, she said.  
While the Ukrainian service catered to immigrants like Liabyha, the English service drew Americans looking for something different in their worship.  
Michael O'Connor appreciates the communal nature of worship. 
 "What is appealing to me is the frequent call for God's mercy," he said. "I like the reverence and the different way the congregation is involved with the celebrant, the (chants) back and forth."