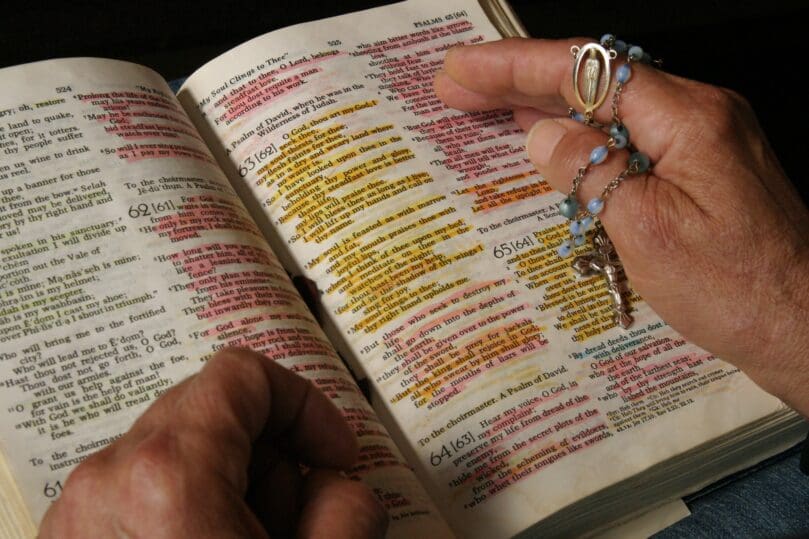 By ALEX BROWN, Special to the Bulletin
|

Published October 8, 2023

ATLANTA–Knowing the stories, the history, the lived experience of someone invites you to know them personally, deeply and intimately.  

God, in the Scriptures entrusted to our church, reveals himself to us each time we read or listen to them. Each time we go to Mass, we encounter Jesus in the Liturgy of the Word.  

"When the Sacred Scriptures are read in the Church, God himself speaks to his people, and Christ, present in his word, proclaims the Gospel" says the General Instruction for the Roman Missal. The duty of lectors—those who proclaim the word of God at the ambo—then, is to help us "listen reverently" that we may "may conceive in (our) hearts a sweet and living affection for Sacred Scripture."   

Four lectors, who have inspired many by their gift of sharing the events, parables, truths and allegories of the faith, reflected on their commitments.  

Each one shares a love of Christ and a joy in their ministry and yet their stories and style vary in beautiful, God-given differences.  

Tina Guyden, from Sts. Peter and Paul Church in Decatur, has been a lector since she was young and read at her own confirmation, cultivating her love ever since. She prepares for reading about a week in advance "that it may be living and breathing with the Holy Spirit, led by Him." 

"You just have to go with it—so it is familiar but not rote," she said. "Holy Spirit, this is yours—you have chosen me to be a vessel."  

Guyden sees the experience as evangelization and acknowledges it as a huge responsibility. She challenges others, saying for many, Mass is a passive experience with complaints about not getting anything out of it.  

"Spending time with the readings is a part that we all have access to—there has never been a time when I did not get some insight" no matter the other elements of the celebration.  

Her delight in this favorite ministry welcomed me—I now have a renewed desire to spend time with the Word before every Sunday.  
A 
yearning to serve
Some only more recently heard the call with a yearning to serve. Henry Mendez had read for two years in Guatemala before serving another year at Immaculate Heart of Mary Church in Atlanta. He says God recognized the desire he already had and then provided the opportunity.  
Mendez asked about being a lector after joining the choir for Christmas and learned of an upcoming training session. He says his biggest blessing from it has been the increase in his personal journey. "Before, I didn't really have a sense of a faith life—I didn't really understand what the Eucharist was—but now, I know the value and significance of the Body and Blood of Christ," he said.  
He too feels a great responsibility and wants to project it to others and live his faith "more centrally and closer to Christ." 
Another lector who has a longer history and brings his own talents amid trials is Bob Diebold. He has been blind since birth, yet he brings his skills working in radio and his use of assistive technologies to proclaim the word frequently at his home parish, St. Thomas More Church in Decatur. He first read in 1982 helping with the Knights of Columbus at Saturday morning Masses and continued, including at the ordination of Father Neil Herlihy.  
Diebold says he uses every pause, period, comma, semicolon to emphasize the words he delivers from the ambo. He visualizes himself as Paul writing to the Romans, or Jeremiah as he says, "I've been duped," truly entering their mindset. Diebold especially likes the Palm Sunday Passion narrative when he helps paint the scene for the congregation.  
He only uses one hand to read (most Braille readers use two) and accesses resources from the Xavier Society for the Blind, a Jesuit community based in New York. Diebold also uses his electronic BrailleSense 6, which has a bible application, and recently had to rely on another parishioner to connect to the internet to use it before Mass.  
"I'm not doing it for myself but for others, and I am not in a rush at the end before I say 'the Word of the Lord.' I image how Jesus would say it," he shared. 
It is those words given by Christ himself which fuel all of the lectors.  
Amanda Mushill first read from the book of Revelation when she was in first grade and had to use a stool and has been "hooked ever since." 
"Then I saw an angel come down from heaven, holding in his hand the key to the abyss," she said from memory. 
Having started so young, she is an advocate for younger voices and works to train little ones as well as adults at her home parish, St. Thomas More. Mushill looks for passion from the person before technical skill in public speaking. Anyone with that desire can volunteer.  
Mushill herself struggles with migraines that can hit in the middle of her service—"but it's OK, because not only does God have me in his hands, but the people I'm in front of have me embraced in their hearts as well, even if I stutter."  
That said, she prepares every week in case the need arises. Mushill also steps in to fill a variety of liturgical needs as an Extraordinary Minister or usher.  
"I want to share the voice of the reading—what emotions are conveyed by the words," she said. "The whisper where Elijah finally hears God needs to come across delicately after the boom of the earthquake." (1 Kings 19) 
She conveys the nuance when the Scriptures are repetitive and considers how to help capture the congregation in the moment.  
"My God is a God of mercy, my God is a God of mercy, my God is a God of mercy," she offered, placing emphasis on different words to contemplate the passage. 
These Atlanta lectors emphasized willingness over skill, preparation before Mass, looking at the whole context of the passage and placing themselves in the scene.  
Above all, if called to the lector ministry, be who God wants with your unique voice and take a leap of faith to serve. You could join in to be this light of our parish life. 
---
Editor's Note: Light of Our Parish Life will be a continuing series on the ways laypeople are bringing Christ to others in the Archdiocese of Atlanta.