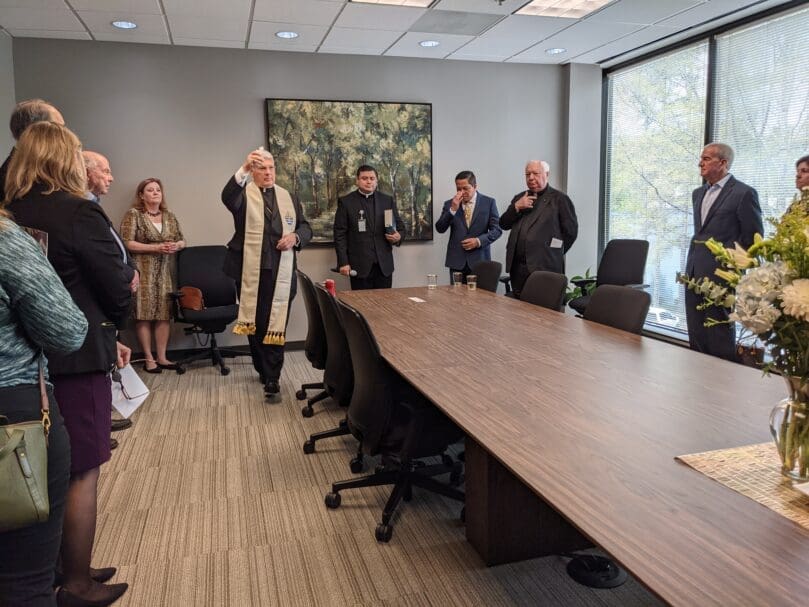 By NICHOLE GOLDEN, Editor
|

Published May 15, 2023

ATLANTA—In its fight against poverty, NETWorks Cooperative Ministry found an important ally in the Catholic Foundation of North Georgia.  

During the COVID-19 pandemic, the Catholic Foundation extended a helping hand to NETWorks and more than 30 other food and emergency assistance providers struggling to serve a growing number of people in need. 

In 2020, the foundation seeded the Catholic Emergency Relief Fund and donors helped the fund grow. The following year, the foundation presented $242,000 in emergency response fund grants to non-profits on the frontlines. 

"It was timely," said NETWorks Executive Director David Fisher about the emergency grant. "Anybody that came to our door, we would help. We were buying more and more food." 

The increased need for food coupled with supply chain issues challenged the Tucker-based ministry's work. "We kind of had a double whammy," said Fisher. 

With the grant money and a lot of creativity in shopping, the nonprofit was able to keep its parking lot food pantry distribution going. "We didn't miss a single day of service," said Fisher. 

NETWorks, founded by Holy Cross and several other area churches, had previously received competitive spring cycle grants from the Catholic Foundation.  

"They are very easy to work with," he said.  

Fisher, himself a lifelong Catholic, said the foundation's work is "so in tune with Catholic social justice," and its work reflects "everyone is our neighbor." 
Celebrating 30 years
The Catholic Foundation of North Georgia is marking its 30th anniversary. Founded in 1992 by Archbishop James P. Lyke and Msgr. Edward Dillon, its first focus was awarding grants to archdiocesan schools, parishes and nonprofits. Archbishop Wilton D. Gregory and a new foundation board of directors expanded its scope in 2008 beyond grants to include endowments for Catholic organizations and gift-planning services for donors to make lasting impacts. 
Msgr. Dillon served on the foundation's board for 20 years. He was honored this year with the renaming of the original fund for grants and general purposes to the "Reverend Monsignor Edward J. Dillon Fund." 
The foundation has seen remarkable growth in its three decades. Nancy Coveny, foundation director, indicated that as of March 31, it had $115 million in total assets and 421 total funds from scholarships to endowments and donor-advised funds. 
Coveny, who has led the foundation for 15 years, said she considers the work a ministry.  
"It's very rewarding," she said. 
The staff helps donors "figure out their own Catholic legacy," said Coveny. "It's important for them to know, we're here to serve them." 
In planning for giving, the foundation does not take the place of an attorney or an accountant.  
"We're a partner," said Coveny. It's about how to "perpetuate your giving." 
Education and resources are available through the foundation including the Professional Advisors Network, webinars and an annual Investment Forum.  
The Catholic Foundation Professional Advisors Network brings together estate planning attorneys, accountants, financial planners, wealth managers and insurance advisors to promote collaboration, education and leadership in giving among their Catholic clients.  
"We also have other educational opportunities," said Coveny.  
Another resource is the foundation's investment policy to guide the planning and investing process in accordance with Catholic values.  
Parish Endowment Sunday approaching
As the 30th anniversary year draws to a close, Archbishop Gregory J. Hartmayer, OFM Conv., has approved the third Sunday in May (May 20-21) as Parish Endowment Sunday.  
The Catholic Foundation encourages parishioners across the archdiocese to explore giving to their parish endowment funds.  
In 2012, the estate of Joseph Mitchell, nephew of "Gone With the Wind" author Margaret Mitchell, left a substantial gift to the Archdiocese of Atlanta. Then-Archbishop Gregory in turn asked the Catholic Foundation to create an endowment fund for each parish, mission and school of the archdiocese with a $10,000 gift apiece from the Mitchell estate, totaling more than $1 million. 
Parish endowments are intended to last forever. Gifts to the funds are protected and not spent, and as the investment grows over time, the earnings can be used by parishes to meet needs ranging from new carpet to ministry support or programs for youth. Coveny reminds that one doesn't have to have great wealth to be able to make a difference. A donation of a few dollars, combined with the contributions of others, can make a lasting difference. 
The foundation offers a toolkit for parishes in English and Spanish to help prepare for Parish Endowment Sunday. 
Archbishop Hartmayer joined guests at an open house March 28 to celebrate renovations to the Catholic Foundation offices that will enable the staff to better work and to grow. He offered a prayer and blessed the updated office space. 
Last July, the foundation issued 30 parish enrichment grants instead of the traditional 10 in celebration of its anniversary, and on Aug. 1, the foundation will begin its next competitive grant cycle for nonprofits, ministries, Catholic Centers and parishes. Applications are due Aug. 31 at 5 p.m.  
The parish community of St. Bernadette in Cedartown most recently benefited from three grants funding a youth camp for confirmation and liturgical items including a Spanish-language Roman Missal. The parish was also able to purchase a ladder, mailbox and a printer for its religious education program.  
There are always many needs in any parish community, noted St. Bernadette's pastor, Father Tim Gallagher. 
"With our demographics the collection is not always able to meet them so often we go without or just make do," said Father Gallagher. "The Catholic Foundation of North Georgia has helped a lot to make up the difference between our needs and the means of meeting them over the past several years." 
He called the foundation's support a blessing. 
"You get a sense that someone really does care and wants to help support your mission of growing our Catholic community," he said. "We feel very fortunate here at the parish that they entrust their funds to us to be used for good, for God and his people"