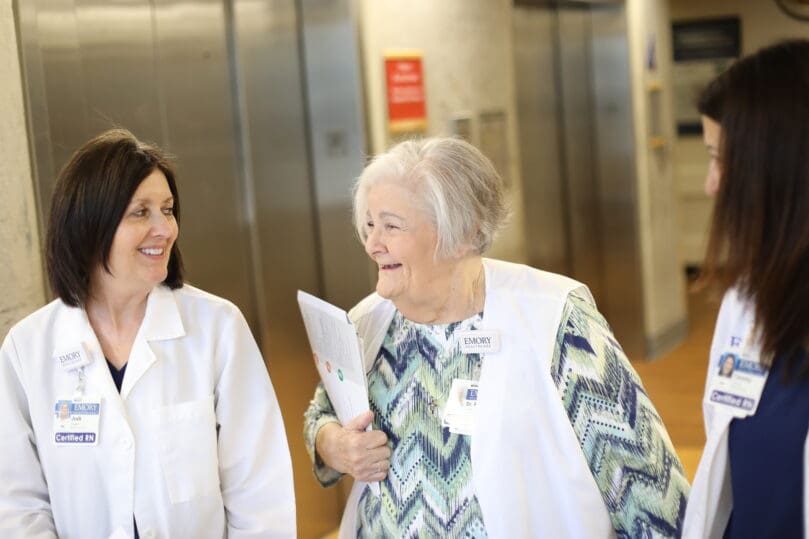 By ANDREW NELSON, Staff Writer
|

Published April 27, 2023

ATLANTA—Sister Peggy Fannon is the only Sister of Mercy walking the halls and visiting the patients of Emory Saint Joseph's Hospital, Atlanta's oldest hospital. 

It is a different environment from years past when each floor would have a sister nurse, caring for patients, their physical, emotional and spiritual needs.  

With a laugh, she shared a story about how she once overheard a patient being pushed down a hallway, asking if there are really religious sisters still working in the hospital, to which she volunteered that she is the one.  

Admirers celebrated her at a recent ceremony as the "heart of Saint Joseph" where "thousands and thousands" of patients have benefited from her five decades of nursing. She has cared for children suffering through burn treatments to seniors getting back on their feet after open heart surgeries.   

At 76 and still sitting at the bedside of patients three days a week, Sister Peggy educates patients on improving their quality of life, from controlling diabetes to caring for themselves after heart surgery. 

As she considers retirement, Sister Peggy admits she shows up in part because there are no other women from her community at the hospital but mostly it's her love of helping others. She hopes her legacy will be one of compassion and that she will be remembered as a nurse who was focused on aiding her patients. 
From nursing school to Sister of Mercy Motherhouse
Sister Peggy grew up in Atlanta as one of eight children in a devoted Catholic family with a salesman father. After moving from Ohio, they settled in a home within walking distance of Our Lady of Assumption Church, where the Fannon children attended parochial school. Illness as a child put her in the hospital, which is where she fell in love with nursing 
In 1968, Fannon graduated from Saint Joseph's School of Nursing in downtown Atlanta. She spent the next dozen years working as a nurse, putting off the idea of religious life to care for her five younger siblings when her mother died four years after her father.  
Her interest in religious life was revived after attending a Cursillo weekend and working alongside the Sisters of Mercy at the hospital and seeing them around the parish and school. She moved to Baltimore to live in the community's motherhouse and continued her work as a nurse in a burn unit at Baltimore City Hospital. 
Sister Peggy made her vows as a Sister of Mercy in 1986 at her family's parish in Atlanta and returned to Saint Joseph Hospital, where she has served ever since. 
Britney Ginn, a charge nurse, is one of many nurses and doctors who rely on Sister Peggy.  
"She's the first person we go to. She loves to be a resource," said Ginn, who has worked at the hospital for seven years.  
Any question to Sister Peggy is happily answered, she said.  
Ginn, 29, called her colleague "the greatest human in the whole wide world."  
The religious sister is passionate about her work, and selfless with others, she said. 
Karen Cerny retired in 2021 from the hospital after 35 years as a nurse. She remains in touch with Sister Peggy, who taught her daughter to dive off a boat during a weekend getaway to Lake Hartwell. 
"She's one of the most generous people I know. Patients are her priority," said Cerny, 67. "She sees the positives of people and the situation."  
A rich heritage
Atlanta's first hospital was opened by the Sisters of Mercy in 1880. It was four sisters from Savannah who founded Saint Joseph's Hospital.   
She will eventually leave a void at the hospital as the last Sister of Mercy on staff. Ginn said Sister Peggy focuses on people's concerns, along with what she brings to the hospital institutionally.  
"(Sister Peggy) brings us back to reason we do it," she said.  
For Cerny, Sister Peggy is part of the history that makes the hospital special.  
"She preserves the heritage. It's easy to get lost," said Cerny.   
Sister Peggy's efforts include shepherding the monthly Sister Catherine McAuley Award, given to an exemplary employee nominated by their peers. Sister McAuley is the Irish founder of the order, which was originally a teaching order.   
Patients first meet her when she introduces herself as Sister Peggy as she talks with them about managing diabetes.  
A necklace with a Mercy cross is the only signal she is a religious sister. That can open people up to conversations and prayers. At times, once her education on controlling the disease is done, she'll share a prayer, if asked. 
"I'll take their hand and say a prayer with them, and sometimes then they'll say a prayer, too." 
She told how the wife of one patient tracked Sister Peggy down. The woman told how her husband had joined the church at Easter and credited Sister Peggy.  
She said those conversations with him weren't about faith, because her focus is helping people maintain their health. But it was just consistency, compassion and whatever else he saw that led him to explore the faith, she said.  
In 2020, for a few months, she stayed at home in response to COVID-19, checking on patients over the phone. While it kept her safe, Sister Peggy really wanted to be with people.  
Like others during those months, she adapted to online, virtual meetings with her religious community and longed to receive the Eucharist. She returned to hospital duties from her COVID lockdown as soon as administrators gave her the choice.  
"Well, I'm a nurse, and this is what a nurse does, and I wanted to be a nurse from the time I was 4 years old," she said. 
The art of nursing
With her decades of experience, Sister Peggy is quick to note the advances in medicine.  
However, the art of nursing should never be lost. For her, it means being aware of "small and simple" steps that can help a patient. For Sister Peggy, one simple step is taking the time to measure a patient for compression stockings. If it's treated with care, that small step can speed a recovery and prevent a complication. 
Being a successful nurse is built on a foundation focused on patients, she said, which was reinforced at her downtown Atlanta nursing school. That comes from being "caring and compassionate, not afraid to cry with a patient," she offered. 
Sister Peggy said a good nurse is not afraid to be with families during the most profound times, facing terminal illness and death.  
"I've always felt that is a very special and sacred time to be with patients and their family," she said.