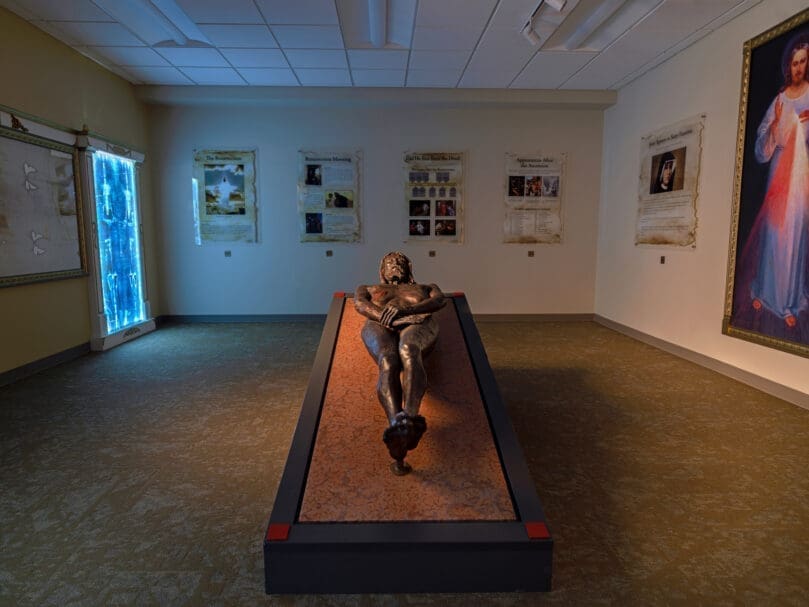 Published March 2, 2023
CUMMING—An exhibit examining the Shroud of Turin is expanding its collection, giving visitors another perspective on the mystery surrounding the burial cloth—a life-sized man.   
A bronze sculpture of Jesus as he was laid in the tomb helps visitors imagine the man whom the shroud wrapped.   
Since 2020, St. Brendan the Navigator Church has welcomed visitors to tour the free exhibit. In April, the parish is inviting the surrounding community to its campus for guided tours as part of a two-day public viewing.   
The intention behind the exhibit is that Easter Sunday is not the only day to pause and reflect on the Resurrection.  
Called "The Shroud of Turin: A Story of Hope," the exhibit's storyboards illustrate how the cloth is connected to Jesus. There is a chronological presentation of the 10 appearances of Jesus on Earth after the resurrection, 25 appearances from heaven since the Ascension and a replica of the Divine Mercy painting.  
The new bronze casting was designed by Italian artist Luigi Enzo Mattei, who created this for St. Brendan. The artist had produced four similar sculptures for exhibit in Jerusalem; Rome, Italy; Shreveport, Louisiana and Ann Arbor, Michigan. The mold for those sculptures was retired and given to Pope Francis. However, to complete the commission for St. Brendan, Mattei created an original mold, and this sculpture is currently the only one in the world.  
Prior to this sculpture, according to a news release, Mattei had produced 21 other corpus works. He believes St Brendan's "The Body of the Man in the Holy Shroud 2022" is his best work yet.  
The bronze statue is based on size and body dimensions taken directly from the shroud, including marks of whipping and crucifixion found on the cloth.  
"This sculpture is a dramatic bronze, 3D creation that shows the peace that was present at the moment of the Resurrection," said Legionaries of Christ priest, Father Matthew Van Smoorenburg, in a news release. He is the pastor of the church.   
The Catholic Church has not officially recognized the linen as the burial cloth of Christ, but Pope Francis and Pope Benedict XVI referred to it as an "icon" of Jesus, not a relic. Researchers remain divided on the date of the shroud, either that it was wrapped around Jesus during his burial or that it dates from the Middle Ages. 
On Feb. 18, Bishop John N. Tran blessed the exhibit, with more than a dozen parish supporters and benefactors attending.  
"The Shroud of Turin: A Story of Hope" exhibit draws a regular stream of visitors to the Cumming parish. School groups, senior citizens and other Christian groups make trips to see the program. It is free and open to the public from 8 a.m.-9 p.m. daily. It is located on the lower level of the main church building. The addition of the sculpture offers an additional way to experience hope through art.