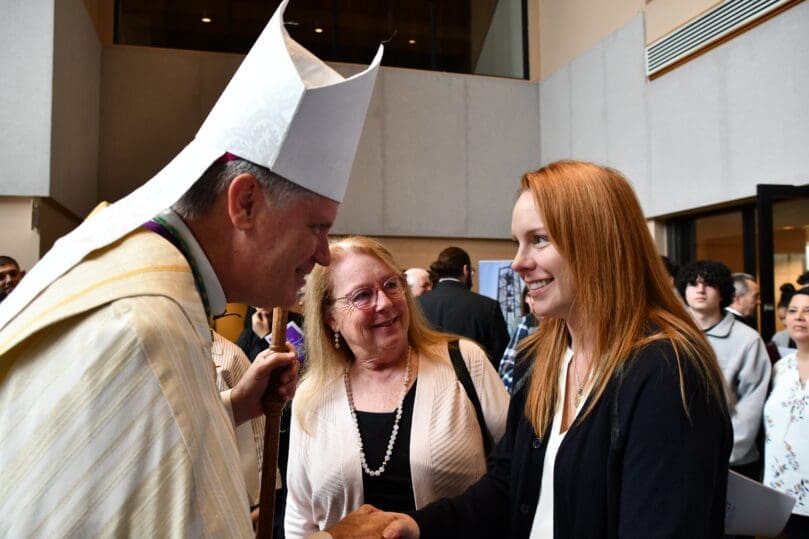 By ANDREW NELSON, Staff Writer
|

Published March 1, 2023

ATLANTA—On April 8, at Easter Vigil liturgies across the Archdiocese of Atlanta, 1,831 catechumens and candidates will receive the sacraments for the first time.  

More than 600 catechumens will be baptized.  

The catechumens declared their desire for the sacraments of initiation—baptism, confirmation and receiving the Eucharist—by signing their names in the Book of the Elect.  

These books from parishes and missions across the 69-county archdiocese were presented to Atlanta bishops at the Rites of Election. The ceremonies on the first weekend of Lent on Feb. 25 took place at Holy Vietnamese Martyrs Church, Norcross; St. Catherine of Siena Church, Kennesaw; and St. Philip Benizi Church, Jonesboro.  

Candidates are baptized believers who prepare to receive Eucharist and confirmation through the Rite of Christian Initiation for Adults. 

James Thompson was among the crowd at the Jonesboro parish. He credits Our Lady of Guadalupe for his entry into the church. Thompson attends Christ Our Hope and Savior Church in Greensboro, where he is one of two catechumens. 

The 22-year-old works in a plastic molding factory. On his right hand he wears a silver rosary ring he bought to encourage himself to pray.  

Faith was not a part of Thompson's life growing up. A former girlfriend introduced him to the 16th century apparition of the Virgin Mary, which sparked his attraction to the Catholic Church. Thompson said as he learned more about Our Lady, he grew fascinated with the church.  

The first time he attended Mass fueled his interest more.  

"I was like, I want to go back. I want to be there a little bit more," he said. "I just kept going every Sunday and eventually added in a couple of daily Masses and adoration, as well." 

For Thompson, as Easter comes closer, his enthusiasm builds. 

"I'm just overly excited for it because I know that on Holy Saturday I'll be baptized, confirmed, and I'll receive the Eucharist, which I'm very overjoyed about it," he said. 
In need of God's grace
At St. Philip Benizi Church, Bishop Bernard E. Shlesinger III greeted the future members of the church. With songs and Scripture in Spanish and English, a crowd from more than a dozen parishes participated in the Rite of Election. The names of the catechumens were read aloud from each parish Book of Elect and then Bishop Shlesinger touched the book and blessed it. 
During his homily, the bishop reminded the congregation they are embarking on a difficult journey to follow Jesus and pick up his cross. Their decision leading to Easter means they will have to rely on a strength greater than their own, he said.  
"We remember all that Jesus has done for us," said the bishop. "We can't do it alone. We need God's grace."  
Belief in Jesus can come with a cost, but the church is ready to accompany them as they embrace their new faith, he said.  
"All of us are on a journey together. But the devil is walking on the journey too. So is God, pursuing us," he assured the soon-to-be Catholics.  
It is God who leads the faithful to new life, with a plan for each person, and that means each person is called to be a saint, he shared.   
Sitting in the back of the church were two young adults joining the church from Emory University's Catholic Center. Robert Schmad, 22, grew up in southeast Washington with a "pop culture view" of Catholicism, but already a baptized Christian he is being received into the church as a candidate. 
Chiara Antonioli, 23, was raised on a 10-acre apple farm in Vermont. Belonging to an organized religious tradition was not part of her family life. Rather, there was a deep sense of caring for one another and a feeling of a loving God. As part of her journey, she wanted to discover the source of those warm and joy-filled moral principles.  
She spent last summer after graduating from college exploring faiths, but without committing to one. "I wanted to do what God wanted me to do," she said. A childhood friend studying in the seminary encouraged her to explore the Catholic community when she arrived at Emory University to pursue a master's degree at the Rollins School of Public Health.  
"Before I went to orientation, I went to church. I instantly felt super welcomed," said Antonioli. "I felt I didn't need to test out anymore."  
At that first campus Mass at Cannon Chapel, she was quickly introduced to another graduate student, and later joined the music ministry.  
She knows many of her Gen Z peers are disinterested in organized religion, but she said among her generation there remains a "yearning for God, community and love." Antonioli believes God has a plan for them, where some may return to faith or find another path, but she said her desire is to be baptized and receive the sacraments.   
Antonioli said the experience among the campus community felt as if God affirmed her decision.  
"He had a flock for me somewhere. And Jesus, the shepherd, was leading me to it," she said.   
Edger Caldra, 25, went through a rough patch as a teenager. For some reason unknown to him, random people kept giving him Bibles and saying they were praying for him as he worked as a server in a Mexican restaurant.  
"I keep getting all these Bibles and getting all my answers. I wanted to know Jesus and God more," said Caldra, who just started a job as an electrician.  
In his mind, it was inevitable that he would explore faith next. As part of his Lenten practice, he's reading the Gospel of St. John.  
He turned to St. Augustine of Hippo Church, a place where he had attended celebrations as a guest at baptisms and weddings. At the Covington parish, with its 220 families, he found a place where he could ask questions, not feel judged and learn, he said.  
"Once you start putting the pieces of the puzzle together and you start more reading the Word, (with) more understanding, everything starts clicking," he said. "You realize it's a beautiful journey."