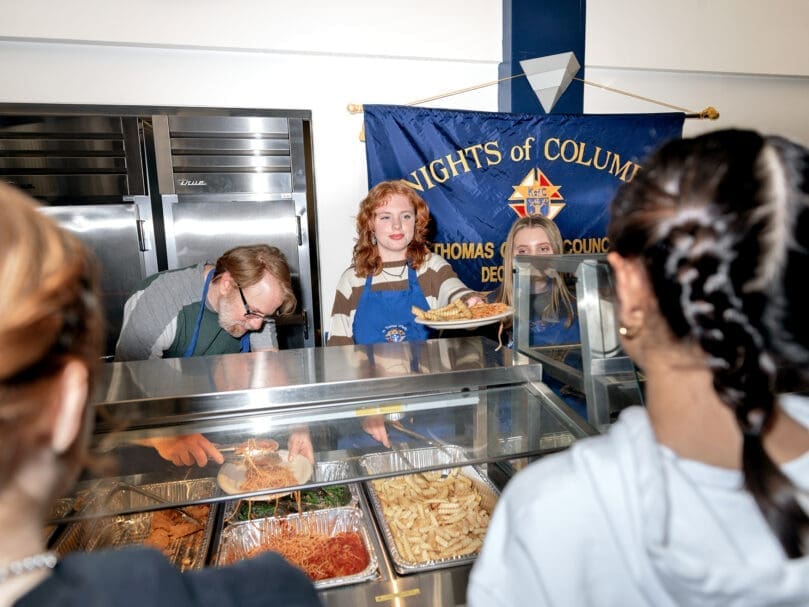 By ANDREW NELSON, Staff Writer
|

Published March 16, 2023

DECATUR—Community comes together at St. Thomas More Church, Decatur, on Fridays like it does at parishes around the Atlanta Archdiocese as hundreds and hundreds and hundreds of meals are served at traditional Lenten fish frys.  

Matt Hegarty, the leader of the St. Thomas More Knights of Columbus Council 4358, said members of the Knights put in long hours to benefit the parish and help local charities.  

"It's an atmosphere of family and friendship that is really special for the St. Thomas More community," he said.  

At St. John Vianney Church, Lithia Springs, dinners have been so popular, organizers scrambled to buy more fish.  

Ricardo Jones, the grand knight of Council 12580, said the initial goal was to sell some 120 plates of dinner. But as more people showed up, it wasn't enough. Last Friday, they sold about 189 meals.  

Jones credited the pastor, Father Jack Knight, for the idea of creating a restaurant atmosphere at the parish for the meals.  

The organization had planned to repeat last year's drive-thru only option, but the pastor suggested giving people the chance to sit, eat and meet each other, Jones said. The sit-down meal is more popular, as people from different Masses and languages share time together, he said.  

In Decatur, the week before St. Patrick's Day Irish dancers from Atlanta Irish Dance by Burke Connolly took to the stage in the school cafeteria to put on a show. It's one of the most well attended nights during Lent, Hegarty said.   

The effort received one of the highest compliments from a mother who was delighted how the fish fry gatherings are a place where her school-age children want to be on a Friday night, he said.  

Two dozen men roll up their sleeves in Decatur to start the set up at 4 p.m., which includes preparing the fish by hand and the other sides, with doors opening at 5:30 p.m. They finally turn the lights out at 10 p.m. They serve about 300 meals during a typical Friday. The last fish fry at the Decatur church is scheduled for March 24 with live music. 

Many parishes in the archdiocese make the traditional fish fry into a community fundraiser. At St. Thomas More, the council earns about $5,000 which is donated to local charities, a pro-life crisis pregnancy center, a shelter for victims of human trafficking and student scholarships for the parish school.  

At St. John Vianney, the Knights earn a few thousand dollars, which goes to support the Special Olympics, Habitat for Humanity and a ministry to build ramps to help people in wheelchairs, said Jones.