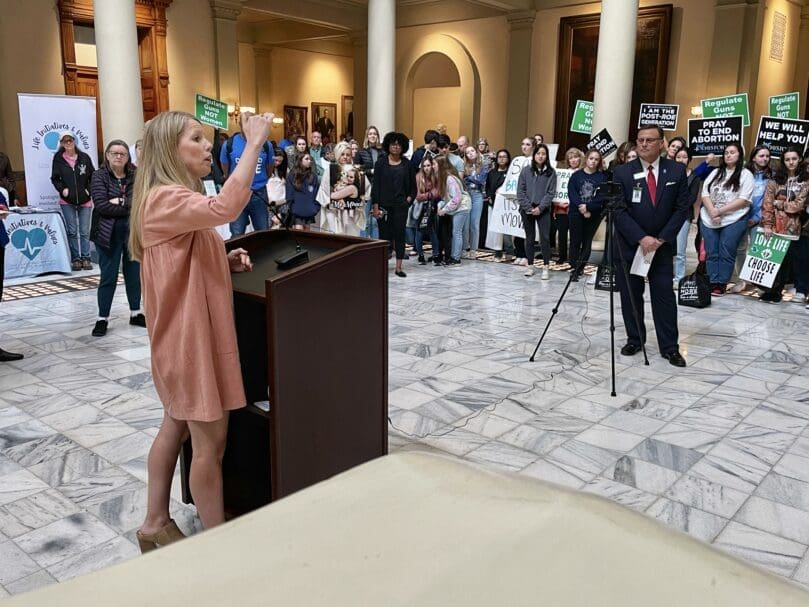 By ANDREW NELSON, Staff Writer
|

Published February 18, 2023

 ATLANTA—Scores of men and women came out in support of the Together for Life rally at the Georgia State Capitol.  

The midday rally on Feb. 9 was organized by nine civic and faith groups, including the Archdiocese of Atlanta, in opposition to abortion and to promote a culture of life. Organizers called it "Georgia's Largest Pro-Life Event." 

For two hours, in the South Wing of the state capitol building, speakers shared their experiences with aiding women recovering from abortions and their efforts to keep women from ending a pregnancy after the Supreme Court overturned its Roe vs. Wade decision in 2022. 

Abortion opponents waved signs of "I am the Post-Roe Generation" and "Pray to End Abortion." Scattered among the crowd were a few abortion rights supporters with competing signs "Regulate Guns NOT Women."  

Atlanta Bishop John N. Tran opened the event with prayer. He told people every time they celebrate a birthday, it's not just about the individual but a reminder of the family they grew up in.  

"God's gift to us is life, but we know it's only with the cooperation of our parents," he said.  

Catherine Davis, of the Restoration Project, said the reversal of the Roe decision made the work of abortion opponents vital.  

Since the Supreme Court decision, abortion advocates are pushing medical abortions by making the pills to end a pregnancy available at pharmacies, she said. People must be active and vocal to stop those actions, she said.   

"Our fight didn't diminish, our fight expanded. Now we have to go state by state, legislature by legislature" to protect children in the womb, Davis said. 

According to its website, the Restoration Project is focused on rebuilding families, promoting the sanctity of life and educational opportunities for the Black community.  

More women have been turning to abortion in the country, an 8% increase from 2017, according to researchers. In Georgia in 2020, there were 41,620 abortions, which increased more than the national number, with a 14.6% increase.  

Since the Supreme Court's Dobbs vs. Jackson ruling, Georgia law allows for abortions up until a "detectable human heartbeat" is present, about six weeks of a pregnancy. Opponents of the law say many women do not know they are pregnant at that time.   

Keri Ninness leads the Walking with Moms in Need ministry at St. Joseph Church, Marietta. She said the ministry, which is promoted by the U.S. Conference of Catholic Bishops, is proactive to anticipate needs of women and families, has resources to wrap around women and families seeking help and is committed to aiding mothers while they are pregnant and for years following.  

Women are in great need and face many hurdles to overcome when they are pregnant, she said.  

"We are saying the answer is not abortion," she said. "We don't think the answer to your pain is abortion."  

Ninness said groups committed to this cause need to connect with resources before the first call ever comes in from a woman. There needs to be contacts made with area schools, doctors and other places with care so women who are stressed do not scramble for themselves with nowhere to turn, she said. This effort must be geared toward the long term, starting while the woman is pregnant to last years into the future as birthdays are celebrated, Ninness said.   

At the rally, there was little talk of legislative proposals to strengthen the safety net for pregnant woman or young families. The Georgia Catholic Conference is reviewing one idea backed by Gov. Brian Kemp. The governor is proposing a reform with HB 129 to make expectant mothers eligible for Temporary Assistance for Needy Families (TANF). Right now, only low-income families who have children receive the help, but the proposed reform will make women who are pregnant eligible for the assistance.