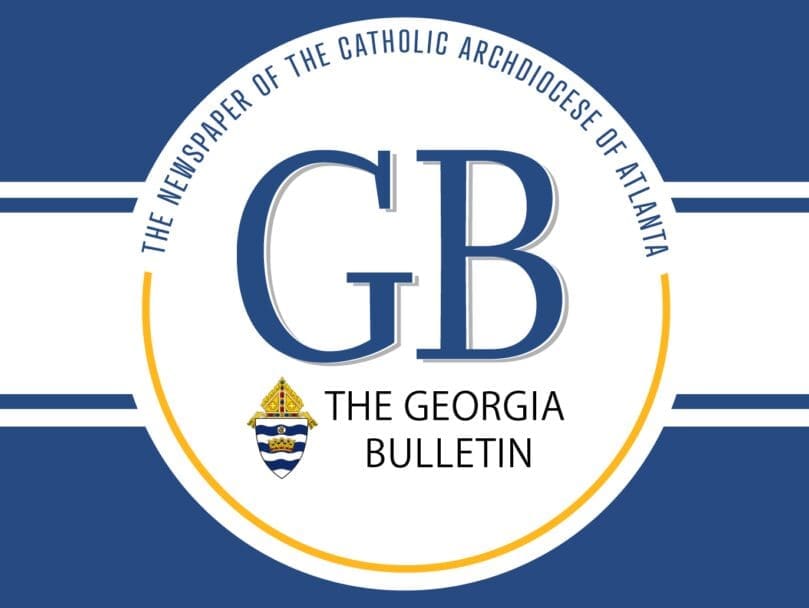 By NICHOLE GOLDEN, Editor  
|

Published January 6, 2023

ATLANTA—The first issue of The Georgia Bulletin was published on Jan. 4, 1963. With the arrival of 2023, we mark the archdiocesan newspaper's 60th anniversary. 

The first paper included stories on a Mass celebrated in secret for Cuban prisoners, work toward racial harmony, news of an increase in the missions fund and a caution to parents about their teenagers dating. 

In that inaugural issue of The Georgia Bulletin, Archbishop Paul J. Hallinan, first archbishop for the Atlanta Archdiocese, wrote "The religious press is not intended to be a 'house organ' or a 'trade sheet.' Its whole reason for being is that it might enter the community bearing light and courage—light enough to expose society's ills as well as its strengths; courage enough to inspire justice and charity in those who might falter along the path." 
Our 60th anniversary masthead logo echoes Archbishop Hallinan's reference to "bearing light." In the Jan. 5 print issue, learn more about the paper's early days in "From the Archives," a collaboration with the Archdiocese of Atlanta's Office of Archives and Records.  
The newspaper was preceded by the Bulletin of the Catholic Laymen's Association of Georgia, which spanned the entire state of Georgia in the 1920s and later had an Atlanta edition edited by Msgr. R. Donald Kiernan. 
The frequency and size of The Georgia Bulletin has changed through the decades, and we now share news through additional platforms including our award-winning website, an e-newsletter and social media. We remain committed to sharing the stories of the Catholic community in North and Central Georgia focusing on topics of interest to the faithful, as well as news from parishes, schools and ministries.  
While the domestic bureau of Catholic News Service (CNS) was closed at the end of 2022, we have begun a new partnership with Our Sunday Visitor (OSV) to share news from across the country. We'll continue to feature news from the Vatican via the Rome bureau of CNS. It was a blessing to work with the dedicated journalists of the CNS domestic bureau. 
This is also an opportunity to acknowledge the decades of work from local editors and reporters, both priests and laypeople, who have sustained The Georgia Bulletin through prayer and a sharing of their God-given gifts with the church at large. 
If you enjoy reading your archdiocesan newspaper, please share it with someone sitting next to you in the pew, who may be not be receiving it at home. Encourage them to learn more at georgiabulletin.org/subscribe. Donations from subscribers and advertising supports this ministry of news. The Feb. 2 issue, featuring the ordination of Atlanta's newest auxiliary bishop, will be distributed to all registered households as a commemoration of the milestone 60th anniversary. 
St. Francis de Sales is the patron saint of journalists and writers, and he guides our work at The Georgia Bulletin. This year marks the 400th anniversary of his death. 
For our readers, we share these words of consolation from St. Francis de Sales: 
"Do not fear what may happen tomorrow; the same everlasting Father who cares for you today will take care of you then and every day. He will either shield you from suffering, or will give you unfailing strength to bear it. Be at peace, and put aside all anxious thoughts and imagination."