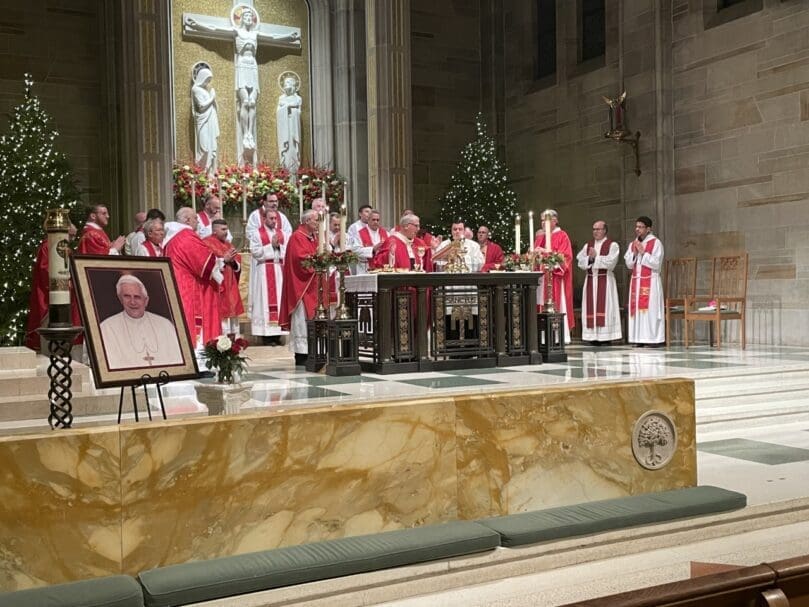 By NICHOLE GOLDEN, Editor
|

Published January 19, 2023

ATLANTA—Parishes across the Archdiocese of Atlanta held memorial Masses for Pope Emeritus Benedict XVI in early January after the death of the retired pontiff Dec. 31. 

Archbishop Gregory J. Hartmayer, OFM Conv., celebrated a Mass for the repose of Pope Benedict's soul Jan. 5 at the Cathedral of Christ the King in Atlanta with Bishop Joel M. Konzen, SM, Bishop Bernard E. Shlesinger III and priests of the archdiocese concelebrating. 

In his homily, Archbishop Hartmayer reflected on having met the late pope twice. In July 2011, Pope Benedict appointed then-Father Hartmayer to be the Bishop of Savannah. 

They met after the appointment during an already-planned trip to Rome, and Archbishop Hartmayer thanked the pontiff for the trust placed in him. 

"He was such a gentle and soft-spoken man," recalled the archbishop. 

During their second meeting, Pope Benedict gave a pectoral cross to Archbishop Hartmayer.  

"I will always cherish it," said the archbishop. 

In the Gospel reading for the Mass, the Lord asks Simon Peter three times, "Do you love me?" The encounter, noted the archbishop, touched Peter greatly and healed his wound of having denied Christ three times previously. The healing enables him to be ready to care for the flock. He answers, "Yes, Lord, you know that I love you." 

The archbishop reflected on the reported last words of Pope Benedict, "Lord, I love you," tying it back to the reading from John 21.  

"Pope Benedict's last words beautifully echo the response of Peter in the Gospel," he said.  

The Mass included a prayer for the repose of the soul of the Pope Emeritus, beginning with these words: "Father, eternal shepherd hear the prayer of your people for your servant, Benedict, who governed your church with love … May he who faithfully administered the mysteries of your forgiveness and love on earth, rejoice with you forever in heaven." 

Some 200 attended the Mass, including priests, deacons and women religious.  

Tim Saults, a parishioner at the cathedral, attended with his wife and two sons. Pope Benedict gave the couple a blessing for their marriage and has always held an important place in their hearts. 

"He was a great man, a great apostle, a great leader of our faith, and we just wanted to come as a family and pay our respects and pray for the repose of his soul," said Saults. 
Atlanta Catholics share memories
Father Luke Ballman and Father Charles Byrd, priests of the Archdiocese of Atlanta, have a unique connection to the late pope. Both were ordained to the transitional diaconate while seminarians at the Pontifical North American College in Rome by then-Cardinal Joseph Ratzinger on Oct. 7, 1999. 
In an email to The Georgia Bulletin, Father Ballman offered memories of having met Pope Benedict. 
"About six months prior to the ordination, my class had the privilege of a private audience with Cardinal Ratzinger. I was impressed with his intelligence and his kindness," shared Father Ballman, who recalled the cardinal answering questions for about an hour. 
"We were ordained in alphabetical order, and so I was the first one in my class ordained, said Father Ballman. "I remember kneeling on the floor of St. Peter's Basilica in front of Cardinal Ratzinger. He smiled at me as I made my promise of obedience, and later as he ordained me." 
The priest said the most important aspect of that day was being ordained a cleric for service in the Catholic Church. 
"I am still grateful that God called me to ordained ministry. Having said that, I am also grateful that the future Pope Benedict was the one who ordained me a deacon. His example of humble service has stayed with me throughout my years of priesthood," said Father Ballman. 
The priest said that he is inspired by the logical, rational thinking of Pope Benedict, seen in his writings and homilies.  
"He was an extremely gifted theologian, and yet the way in which he presented the truth of the Church's teachings, step by step, makes his arguments very convincing," said Father Ballman. "Pope Benedict inspires me to try to be clear in my homilies and other writings and presentations." 
In April 2008, Cindy Connell Palmer and several family members traveled to New York for Pope Benedict's Mass at Yankee Stadium. Her daughter, Hannah, received her first holy Communion at the Mass.  
Palmer wrote about the experience for The Georgia Bulletin in a column, "Prayer, perseverance take local family to pope." 
"It was an amazing feeling, like heaven on earth," she wrote. "The crowd began to cheer 'Viva Papa' and wave their scarves as the popemobile entered the outfield. Pope Benedict XVI circled in front of us and waved to the crowd." 
Her children commented how much they liked the pope's voice.  
For Palmer, what she remembered from the pope's homily was that the example of being Catholic should shine in every aspect of one's life.  
"His word 'civic' really stood out in my mind," she wrote. "I realized that I try to live the Gospel in my life by my family example. I do something daily to nourish my faith by going to daily Mass or joining friends to say a rosary. We volunteer at church and school and do service projects as a family. But in hearing his words I realized that I need to do something bigger for my community." 
A parishioner at St. Anna Church in Monroe and a freelance photographer, Palmer recalled the day as a miracle for her family since there was a ticket mix-up initially. Tickets for the Mass had fallen through, but after much calling and asking around, the family was able to secure box seats at the last minute. 
"It was an example of how if you love and trust in God with all your heart, all your mind and all your strength, he will surprise you and provide for you in a greater way than you can imagine," she shared. 
Benedict Esposito, a media specialist for the Office of Evangelization and Discipleship of the archdiocese, was always pleased to share a name with the late pope. 
"At long last, my name finally is associated with something good, so I can say 'Benedict, like the pope' instead of 'like the traitor.'" 
Esposito saw Pope Benedict in person in May 2011 at the Vatican during a weekly audience.  
"I still hold dear several religious articles that were blessed by him at that papal audience, including one that has his photo on one side and John Paul II's on the other," he said. "I gave away most of them when I got back, but that one I've held onto to give to someone very special one day; I just don't know who."   
---
Maureen Smith contributed to this story.