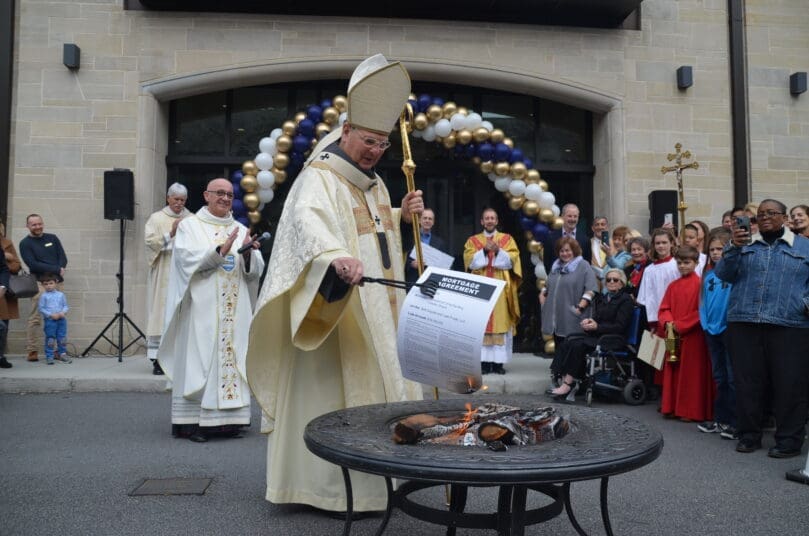 By GEORGIA BULLETIN STAFF
|

Published January 19, 2023

ATLANTA—The Cathedral of Christ the King recently celebrated paying off its construction loan on the Hyland Center, its multipurpose facility.  

The total cost of construction came to just under $32 million, and was funded through gifts and contributions through the Continue His Mission capital campaign. In 2017, the Cathedral took out a $17 million loan from the Archdiocese of Atlanta to fund the completion of construction, which was paid back through the fulfillment of pledges from the capital campaign. 

In a celebration on Sunday, Nov. 20, the Solemnity of Christ the King, the parish's feast day, Atlanta Archbishop Gregory J. Hartmayer, OFM Conv., ceremonially burned the mortgage agreement representing the last of the debt. 

While the archbishop prayed, he gave thanks to God for "providing the resources to build this place where we learn, recreate, and worship. It is the place where we worship You and learn of Your grace and which we bear witness to Your love and work in the world." 

The Hyland Center opened on the Solemnity of Christ the King in 2019. It replaced a smaller structure from 1952, and is used for overflow Masses, retreats, meetings, athletic events, and other ministry activity. It's a 52,000-square-foot multipurpose facility featuring a gymnasium, meeting rooms, outdoor recreational space, classrooms, and art, music and science labs. 

The Cathedral considered it a testament to the generosity of the community that, in spite of the pandemic, the mortgage was paid off in the original five-year time frame established in 2017 at the start of the fundraising campaign.  
---