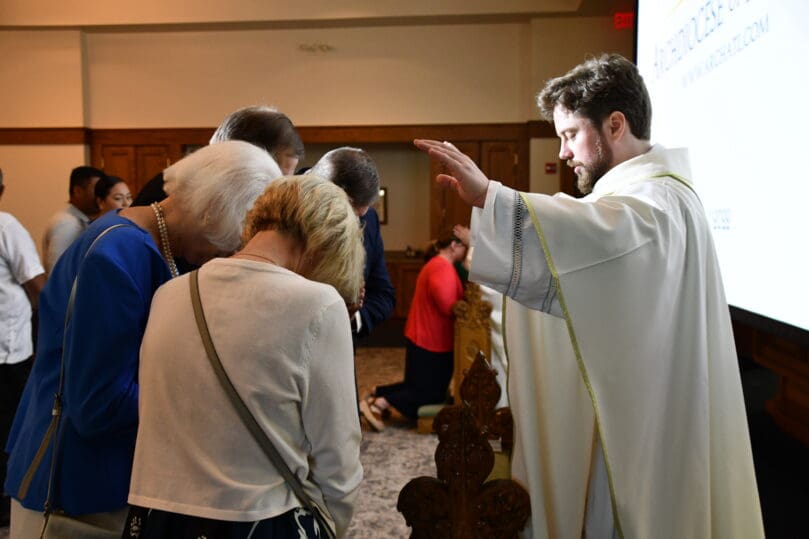 By SAMANTHA SMITH, Staff Writer
|

Published November 10, 2022

ATLANTA—Offering spiritual guidance to students and their families is enjoyable for Father David Musso, SM, school chaplain. It's one of many rewarding experiences as a priest of the Society of Mary.  

"This is a wonderful way of just saying 'yes' to God," said Father Musso, who works at Marist School in Atlanta and Notre Dame Academy in Duluth. "I have the best job in the world. And I love doing it."  

Father Musso will celebrate his 25th anniversary of ordination in June 2023. For him, being a priest is an "everyday thrill."  

"For me, the priesthood is an outgrowth of serving God as a Marist priest," he said. "There's never a dull moment; spirituality grows and it's unique to every person. It's something that unites all of us into a single purpose of serving God."  

Father Musso is one of 286 priests in the Archdiocese of Atlanta. In the Catholic Church, priests are responsible for administering the sacraments of the church, guiding and uniting their community and teaching about the faith.  
Servants of the church
Deacons are called to be the icon of Jesus Christ, the servant, explained Deacon Dennis Dorner, chancellor and director of the permanent diaconate for the Atlanta Archdiocese.  
"It's men who already have a sense of generosity in their heart and then have a call from Jesus to do it in a more formalized sacramental way through the reception of Holy Orders," he said. 
Deacons are ordained ministers of the Catholic Church with a focus of service in word, sacrament and charity. In word, they proclaim the Gospel, preach and teach in the name of the church. In sacrament, they baptize, lead prayer, witness marriages and conduct wake and funeral services. In charity, they identify the needs of others and gather the church's resources to meet those needs. Deacons receive no financial compensation for their service, unless hired for a position in the parish or community. 
In January 2023, Deacon Dorner will celebrate 19 years as a permanent deacon. He has been director of the permanent diaconate in the Archdiocese of Atlanta for 17 years. Currently, there are 284 deacons in the archdiocese. Celebrating baptisms, leading retreats and journeying with deacons in formation and their families have been ministry highlights for Deacon Dorner.  
A holy life
Teaching and discussing the faith are favorite aspects of ministry for Father Ben Thomsen, ordained May 28 by Archbishop Gregory J. Hartmayer, OFM Conv., at the Cathedral of Christ the King.  
Before answering his call to the priesthood, Father Thomsen was a criminal prosecutor. His conversion was largely from reading Scripture, studying philosophy and a continued prayer life. In his new role as parochial vicar at St. Benedict Church in Johns Creek, Father Thomsen finds joy by living a "holy life."    
"My favorite thing about being a priest is that it is easier to live a holy life because my life is constantly forced to be focused on things of God just by the nature of the job," said Father Thomsen.    
"The more we as a community take the life of faith solemnly and seriously by the way we celebrate Mass, preach the truth unfiltered and live in accordance with Christ, the vocations will grow on their own," said the new priest.  
"We live in a society, in a world that offers up a lot of things that sort of contrast with what God is asking us to do," said Father Musso. "Religious life is a life of prayer, it's a life of action, it's a life of adventure. And it just keeps on getting better all the time."  
"We all need to be open to listening to God's call," said Deacon Dorner. "I don't think God is calling any fewer people today to vocations, whether it's the priesthood, religious life or the diaconate. We need to pray that people will listen to that call and then be strong and faithful in responding."