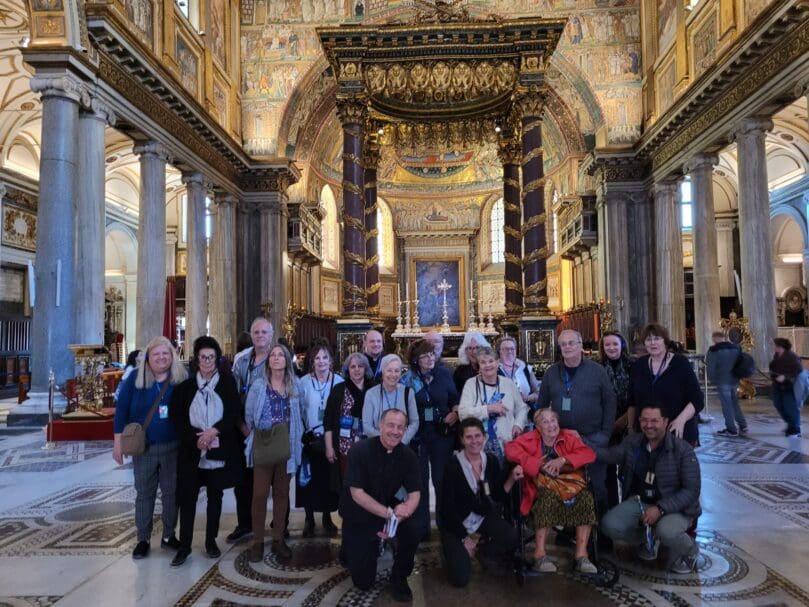 By SAMANTHA SMITH, Staff Writer
|

Published November 27, 2022

ATLANTA—Wanting to do something to "refresh her soul," Judy Kinlough signed up for a pilgrimage to Italy, where she visited the places of eucharistic miracles and saints.

"It was unbelievable," said Kinlough, who made the trip Nov. 1-10, with a group from Pittsburgh. She is a parishioner at Mary Mother of God Parish in White Oak, Pennsylvania.

"I enjoyed actually seeing all the religious sites and being able to actually have Mass at different (places)," she said.

The Georgia Bulletin will host the same pilgrimage to Italy to honor St. Padre Pio and view locations of eucharistic miracles April 11-20, 2023. Travels will include Rome, Assisi, Loreto, San Giovanni Rotondo, Monte Sant'Angelo, Lanciano and Subiaco.

Pilgrims will honor St. Padre Pio, St. Francis and St. Clare of Assisi, and learn of the miracle that led to the feast of Corpus Christi. The spiritual leader for the Italy pilgrimage will be Msgr. Daniel Stack, retired priest of the Archdiocese of Atlanta.

Travelers will also learn about Blessed Carlo Acutis, the first of the millennial generation on the path to sainthood. Blessed Carlo documented eucharistic miracles with an online catalog.

Stops on the spring journey include the Shrine of Our Lady in Loreto, the Holy House in the Basilica of Loreto as well as the Vatican for an audience with Pope Francis.
'Wondrous experience'
For 12 years, Belinda Held has owned A Pilgrim's Journey, a Catholic traveler's group that takes people on trips of "spiritual and historic significance." She will accompany pilgrims on the newspaper-sponsored trip.
Journeying with pilgrims is Held's favorite part of her job.
"We become completely immersed in the holiness of our surroundings, as we journey from one holy place to another, slowly becoming a close and caring family," she said in an email. "It is a wondrous experience, unparalleled in our daily life."
For Father Dan Waruszewski, parochial vicar of St. Aidan Parish in the Pittsburgh area, the November pilgrimage was an opportunity for him to visit Rome for the first time.
"What I enjoyed the most was being so close to these holy places," said Father Waruszewski.
While not the spiritual advisor for the trip, the priest assisted with Masses and preaching. His highlight was blessing pilgrims with the gloves of St. Padre Pio.
"To lay that on people's heads and pray for them, for healing, that just felt so powerful and so amazing," he said.
To save time trying to plan a similar trip on their own, Karen and Tony Hilko joined A Pilgrim's Journey for the Italy pilgrimage. They wanted to share a spiritual experience.
"The tour guides, they were just so knowledgeable," said Karen. You wouldn't learn as much if you did the tour on your own, she explained.
The cost of the 10-day pilgrimage is $4,299 per person leaving Atlanta. Included are meals per the itinerary, hotel accommodations, a motor coach and a full-time tour manager.
The Georgia Bulletin will also host a Holy Land pilgrimage June 30-July 10, 2023 with an optional Turkey extension July 10-15. The archdiocesan newspaper will sponsor an Ireland pilgrimage Oct. 28-Nov. 6, 2023.
"A pilgrimage is a gift to yourself but also an extraordinary act of devotion to your faith," said Held.