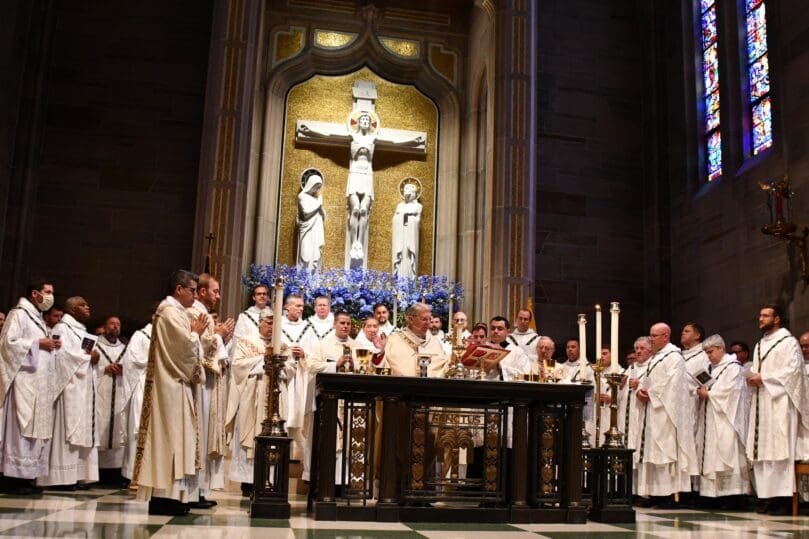 By ANDREW NELSON, Staff Writer
|

Published November 11, 2022

ATLANTA—For Archbishop Gregory J. Hartmayer, OFM Conv., the recent appointment by Pope Francis of a third auxiliary bishop to assist with pastoral duties signals the health of the local church.  

"This is where the church is alive. This is where vocations are," said Archbishop Hartmayer. "This is where there's a real satisfying and fulfilling experience of liturgy and ministry and diversity."  

The growing number of Catholics in Atlanta has seen a steady increase in priests to minister to them, he said.  

"We're riding the crest in Atlanta" said Archbishop Hartmayer about vocations and the life of the church in north and central Georgia. 

Between 2000 and 2020, the number of diocesan priests grew by 38%, while during that same time, the Catholic population grew by 268%, reported the archdiocesan planning department.   

The episcopal ordination of Bishop-designate John Nhan Tran is scheduled for Jan. 23, 2023. He will join Bishop Joel M. Konzen, SM, and Bishop Bernard E. Shlesinger III, in helping the archbishop lead the estimated 1.2 million Catholics in the 69 counties that make up the archdiocese.   
Seminary numbers suggest priesthood's appeal
There are some 40 men in seminary studying for the priesthood. Their training will be consolidated to seminaries in Florida and Louisiana. The archbishop said he wants the men to experience a sense of fraternity so when they are ready to serve as parish priests they have a feeling of a brotherhood among themselves.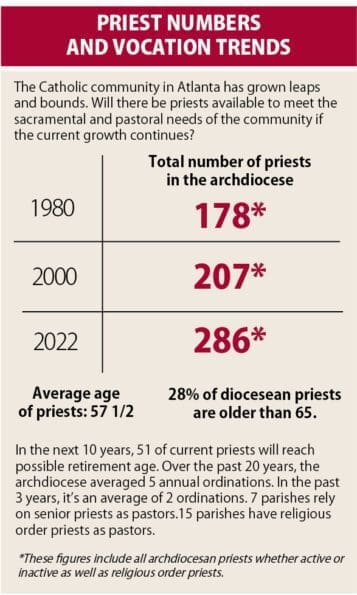 The appeal to live and serve as Catholic priests continues to attract a new generation of men, said the archbishop.  
"They're coming in with a much more open mind, and they still find the priesthood attractive," he said. "They see that the priest presides at Mass. They find that interesting and, I think, attractive. They also see priests in casual clothes at a football game or a baseball game, and they see them as regular people, too. It's appealing to young people." 
However, there is a slowing of ordinations. For the past 20 years, the archdiocese has averaged about 5 ordinations a year, reported the planning office. But in the past three years, the archdiocese has averaged two ordinations. And in 2025, there will be no men ordained to the priesthood since the class members during their training opted to leave the seminary.   
Vocations Director Father Rey Pineda called it "a little frightening" to have a gap in ordinations, but he's comforted by the sizable classes of seminarians who will be ready for ordination in 2023 and 2026. However, he said, God may call some of them to another way of service in the church, so the numbers are not firm until much closer to the ordination date.  
According to the Vocations Office, in 2023, there are expected to be four priests ordained and as many as six transitional deacons. The next year, those transitional deacons will be ordained as priests with no new transitional deacons. In 2025, no priests are scheduled to be ordained, yet as many as five transitional deacons will be ordained. Four years from now, five priests may be ordained as well as six transitional deacons.   
Father Pineda said the gap year—the first in recent memory—proves how important it is for the faithful to "continue to encourage, encourage young people to respond to the invitation."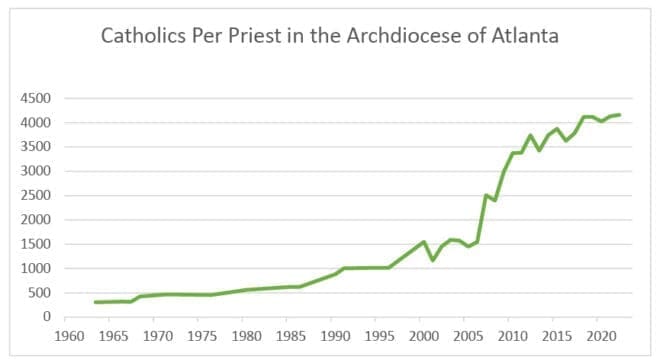 Reflecting on his own priestly ministry, the archbishop said he's experienced a rich diversity of service in the church, from initially working in Catholic schools and pastoring an internationally diverse parish at St. Philip Benizi Church in Jonesboro to being the spiritual leader in Savannah and Atlanta.  
"I've enjoyed all of it," said the archbishop. "I wouldn't want to do either of them my whole life, but I've been given the privilege of having those three experiences and they all feed into my history and my memory of the wonderful times I've had in each of those segments. So, I've had a very fortunate and blessed life in ministry." 
Taught by a Franciscan friars in his native Buffalo, he said he was attracted to the vocation of priesthood by the joy he witnessed in the men. 
Priests moving toward retirement 
Even as the number of priests of possible retirement age grew in Atlanta, another generation of priests came up to replace them as pastors and parochial vicars, according to the planning department.  
In 2020, there were 135 active diocesan priests in parishes and missions. Twenty years earlier, there were some 118 active priests. The number of retired priests increased, from 11 in 2000 to 44 today.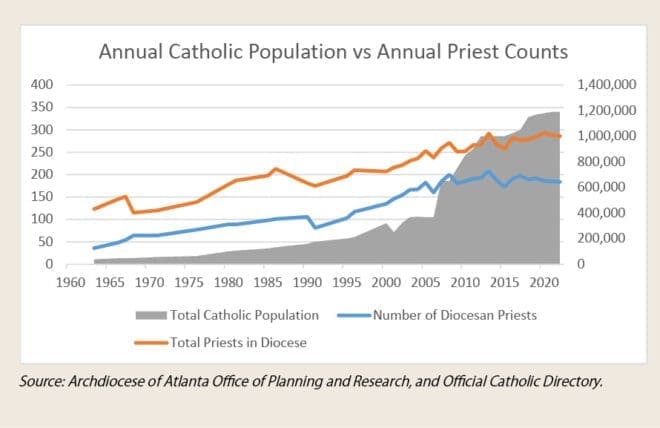 There were 101 religious order priests counted in 2020, up from 72 in 2000, celebrating Mass, hearing confessions and leading parishes.  
The number of active priests is helped by the fact the archdiocese has a young priesthood, said the archbishop. The average age of a priest in Atlanta is 57 ½ years.    
In the next 10 years, 51 of current priests will reach the possible retirement age of 65. Many senior priests continue to serve but step down as pastors or from other roles with heavy administrative duties.  
Overall, Archbishop Hartmayer said the community needs to continue to promote vocations and encourage young people to consider priesthood and religious life for the long term. But for now, the situation is healthy.  
"I just think it's the perfect time for the Atlanta area," he said.