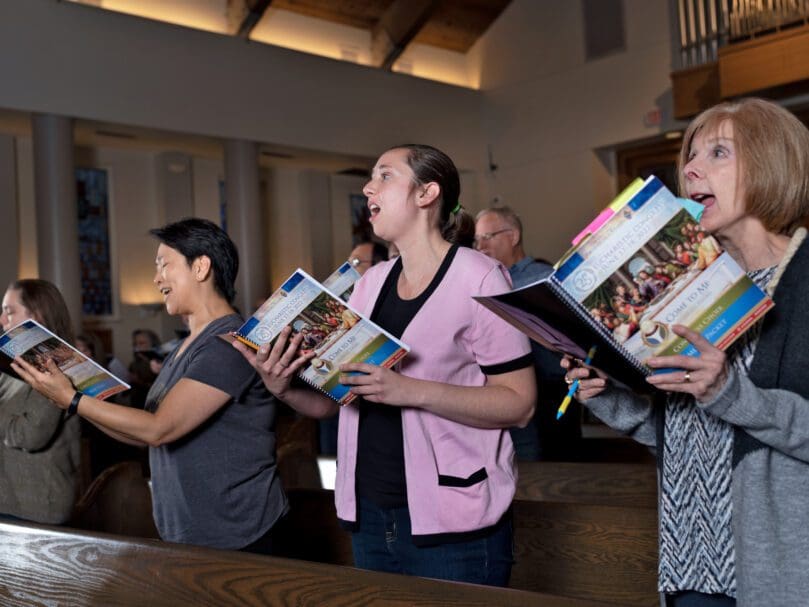 By SAMANTHA SMITH, Staff Writer
|

Published November 28, 2022

ATLANTA—"Come Let Us Adore: An Evening of Carols and Scripture" featuring the archdiocesan choir, will be held at 8 p.m. on Friday, Dec. 16, at Immaculate Heart of Mary Church. 

The choir first formed for the 25th annual Eucharistic Congress in June. 

While similar to the well-known Lessons and Carols, the program will focus more on Catholic tradition, explained Dónal Noonan, the choir director. 

The Advent evening will include popular Christmas music and Scripture readings, as well as a few new songs. Music selections will be in English and Spanish with compositions ranging from the 15th century to the 21st century. The songs will showcase the "many different faces of Christ," said Noonan. 

The choir will be accompanied by a chamber orchestra, consisting of professional musicians from across Atlanta. Archbishop Gregory J. Hartmayer, OFM Conv., will preside at the event. 

Noonan stresses that this is not a performance; the choir will lead and attendees will receive song sheets so that everyone can sing and worship together. 

"In our Catholic tradition, we're called to full, active and conscious participation," said Noonan. He expressed the hope that people are able to come together as an archdiocese to worship God this season. 

What began in January as the Eucharistic Congress choir, became an ongoing gathering of Catholics from various parishes around the Archdiocese of Atlanta. 

"We formed community," said Noonan who is also music director at the Shrine of the Immaculate Conception in downtown Atlanta. "We got to know each other—we got to pray together and sing together, and we didn't want that to end." 

With the blessing of Archbishop Hartmayer, the choir was encouraged to continue gathering and rehearsing, with about 75 percent of the choir returning for the Advent event. The choir will be open to new members starting in January and on a rotating basis. The group will provide the music for the ordination of Atlanta's newest auxiliary bishop Jan. 23. 

Noonan plans for the Advent event to be an annual celebration, hosted at a different parish every year.  

"I love the fact that we have found community in our archdiocese in this little space of music," he said.  

The evening event is free and open to the public. Immaculate Heart of Mary Church is located at 2855 Briarcliff Rd NE, Atlanta.