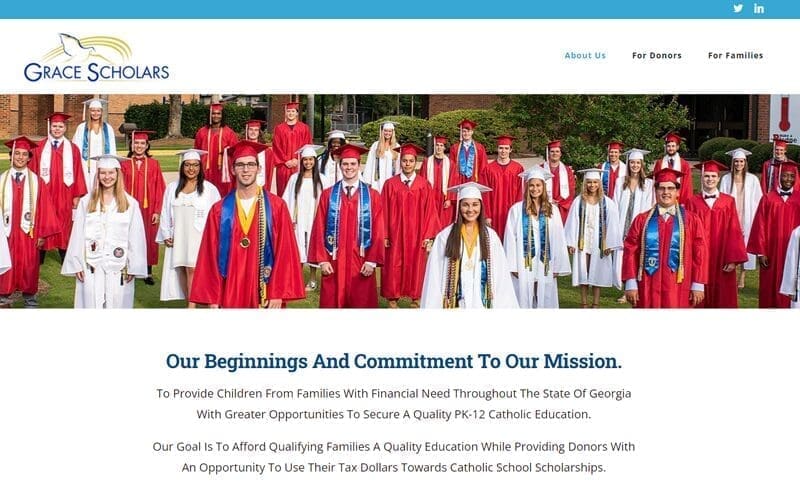 By SAMANTHA SMITH, Staff Writer
|

Published June 9, 2022

|

En Español

ATLANTA—A fresh invitation to provide Catholic education to local families begins this summer.  

GRACE Scholars, a Georgia nonprofit corporation and tax-exempt charity, will launch its new website and open 2023 registration on July 1. 

The new website will invite new and returning donors, CPAs and business owners to learn more about GRACE, the education tax credit and how the program makes a Pre-K thru 12th grade Catholic education possible for many families within the Archdiocese of Atlanta. Families interested in receiving a GRACE scholarship can find additional information. The website was designed in partnership with Graves Fowler Creative. 

GRACE Scholars was founded in 2008 by Cardinal Wilton D. Gregory, former Archbishop of Atlanta, and Bishop Emeritus J. Kevin Boland of Savannah to take advantage of the student scholarship organization (SSO) tax credit legislation.   

A taxpayer donating to GRACE Scholars receives a 100 percent credit on their Georgia income taxes for their contribution. Thirty-four Catholic schools in the Archdiocese of Atlanta and the Diocese of Savannah accept GRACE scholarships. All students receiving GRACE awards receive money for their entire Catholic school matriculation as long as they show financial need.   

School Choice, also known as HB 517, passed during this year's legislative session. It made changes to the statute governing student scholarship organizations, which includes GRACE Scholars.  

The statewide cap on donations will increase from $100 million to $120 million in 2023 and subsequent years with no sunset provision, said Frank Mulcahy, executive director of the Georgia Catholic Conference. The new maximum donation is $2,500 for individuals and $5,000 for married couples.   

"The new law specifies treatment of interest earned by student scholarship organizations, adds audit requirements, adds items to be included in the annual report and allows insurance companies to obtain credit against their premium tax," said Mulcahy. 

This new donation cap will take effect when GRACE Scholars opens 2023 registration on July 1. 

"Please register with GRACE and help us provide greater opportunities for scholarships to Catholic schools in the state of Georgia," said Melissa Bassett, director of GRACE Scholars.  
---
To learn more about GRACE Scholars and become a donor for the 2023 tax year, visit gracescholars.org.