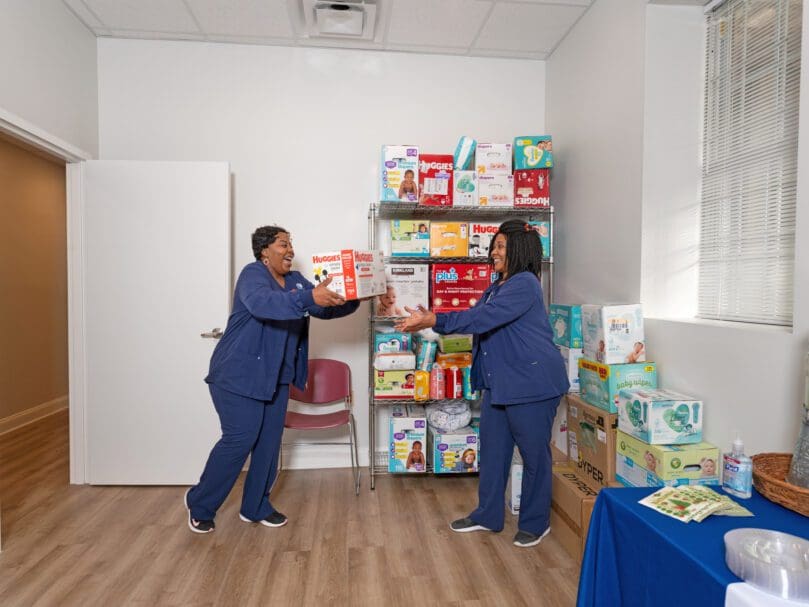 By ANDREW NELSON, Staff Writer
|

Published May 12, 2022

ATLANTA—Anti-abortion advocates in the Atlanta Archdiocese are mobilizing to aid pregnant women in light of a leaked document from the Supreme Court indicating it will overturn its Roe v. Wade decision, which legalized abortion.  

The ruling has not been released officially in the case of Dobbs v. Jackson Women's Health Organization. But the 98-page draft document, written by Justice Samuel Alito, stated, "Roe was egregiously wrong from the start." The official decision is not expected until next month at the earliest.  

The Archdiocese of Atlanta's spiritual leader called on believers not to wait, but to serve pregnant women in need of assistance now.  

"We don't have to wait for a court to tell us what work needs to be done. We are here to build a culture of life," said Archbishop Gregory J. Hartmayer, OFM Conv., in a May 3 statement.

In the past months, the archdiocese has committed to financially support a medical director position at the Pregnancy Aid Clinic and is working with the 100 missions and parishes to build a grassroots ministry to link women facing crisis pregnancies with local resources.  

For decades, Atlanta Catholics have gathered in January at local churches and the Cathedral of Christ the King to protest the 1973 anniversary of the Roe v. Wade decision, which found a constitutional right for abortion. Members of the local archdiocese travel to Washington, D.C., to attend the annual national March for Life.   

However, not all members of the faith believe overturning Roe is the right step. According to the Pew Research Center in 2020, 56 percent of Catholics reported abortion should be legal, even as it goes against church teaching, but favored some restrictions. 

Georgia is one of 26 states with abortion laws currently blocked by the federal courts—laws that may be enacted if the Roe v. Wade decision is overturned. In 2019, the Georgia General Assembly prohibited abortion after about six weeks into a pregnancy in what proponents called the "heartbeat" bill.  

In the last legislative session, the Georgia Catholic Conference worked unsuccessfully with lawmakers to restrict the use of abortion pills to end pregnancies.  

Archbishop Hartmayer said, "No matter how the court rules, there will be women who are confused and scared and need help. Let's show them that we love them, we love their babies and we are here to support them. I urge you to pray for an increase in respect for life in all its stages and to reach out to your parish to find out how you can help." 
Action needed to build trust 
With the country divided on the issue, supporters of the pro-life movement are looking to address the needs of both women and unborn children. Keri Ninness leads the Walking with Moms in Need Ministry at St. Joseph Church in Marietta. She said 50 people have stepped forward since starting in the fall to aid others.  
"There's been a real desire in the St. Joseph community to go beyond pro-birth. There's been a real deep desire to walk hand in hand, side by side with women once they have their baby," said Ninness.   
The work shifts to tackle the reasons why women feel the need for abortions in the first place, she said.  
Ninness, 40, helped pregnant students attending Marietta High School for years. She believes people active in ministries like her will have to earn the trust of pregnant women by committing to the family's well-being for the long term.  
"We have to put our money where our mouth is. We have to stop saying, 'Have your baby,' and start saying, 'What do you need when you have your baby?' And then we have to be willing to do that," said Ninness. "No one is going to trust us and no one is going to trust that they're going to be supported until they feel supported." 
Preparing with new office, programs
Last year, Pregnancy Aid Clinic opened its third facility in the Old Fourth Ward. For the first time, it has an office in Atlanta, along with sites in Roswell and Forest Park. The nonprofit provides medical services, client advocacy, partnering education and post abortion treatment to women, men and families. 
Executive Director Lisa Regan said the agency has been working toward what comes next.  
"Our preparations for a day in which abortion is no longer a go-to resource for families in Georgia began long ago," she said.  
The agency's goal is to "cast a wide net" to offer non-judgmental support and services, she said. With three offices, more women can be served than ever before, she said. 
The nonprofit logged 304 "changed hearts" in 2021. A "changed heart" is counted as a woman at risk for having an abortion, but one who reconsidered following her visits with PAC. Regan said education programs have seen nearly a doubling of the number of students.  
A meeting is scheduled for next month with benefactors to develop a strategic plan to look forward.   
"Knowledge and community are a powerful combination, empowering families to see their potential to not only support life in the short term, but to foster generational change," she said.