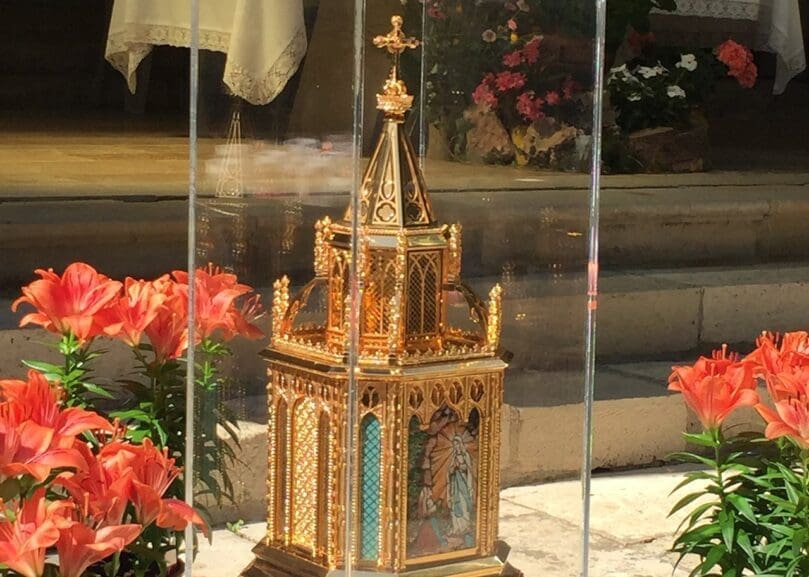 By SAMANTHA SMITH, Staff Writer
|

Published April 13, 2022

ATLANTA–Relics of St. Bernadette Soubirous are scheduled to visit the Archdiocese of Atlanta as part of a nationwide tour.

This is the first time the relics of St. Bernadette have been shown in the United States. The tour includes 32 parishes in 26 dioceses. The relics will be at Holy Spirit Church in Atlanta May 1-4.   

In 1844, St. Bernadette was born into poverty in Lourdes, France. When Bernadette was 14 years old, the Blessed Virgin Mary appeared to her. She had 18 visions, from February to July in 1858. Crowds emerged at the grotto as Bernadette shared her visions.  

In the March 25 vision, the lady revealed herself to be the Immaculate Conception. She later instructed Bernadette to have a chapel built where the visions took place. A natural spring where people come to wash in and drink water was formed in the spot where Bernadette began digging to build the chapel. The water from the spring has miraculous healing powers. 

Lourdes is now one of the most popular Marian shrines in the world, attracting millions of visitors. St. Bernadette was canonized a saint in 1933. Her feast day is April 16, but is celebrated occasionally on Feb. 18 in France.  

We hope to encourage a "growing awareness of the healing of Lourdes," said Wayne Ruth, a member of the board of directors for the federal association of the Order of Malta, a Catholic lay organization. Ruth is also organizing the visit of St. Berndatte's relics to the United States. 

"The healing power of Lourdes is tremendous," said Wayne. "Our nation is sorely in need of prayer and a return to faith and a return to civility. And my hopes are, through this process and through prayer, that (we) develop into a growing respect for each other even though we might have different opinions." 

On Sunday, May 1, the relics will be available for viewing beginning at 6:30 p.m. A candlelight procession will begin at 8 p.m. The rosary in English and Spanish will follow the procession. Veneration will end at 10 p.m. 

For Monday, May 2, a Votive Mass for Our Lady of Lourdes will be celebrated in English at 8:30 a.m. Veneration will be available from 9 a.m.-7 p.m. A Spanish Votive Mass for Our Lady of Lourdes will be celebrated by Bishop Bernard E. Shlesinger III at 7:30 p.m. 

On Tuesday, May 3, veneration will be available from 9 a.m.-10 p.m. Mass with anointing of the sick will be celebrated by Bishop Joel M. Konzen, SM, at 6 p.m. 

On Wednesday, May 4, there will be a Votive Mass for St. Bernadette at 8:30 a.m. Veneration will be available 9 a.m.-noon.  

A Lourdes Virtual Pilgrimage Experience with adoration and benediction will be at 7 p.m. on May 2, and at 10 a.m. on May 3, in McDonough Hall. Registration is required. 

Veneration is not available during Masses. Holy Spirit Church is located at 4465 Northside Drive NW, Atlanta. 
---