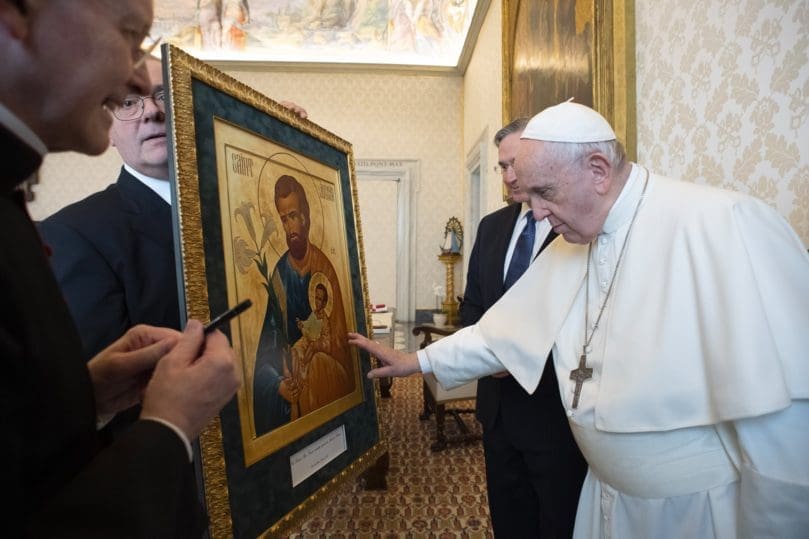 By GEORGIA BULLETIN STAFF
|

Published February 7, 2022

ATLANTA—St. Jude the Apostle Church was the first parish in the state of Georgia to host the Knights of Columbus 2022 Pilgrim Icon Program.  

Every few years, the leadership of the Knights of Columbus, located in New Haven, Connecticut, select an icon of a saint whose patronage is particularly inspiring to Knights and their communities to be featured in its nationwide Pilgrim Icon Program.

The icons travel from council to council in each of the order's 77 jurisdictions, serving as the centerpieces for prayer services in parishes throughout the nation. This year, the Knights are honoring St. Joseph and pray for his intercession in preserving, cultivating and passing on the Catholic faith to future generations.  

In October 2021, Pope Francis blessed the St. Joseph icon, thus opening the initiative.  

Past featured images have included Our Lady of Guadalupe, Our Lady of Perpetual Help, Our Lady of Czestochowa, Our Lady of Pochaiv, Our Lady of the Rosary, Our Lady of Charity, Our Lady of Persecuted Christians and the Holy Family. 

Through this Pilgrim Program, the Knights encourage their communities to "turn in prayer to St. Joseph, give thanks to God for the gift of fatherly example and ask St. Joseph to be a father to us" in seeking to "grow in our own imitation of St. Joseph's quiet strength, integrity and fidelity."  

St. Jude the Apostle Church hosted the icon from Jan. 22–29.