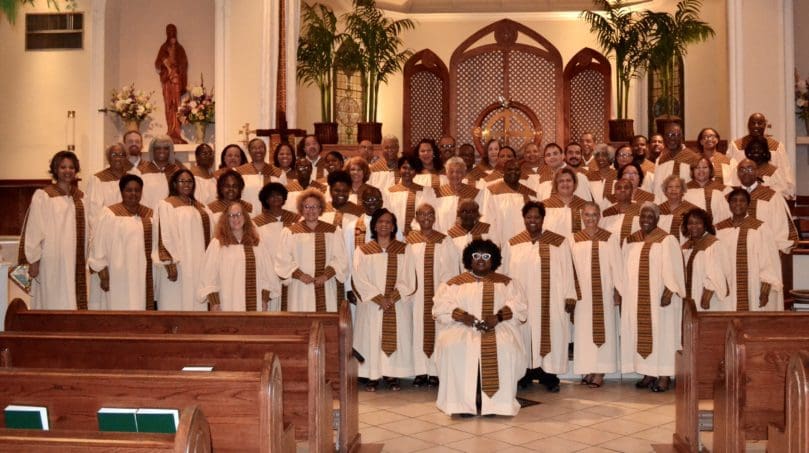 By GEORGIA BULLETIN STAFF
|

Published January 5, 2022

PEACHTREE CITY—Holy Trinity Church in Peachtree City and St. Peter Claver Catholic Church in New Orleans have a unique relationship founded on charity, kindness and love of music.

On Friday, Jan. 28 at 6:30 p.m., The Voices of Peter Claver choir will perform at Holy Trinity showcasing extraordinary talent. It will be an uplifting performance by the 40-singer choir and an excellent example of America's gospel tradition.

The choir's men and women provide gospel music for Sunday liturgies as well as events including the New Orleans Jazz Festival, concerts and other events in the New Orleans area.

On Aug. 29, 2021, the 16th anniversary of Hurricane Katrina, New Orleans was hit by Hurricane Ida and many survivors found shelter in Fayette County. Ida did far less damage than Katrina, but the casualties, the flooding and power outages wreaked havoc in New Orleans and surrounding areas.

"During times of hardship, your faith provides comfort," said Father John Murphy, pastor at Holy Trinity. The priest said they welcomed several of those affected by the storm to the parish.

The connection between Holy Trinity and St. Peter Claver traces to Auxiliary Bishop Fernand Cheri III, OFM. He has served as the auxiliary bishop of New Orleans since 2015 and has family members who are parishioners of Holy Trinity.

When Hurricane Ida struck in August, Holy Trinity came together as a parish and supported St. Peter Claver after the parish sustained significant damage to the rectory, church and school buildings.

The history of St. Peter Claver Church is one of dedication and sacrifice by people whose faith has triumphed in the face of adversity. St. Peter Claver emerged from what was for nearly 70 years a parish known as St. Ann's. The church building was built in 1852. St. Peter Claver played an important part in the growth as the city spread.

The church property, which included a school, rectory and the church building, was purchased by the Josephite Fathers on April 7, 1920 to serve the African American population in the area. The new church was dedicated to St. Peter Claver, the saint who spent a lifetime working for the good of African Americans.

The first Mass at St. Peter Claver Catholic Church took place in October 1920. St. Peter Claver Church maintains its position as a beacon of hope in the Treme Area and is one of the largest Black Catholic parishes in Louisiana.

In gratitude for the Fayette parish's support, the Voices of Peter Claver is opening the January concert to the public. For more information about Holy Trinity or the concert, go to holytrinityptc.org. The church is located at 101 Walt Banks Road in Peachtree City.