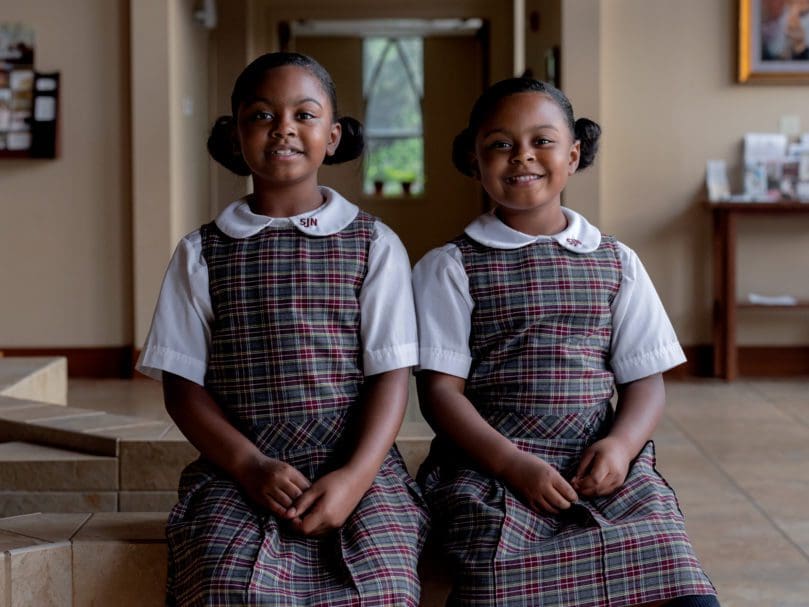 By SAMANTHA SMITH, Staff Writer
|

Published December 9, 2021

LILBURN—When her daughters were born, Elizabeth Reid knew she wanted them to attend Catholic school.

Raised in a Catholic family, Reid grew up at St. Patrick Church in Norcross. She attended a Catholic school in Spain while living overseas and Southern Catholic College in Dawsonville for two years before it closed in 2010.

While a student at Reinhardt University in Waleska, she would visit the nearby Catholic Church, Our Lady of LaSalette in Canton.

Now, she watches her daughters—Scarlet, a second grader and Penelope, a first grader—enjoy the many benefits of a Catholic education at St. John Neumann Regional School in Lilburn. The GRACE Scholars program makes this opportunity possible.

"Attending a Catholic school helped me not only grow academically but spiritually as well," said Reid. "I am now seeing that within my daughters, and it makes me extremely proud as a parent to witness their love for God and learning."

Reid is one of hundreds in Georgia able to provide a Catholic education for their children because of GRACE Scholars.

In 2008, Cardinal Wilton Gregory, former Archbishop of Atlanta, and Bishop J. Kevin Boland of Savannah founded GRACE Scholars to take advantage of the student scholarship organization (SSO) tax credit legislation.

A taxpayer donating to GRACE Scholars receives a 100 percent credit on their Georgia income taxes for their contribution. Thirty-four Catholic schools in the Archdiocese of Atlanta and the Diocese of Savannah accept GRACE scholarships. All students receiving GRACE awards receive money for their entire Catholic school matriculation as long as they show financial need.

"We believe in the value of Catholic education and are grateful to our donors for their assistance in passing along our Catholic faith to a greater number of deserving students," said Archbishop Gregory J. Hartmayer, OFM Conv., of Atlanta and Bishop Stephen D. Parkes of Savannah in a joint statement.

For the 2021-22 school year, 1,071 students received a GRACE award, with 304 students receiving it for the first time. The average scholarship award is $3,290. Half of the award recipients were minority students. Some 97% of GRACE scholarship high school recipients achieve college enrollment.
The pandemic's impact
This academic year, GRACE Scholars awarded $2.2 million in scholarships for 607 students attending Catholic schools in the Archdiocese of Atlanta.
Due to the coronavirus pandemic, more students are in need of financial assistance as families have been impacted by job loss. The number of GRACE donors also decreased.
Melissa Bassett has been the director of GRACE Scholars since 2018. In her role, she enjoys making Catholic school education a reality for families.
"Whether they are Catholic or non Catholic, we are helping the students see what a Catholic school offers," said Bassett. "We're giving them great opportunities."
Reid is thankful for the education her daughters are receiving at the Lilburn school and that her daughters are enjoying their experience. She hopes her youngest son of 7 months, Ronin Chester, will be a St. John Neumann Regional Crusader when he is of age, with the help of GRACE Scholars.
"Every teacher, academic coach, counselor and instructional aide I have come across is full of the Holy Spirit and truly loves what they do," said Reid. "It's really such a beautiful community of people that love each other and really want the best for your children."