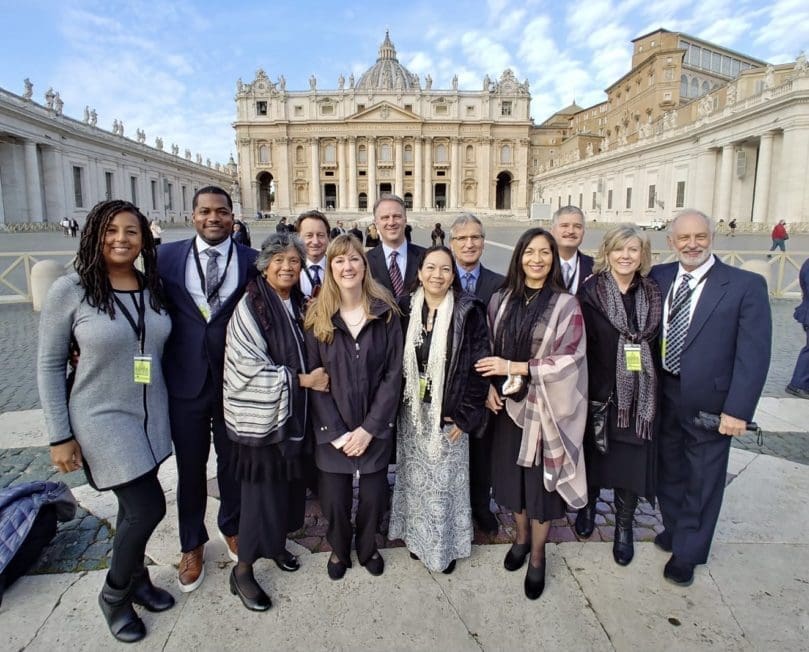 By Georgia Bulletin Staff
|

Published December 11, 2021

ATLANTA–Seven couples from the Archdiocese of Atlanta gathered outside St. Peter's Basilica, getting ready to hear Pope Francis speak.

They had participated in Retrouvaille, a marriage enrichment program. It is a Christian peer marriage ministry that offers hope and healing for marriages.

The Retrouvaille European community was granted a private audience with Pope Francis on Nov. 6. An invitation was extended to 50 couples from North America.

David and Lucia Godshalk were among them. The couple, with two grown daughters, worship at Transfiguration Church, Marietta. They've been involved with the ministry since 2012 when they participated in a weekend.

"You go into the weekend really not knowing what to expect and probably not in a great place. On reflection, we've come so far from where we were when we did the weekend. It's amazing," said David Godshalk.

At the papal audience, Godshalk, 64, said the meeting confirmed the importance of the ministry. At times, it can seem overlooked, he said. Godshalk is the coordinator of the Atlanta Retrouvaille.

"His message essentially was we need you folks to continue working on marriage. You are important, a critical part of the Catholic Church," he said about the message.

Although the ministry feels like it goes unnoticed, Pope Francis' attention made it a focal point at the Vatican, he said.
Pope encourages ministry to accompany couples in troubled marriages
During the audience, Pope Francis described the couple-to-couple ministry as a gift.
"You are wounded couples who have gone through the crisis and have healed, and because of this you are able to help other wounded couples," he told those attending. "You have not gone away, you did not walk away in the crisis."
At the Vatican, the Godshalks had the opportunity to meet with the other ministry leaders. The global group of hundreds met first outside in St. Peter's Square and then moved into the Paul VI Audience Hall.
"We met in the square, met a lot of folks we never met obviously from the European community, Italian. Any community, any ministry, it's good that you can get everyone together and spend some time together," he said.
Godshalk had a brief encounter with the pope at the audience. A few days later, the couple together met Pope Francis at a ceremony where husbands and wives received blessings.
Bob and Karen Botte's marriage was "in ashes" 10 years ago. Participating in the initial weekend "made all the difference," she said. Where counseling helped, the weekend reinforced their view of marriage as a faith-filled covenant, she said.
For Bob, the trip was something he never envisioned, especially greeting Pope Francis.
"I looked him in the eye. He looked me in the eye. I felt like I was in a dream. Telling my friends, they were in awe. I feel so blessed and humbled," said Botte.
The Bottes have four grown children and six grandchildren. They attend St. Oliver Plunkett Church, Snellville.
The other Atlanta couples in attendance were: Andrew and Lilly Cichon, Maria and Cesar Williams, Chris and Kelly Guerriero, Alonzo and Elaina Ford and Breno and Lenny Fleury.
Atlanta Retrouvaille serves Alabama, South Carolina
Retrouvaille is a worldwide ministry helping to save marriages on five continents, in 29 countries and is presented in seven languages. It is estimated that over 175,000 couples have completed the Retrouvaille program in its 45-year history. The program (pronounced Retro-vi) is a French word, which means "rediscovery."
Couples learn how to communicate more effectively in their marriages through a weekend program and follow-up sessions.
The Bottes share their marriage story at weekend retreats.
"We just so strongly believe in the ministry and we believe marriages can be saved because we are living proof of it," Karen said.
Bob Botte said the ministry is too valuable for people to be a secret. It would be helpful if more priests became familiar and shared its resources, he said.
Once the early feelings of being in love goes away, couples work with the "nuts and bolts" to make a marriage a success, Karen Botte said.
The weekends are open to Catholics, people of other faiths, or no faith.
Weekends for marriages shown to aid couples
Atlanta Retrouvaille has served more than 1,000 couples since being brought into the archdiocese. The program also supports couples from areas where a Retrouvaille program does not exist such as Alabama and South Carolina. The statistics indicate nearly 85% of couples that attend are still married three years later, according to a news release.
Godshalk said the spouses get an opportunity to focus on each other and improving communication.
"People coming in, actually hating each other on Friday night and leave on Sunday with hope," he said. "If you're willing to commit yourself to your spouse and to the program, you will work it out."
In the archdiocese, there are three weekends in a year when the retreat is offered. Participating couples on a given weekend can number from 14 to 30.
Staff Writer Andrew Nelson contributed to this story.
---
For more information about the Atlanta Retrouvaille program, visit the website  www.helpourmarriage.org or phone 770-912-4743. The next weekend is scheduled for Feb. 4-6, 2022 in Atlanta.