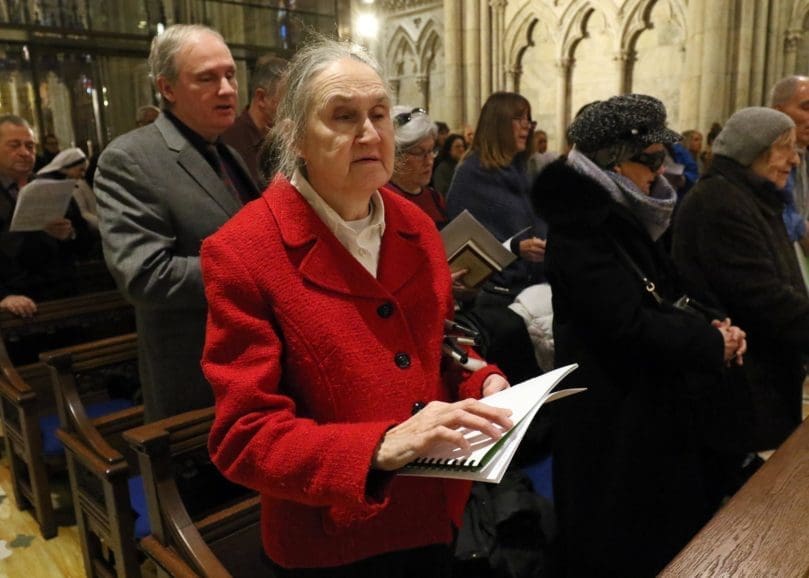 By ANDREW NELSON, Staff Writer
|

Published November 3, 2021

CUMMING—In a monthly delivery Joanne Callahan receives a weighty package that opens her faith.

A New York organization called the Xavier Society for the Blind sends her braille transcripts of the monthly Scripture readings.

Callahan, who has been blind since infancy, uses the readings to prepare for Mass. She attends St. Brendan the Navigator Church, Cumming.

"I reflect on the day's readings. It increases my understanding and appreciation for my faith," Callahan said about the deliveries.

Her mother discovered the congenital blindness when Callahan was 2 years old and didn't react to light. The 67-year-old Callahan can be found at Mass with her guide dog, a yellow Labrador retriever named Magnum. She laughed saying she hears children whispering about Magnum from the communion line.

For the Brooklyn native and cradle Catholic, this resource for Mass is one of many that satisfies her interest in things of the spirit. She's also received from the Xavier Society materials on Pope Benedict XVI, the Spiritual Exercises of St. Ignatius and on other topics.

With her expertise in Spanish, she once taught braille to students in Peru. Callahan moved to Georgia to retire after a career working for the CIA in a variety of roles, including political analyst and legislative liaison.

She's volunteered with nonprofits helping Spanish speakers since moving to Georgia nine years ago.
$350 gift in 1900s launched ministry
The Xavier Society began its ministry for the visually impaired in 1900, started by Jesuit Father Joseph Stadelman and Margaret Coffey.
Coffey was a blind woman who taught blind children. The priest was working with deaf children when he met Coffey.
"She had prayed for years and years" for books for these children, said Malachy Fallon, the society's executive director. They set out saying, "We need to figure this out. How do we do more?" said Fallon.
Fallon leads the Xavier Society now. He was a managing director with Standard & Poor's, then earned a master's degree in nonprofit leadership from Fordham University in 2015.
The name of the society came from its initial location on 16th Street in Manhattan, in a single room at the College of St. Francis Xavier (now Xavier High School).
In addition to providing inspiration for Xavier Society, Margaret paid $350 (about $12,000 in today's dollars) for a stereograph machine to produce more books and magazines in braille. The first book published was the Gospel of St. John.
Today, there are close to 2,000 titles of audio and braille books in its catalog, from Bibles and rosary guides to biographies.
"It's not exclusively religious," Fallon said, mentioning Jeannie Gaffigan's book, "When Life Gives You Pears."
Evolving tech aids visually impaired
It was Maggie Rousseau who introduced Callahan to the Xavier Society resources. Rousseau is the director of the Archdiocese of Atlanta's Disabilities Ministry.
"Religious literacy is just as important as educational literacy—and I would argue even more important. Having access to religious literacy deepens a person's faith, opens loving hearts and provides an opportunity for growth in relationship to God," said Rousseau.
The Xavier Society is "an invaluable resource," she said.
The Centers for Disease Control and Prevention reported approximately 12 million people 40 years and over in the United States have vision impairment, including 1 million who are blind and 3 million who have vision impairment after correction.
In 2020, the nonprofit distributed about 4,300 braille and audio recording resources. Several hundred people a month receive the Propers of the Mass in braille, the scriptural texts for the liturgical calendar.
About 2,400 clients are helped by the Xavier Society in the United States and in 20 other countries. It creates in a year some 750,000 pages of braille. Its services are offered free of charge.
Since Coffey's purchase of the stereograph machine, there's been evolution in technology for the ministry through the years. The Xavier Society is exploring technology allowing its clients to use the Digital Talking Book Project through the Library of Congress to broaden its catalog availability. Smartphone technology is also being explored.
It takes about $1.1 million annually to provide the services, according to the nonprofit's tax records.
"We rely on individual donors. We do direct mail campaigns," said Fallon. In addition, people can contribute online and they have support from family foundations. "We're trying to build the donor base," Fallon said.
The Xavier Society also hosts in New York its annual St. Lucy Mass each December with Father Jamie Dennis, a blind priest who ministers in the Diocese of Owensboro, Kentucky. St. Lucy is the patron saint for those with visual impairments.
As a New York native, Callahan is anxious to attend her first St. Lucy Mass to gather and worship with other Catholics who face similar visual challenges. With her expertise in Spanish, Callahan said she'd like to offer her services to the Xavier Society in addition to seeing hymnals printed in braille.
---
Nichole Golden contributed to this story.