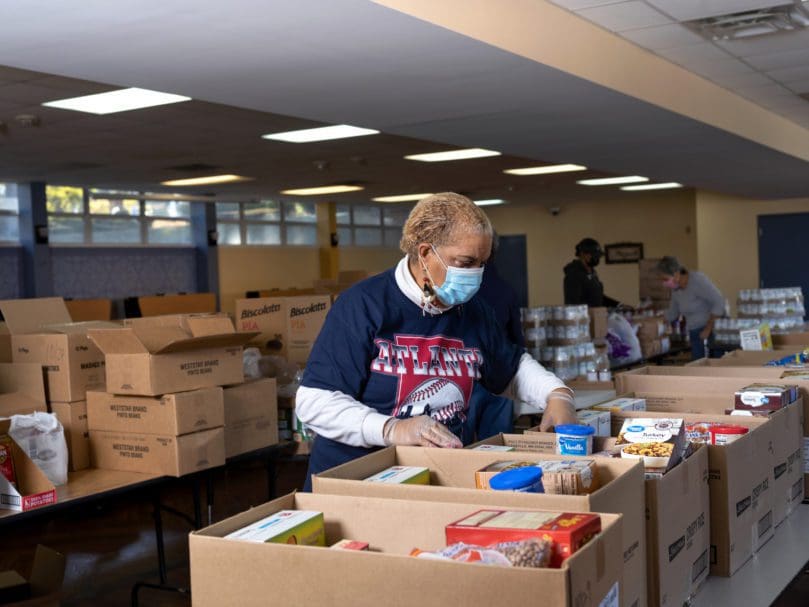 By ANDREW NELSON, Staff Writer
|

Published November 24, 2021

ATLANTA—Many working hands around the Archdiocese of Atlanta share with others around the Thanksgiving holiday, from loading stuffed food boxes in trunks of cars with the makings of a home-cooked meal to getting up before sunrise to prepare a hot turkey dinner with all the fixings and a sweet side for senior citizens.

Volunteers at Gregg's Pantry at Sts. Peter and Paul Church expect to prepare as many as 200 food baskets to distribute to families in a convoy of cars.

"We serve double what we normally serve per weekend. We don't just give them a turkey. We give them turkey or ham. We get them just about everything you would need to make a meal," said Theresa Ivory, a leader at the longtime ministry.

Since the pandemic began in 2019, volunteers adopted safety measures to ensure they never stopped helping people. The helpers don't get weary of the ministry, but lean more on God and faith to accomplish it, said Ivory. The ministry and the Atlanta Community Food Bank developed a close relationship to broaden offerings and be more efficient in serving people. Recently, employees of Truist Bank supported Gregg's Pantry to distribute heavy winter blankets.

"This is a call to do, and when you are called to do, you can only pray and ask for strength. 'You called me Lord, now give me the strength.' That's all I ask. I don't ask for a whole lot of things. I just asked for this strength," she shared.

Over the holiday, Ivory said she will both be mourning the death of her son and at the same time be grateful for the 37 years she had with him in her life.

The needs seen at the Decatur parish are part of the challenge of this time of year.

As some tables are heavy with food, others are going without, not only because of empty store shelves. In a survey conducted Sept. 29 to Oct. 11, 6.9% of households in the Atlanta region are projected to face food scarcity. That's roughly 264,000 people who reported "there was either sometimes or often not enough to eat in the last seven days." This data snapshot comes from the ongoing Household Pulse Survey, an experiment of the U.S. Census Bureau.
Moving forward in faith
The Catholic Center at the University of Georgia community on Nov. 21 prepared cooked meals for men and women at the Denny Tower, a subsidized housing apartment complex in Athens for senior citizens.
The ovens in the center kitchen are warmed up around 5:30 a.m. by Cathy Clutter's husband, Mike. Eight turkeys weighing around 18 pounds are prepared, with 30 pounds of mashed potatoes, sweet potato casserole, rolls, green beans, a heaping of green beans, with a choice of pumpkin, apple or pecan pie.
Cooks and other helpers start to fill the kitchen around 9 a.m., said Clutter, a university law professor and longtime organizer of the outreach.
This year, there will be 75 traditional holiday meals packed at the center and driven to the apartment. This year, the cooks are making about 10 more meals than usual. But it doesn't worry her. Clutter said she is never concerned there won't be enough helping hands or food because people are so giving, including a teenager who invited her grandmother to join her at the center. She had a waitlist for people who would like to get up early and cook.
COVID-19 precautions for the second year again prevent Catholic Center volunteers from engaging with residents. Clutter said the pandemic has put a stop to her favorite part of the day, which is talking with the residents and hugging them. Instead, in gift food baskets, the seniors will find a coffee mug filled with hot chocolate mix, chocolate, mints and other seasonal items, she said.
For Clutter, the day aids the "marginalized of the marginalized" those who Pope Francis calls Catholics to meet and serve. She said her family is "grateful to have the opportunity to serve others and a great appreciation of what we have."
Before the arrival of COVID-19, supporters of  St. Vincent de Paul at St. John Neumann Church made house calls, delivering food baskets to more than 100 families.
As a safety precaution, the home visits stopped. However, the holiday program has been a parish mainstay for some 40 years, and COVID was not going to stop the effort. It just required some creative solutions, Amy Krysiek said.
In mid-November, the conference distributed some 110 grocery store cards to clients valued  around $17,000, said Krysiek, leader of the St. Vincent de Paul ministry at St. John Neumann Church in Lilburn.
"Our parish stepped up," she said. Parishioners dropped money in donation boxes while attending Mass or sent in checks if they prayed virtually, Krysiek said. Parish ministries from women's Bible study to the Knights of Columbus and the St. John Neumann School community continued to be a backbone of support for the conference and its mission, she said.
The organization is intentional in aiding people in the neighborhood and surrounding area, she said. People may put on an upbeat exterior for appearance's sake, but Krysiek said people in need pray in the church pews and live in the neighborhoods.
"We are trying to assist the community in which we worship," she said.
The pandemic curtailed some of the collaborative efforts between ministries and parish members that made the holiday meal gifts a success, but the support remains.
"We miss the community effort. We miss doing that together. In saying that, the church has stuck behind us in prayers and financial support," Krysiek said. "We keep moving forward in faith."