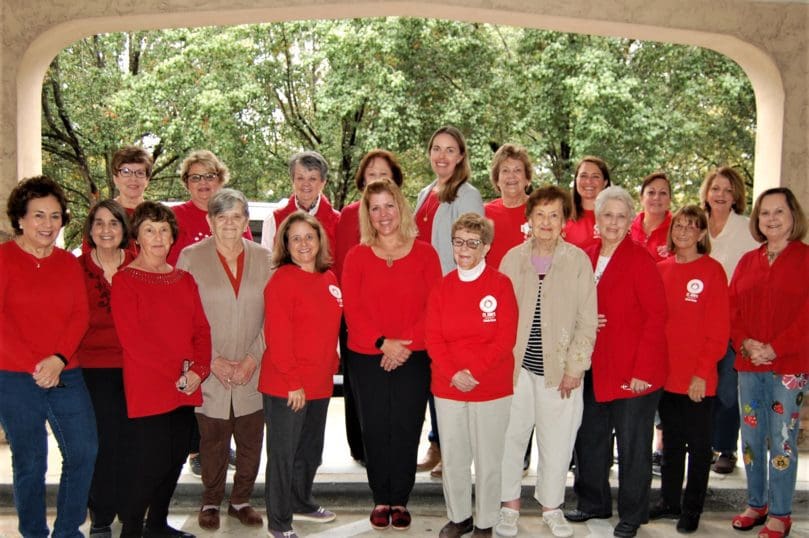 By SAMANTHA SMITH, Staff Writer
|

Published November 24, 2021

MARIETTA—A Christmas tradition for 40 years returns to St. Ann Church this December.

The Apple Annie Arts and Craft Show is coming back to the Marietta parish after being cancelled in 2020 due to the coronavirus pandemic. It is considered to be one of the largest arts and craft shows in the southeast.

More than 110 artisans will arrive at St. Ann prepared to sell handmade items such as pottery, paintings and knitted items. St. Ann Preschool will sell baked goods. A candy booth will be run by the EDGE and LifeTeen youth ministries. Ed Bolduc, director of music and audio/visual at the parish, will present live music for guests as they visit the many booths around St. Ann's campus.

"This show provides a unique opportunity for parishioners to be a beacon of Christ's light in our community at large," said Nancy Swoish, show manager of the Apple Annie Arts and Craft Show.

Swoish has been show manager for the last four years and a member of the show's committee for 22 years. The annual event is sponsored by the St. Ann Council of Catholic Women (SACCW).

"The show's success comes from the deep desire within SACCW to help those in need in our community," said Swoish.

This show, along with other events by the council, help raise funds for local charities that help primarily women and children and to meet parish needs, she said.

Some charities benefiting from the show include Bethany Place, Safe Path, Hope Center, Spectrum and Pregnancy Aid Clinic. The council has donated more than $500,000 since the event began in 1981.

Swoish marvels at the creative spirit of the artisans who come each year and enjoys the energy of the hundreds of volunteers who help to make the show a success.

"Volunteers and support staff become fully immersed in providing a fun and welcoming environment that is the quintessential spirit of St. Ann's, spirited by our pastor, Father Ray Cadran," she said.

The Apple Annie Arts and Craft Show will be at St. Ann Church on Friday, Dec. 3, from 9 a.m.-6 p.m. and Saturday, Dec. 4, from 9 a.m.-2 p.m. Admission is $5 per person and valid for two shopping days. St. Ann is located at 4905 Roswell Road, Marietta. An heirloom quilt raffle is part of the event.

The church is served by priests of the Missionaries of Our Lady of La Salette.

This event is part of the fabric of the church community, said Ana Pardo, president of SACCW. "It's essential to the joyful spirit of evangelization, part of our mission and overall a very positive addition to our community," she said.
---