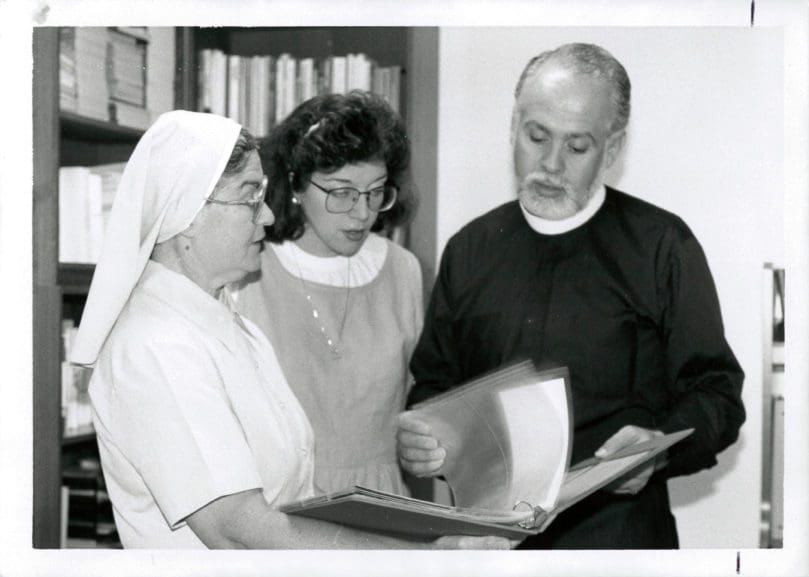 Published October 26, 2021
MEADOWBROOK, Pa.—Sister Pilar Dalmau, ACJ, former director of the Hispanic Ministry of the Archdiocese of Atlanta, died Sept. 27 at Holy Redeemer St. Joseph Manor Hospital in Meadowbrook, Pennsylvania. She was 93 years old.
A native of France who was raised in Cuba, Sister Pilar traveled the world as a Handmaid of the Sacred Heart of Jesus, teaching and working in evangelization.
She taught in Pennsylvania and Maryland and had served as a provincial secretary for her order.
In Atlanta, she worked at Holy Cross Church and acted as the director for the Hispanic ministry in the late 1980s. 
Sister Margarita Martin described Sister Pilar's years in Atlanta.
"She was full of zeal and zest, laying the foundation of the ministry of Latinos in the Archdiocese of Atlanta, basically starting from scratch," recalled Sister Margarita, also a Handmaid of the Sacred Heart of Jesus.
Sister Pilar did similar work in the Diocese of Charlotte, North Carolina and in Beaumont, Texas. She retired from active ministry in 2010.
In a memorial reflection, Sister Sagrario Nunez, ACJ, said words attributed to St. Oscar Romero most aptly described Sister Pilar's inner stance—"We are workers, not master builders, ministers not messiahs."
"This truth gave Pilar a greater purpose, a bigger picture in all she did, a certain healthy detachment and humility,"said Sister Sagrario. "In her many successes and recognitions, she knew well who the master builder was."
Her funeral Mass and interment were Saturday,  Oct. 9, at the Handmaids of the Sacred Heart of Jesus Chapel in Wyncote, Pennsylvania.
Donations to Handmaids of the Sacred Heart of Jesus in Sister Pilar's memory may be contributed online at www.acjusa.org/share-in-our-mission/donate-now.