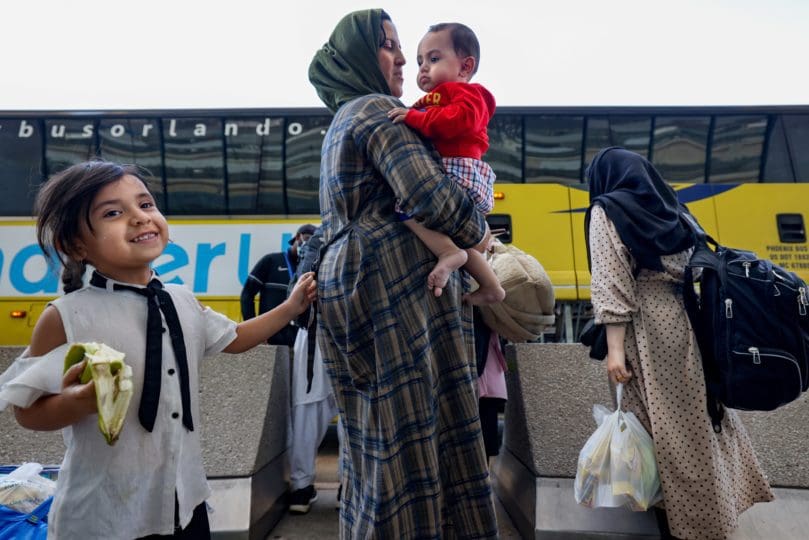 By ANDREW NELSON, Staff Writer
|

Published September 16, 2021

MARIETTA—Parishioners of St. Ann Church are lining up to serve anticipated evacuees from Afghanistan, who will be living on the parish grounds.

A three-bedroom guest house on the Marietta church campus has been spruced up to welcome the expected family with young children.

La Salette Father Ray Cadran said the faith community embraced the chance to show hospitality to the family, just as in the 1990s when the building was home for a family from war-ravaged Kosovo.

"This is us, this is who we are," said Father Cadran, the church's pastor. This opportunity is life giving, in contrast to the "heavy haze" of the COVID-19 pandemic, he said.

Afghan families who fled the Taliban takeover of their country are soon to arrive in cities and towns across the United States. Those settling in Georgia will find Catholic volunteers ready to help.

Vanessa Russell, CEO of Catholic Charities Atlanta, said the agency is anticipating the arrival, lining up resources and examining needs. An Amazon wish list of socks, shoes, buckets, mops and other needed items has been set up.

"We expect now, in the coming weeks, to start receiving more people who were really caught up in the most dire situation. We've been told these will be families with children mostly," said Russell. "We are gearing up to be prepared to help them the best way we can."
Raw emotions faced by families
Accompanying these families as they arrive will require sensitivity, different from other refugees, she said.
Their families' lives were overturned in just days and they may feel both relief for getting out of harm's way and guilt for family members unable to escape the turmoil, Russell said.
"They are struggling with a lot of emotions," she said.
Mental health resources will be needed, as well as interpreters speaking Dari and Pashto to help them with their raw emotions, she said. The nonprofit is starting a partnership with Mercer University for counseling of refugees.
Gov. Brian Kemp has said the state is open to aiding these families.
According to federal records, some 38 people with Special Immigrant Visas, reserved for Afghans who aided the U.S. government's mission, have settled in Georgia since November.
Catholic Charities helped four families from Afghanistan start new lives recently. They left the country before the collapse of the government.
The government estimates some ​​65,000 Afghan refugees were flown to the United States by the end of August, and are being processed at military installations. The next step is for them to begin resettling in different parts of the country.
Transfiguration Church in Marietta committed support to Catholic Charities Atlanta for this effort.
"We have the opportunity to meet and welcome the family and, in the spirit of adoption, accompany them as neighbors as they grow in our community," said Amy Krakauer, a parish staff member, in an email.
The community has a long relationship with the refugee program and running donation drives, she said.
The goal is to support a family with a six-month financial commitment. Krakauer said the parish aims to exceed the $15,000 to $20,000 it takes to cover housing, food, clothing, health care, education and transportation needs.
Technology a necessity for families
Finding safe, temporary housing is a dilemma faced by Catholic Charities Atlanta as people stay put in rental apartments during the pandemic.
The last resort is renting an AirBnB or hotel rooms, but that eats up a family's financial support fast, Russell said.
Refugees receive $1,025 per person in the family, which the resettlement agency spends on the family's behalf. A refugee family has three months to find affordable housing and a job to pay for it.
In addition to the household furnishings, such as towels, blankets and plates, Catholic Charities Atlanta is looking for laptops, tablets and cell phones. Government aid to resettle families does not cover the cost of buying computers.
However, Russell said technology is a necessity to connect families with support services, help children to attend virtual school, and with COVID-19 restrictions limiting in-person gatherings, computers help with socialization and in connecting families with advocates.
At St. Ann Church, volunteers are ready to fill gaps with what's needed. At the first chance, church leaders will meet with families to ask how they can help serve them, said Father Cadran.
With worry caused by COVID-19, here is an opportunity that renews the spirit, he said.
The priest said it is a chance to live the parish mission "not just in words, but action."