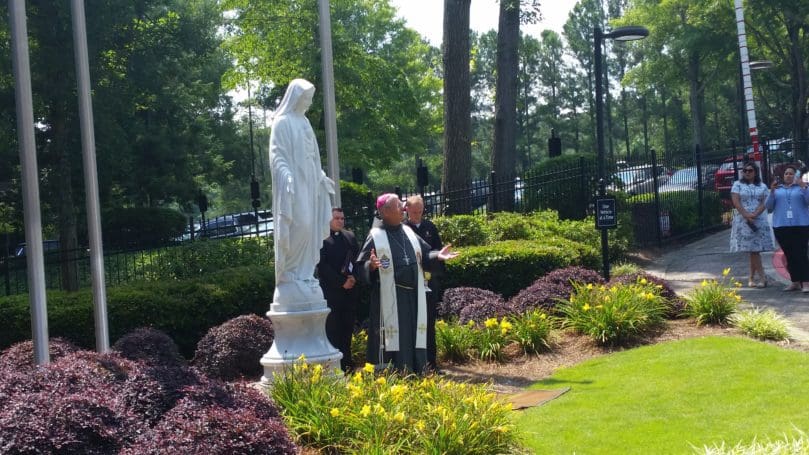 By ANDREW NELSON, Staff Writer
|

Published July 22, 2021

SMYRNA—A statue of Mary now greets visitors and staff at the offices of the Archdiocese of Atlanta.

The white Italian marble statue of Mary depicts her in the traditional stance as Our Lady of Grace with her exposed Immaculate Heart.

Archbishop Gregory J. Hartmayer, OFM Conv., blessed the statue Thursday, July 22. Our Lady stands outside the main entryway of the Chancery.

King Richard's Liturgical Design and Contracting, of Alpharetta, installed the statue earlier in the week.

Tony Ramirez, a sacred art consultant, said in an email, "We pray that she will be a beacon for our archdiocese to strive for holiness and shepherd the flock to our Lord. She embodies all three cardinal virtues in her stance—faith, hope and charity."

Ramirez explained the significance of the statue:

—The ribbon below her bosom symbolizes her maternity as she is pregnant with Jesus.

—With her arms extended, she is gesturing in a way that is both welcoming and giving.

—Immaculate Heart of Mary is one of the patrons of the Archdiocese of Atlanta.

It is the second large religious art piece installed on the building's grounds. The first is a contemporary portrayal of the crucified Jesus. Artist Timothy Schmalz relied on models of African-American men to represent Jesus for the sculpture. The life-size crucifix was installed in 2018.

Archbishop Hartmayer blessed the new statue of Mary prior to the noon Mass, providing prayers and a brief reflection.

"She was a very obedient person and God knew she would be that way when he created her," he said.

For those who work at the Chancery, the new statue will serve as a reminder of "what it is we are doing and why we are doing it," he said. The goal is to be more like Mary.

Archbishop Hartmayer shared that the statue was donated by "a very generous family" who loves the church.

"We promise them our prayers," he said of the donor family.