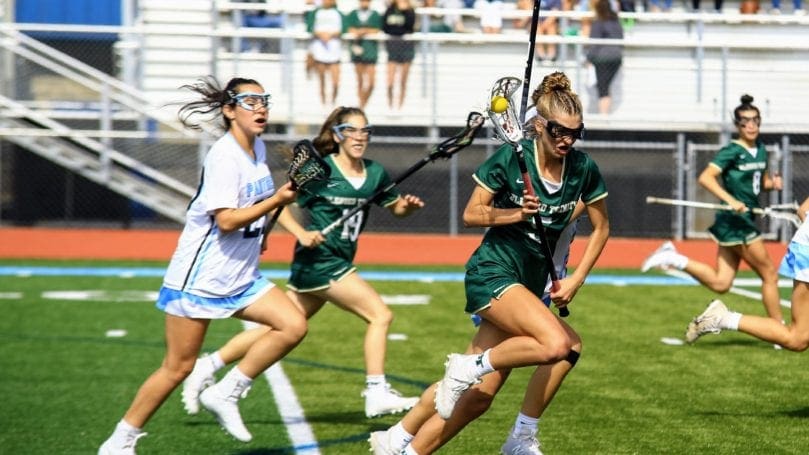 By ANDREW NELSON
|

Published May 19, 2021

ROSWELL–Hidden beneath their green graduation gowns at the May 15 graduation ceremony, seniors on the Blessed Trinity girls' and boys' lacrosse teams still wore sweat-stained team uniforms along with state champ T-shirts.

Earlier that day, the Blessed Trinity Titans lacrosse teams swept the Class A-5A finals, repeating from 2018 as double champions. The girls wrapped up their 15-2 season as the boys capped their undefeated season with a come-from-behind win.

"We wanted to show our success and because we were all super excited about taking home the championship. I think it made the graduation experience more memorable having our state championship shirts on under our gowns," said Riley Sullivan, a senior team captain, in an email.

The championship fulfilled a dream Michela Poma set for herself with teammates as freshman players.

"We made a deal to each other freshman year that our goal senior year was to go win state and then go graduate in our uniforms the same day," she said. "So I was excited to get that started, and thankfully our team pulled through and we accomplished that dream we set for ourselves."
National ranking for Roswell school
Blessed Trinity High School has made a name for itself in high school lacrosse. Both teams hold national rankings by MaxPrep, with the girls at No. 8 in the country and the boys at No. 2.
For Coach Robert Parker, with the boys' team facing a three-goal deficit in the first quarter of the finals against Pace Academy, the maturity of the team's 11 seniors came through.
"We knew we weren't going to get them all back at once. We started trying to get one goal at a time," he said. It wasn't until the fourth quarter the Titans pulled away with the final score 12 to 8.
The boys claimed their second state title in three seasons.
"They did all the things they needed to do, and then some, to achieve it. I couldn't be more proud of the way they handled all the adversity that already comes with a season, up and down, a roller coaster, and then you add in all the (COVID protocols)," Parker said.
Meanwhile, the girls controlled their game against Starr's Mill High School, leading by 5 goals at half time. It was a rematch of the 2019 finals game when Blessed Trinity lost to their rival. But this time with the Blessed Trinity team in command of the game, Coach Liz McFarland said her message to the players was to stay focused and keep after the ball. The final score was 12 to 6.
It was the fourth championship for the girls in five seasons.
The team's repeated success depends on the talented players, but also an "old school lacrosse" emphasis on speed and stick handling, said McFarland. To earn a spot on the varsity team, players must run a mile in 7:45 or less.
"We let our feet and our stick skills  speak for ourselves," said the coach.
COVID season helps players, coaches cherish the game
Players were encouraged to use every practice and every game as potentially their last, remembering how the COVID pandemic cut short the 2020 season.
"They were not just playing for themselves but they were playing for last year's seniors," said McFarland, who has been the girls' team head coach since 2010.
Senior Finn McCarthy said it made him focus on the game he was playing, not the future.
"As I entered the 2021 season, I just always kept in mind that rather than looking ahead to events such as the state championship, I should instead be where my feet are and live in the present," he said in an email.
From the freshmen to the seniors, the season knitted the entire girls' team in a unique way for senior Megan McCarthy.
"I think everyone came together as more of a family," she said. "It was more like everyone was there for each other no matter what the role on the team. Everyone wanted the state championship for each other. People wanted it for everyone around them."