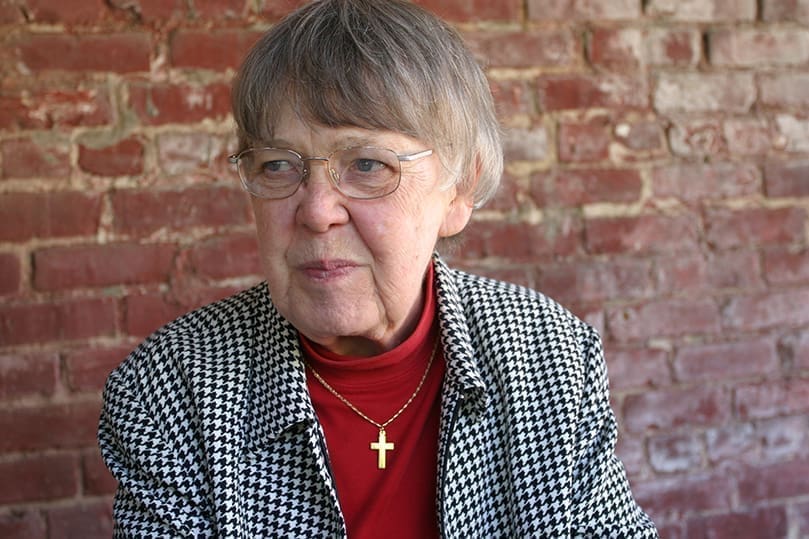 Published April 15, 2021
SINSINAWA, Wis.—Sister Marie Sullivan, OP, will mark her 70th jubilee this year, along with nine other Dominican Sisters of Sinsinawa commemorating 70 years. A private Mass in their honor is tentatively set for June 6 and will follow COVID-19 guidelines. Her religious name was Sister Dennita.
Sister Marie attended Visitation Grade and High School in the Chicago Archdiocese. She is the daughter of the late Dennis and Mary (Sullivan) Sullivan. Sister's Catholic faith and formation in Catholic social teaching were encouraged at a young age as her family provided a positive example.
"We would say the rosary every night, especially during the Second World War," said Sister Marie, reminiscing on the occasion of her 60th jubilee a decade ago. "My mother and dad from Ireland had a very deep faith, and I think I hold to their teaching."
Sister Marie's ministry has been dedicated to social work. Sister Marie was one of the first women from her order to pursue a master's degree in social work, earning a degree from St. Louis University, a Jesuit school in Missouri.
In the Archdiocese of Atlanta, Sister Marie founded and ministered as director of the Sullivan Center, Atlanta, 1992-2010. The ministry helped the poor in Southwest Atlanta to become more self-sufficient. The center merged with St. Vincent de Paul Georgia in 2012.
She talked about the work in 2009 as the community honored her. 
"What I've learned is that many people have a great faith. You and I couldn't survive on the streets," said Sister Marie. " I don't know if I could have lived through some of the problems they have to live with," she said.
She also served as co-director of ECOPAAT, a nonprofit organization committed to informing families about health and nutrition, earth stewardship and urban agricultural economy in Atlanta.
She received the 11 Alive Community Service Award in 1995, the West Point Society of Atlanta's Outstanding Georgia Citizen Award in 2002 and Atlanta's Phoenix Award in 2009.
Sister Marie has also ministered in New York, Illinois and Missouri. She is living in community at St. Dominic Villa, Hazel Green, Wisconsin.
---
Editor's note: To learn more about the Sinsinawa Dominicans or to make a gift to the community, go to www.sinsinawa.org.