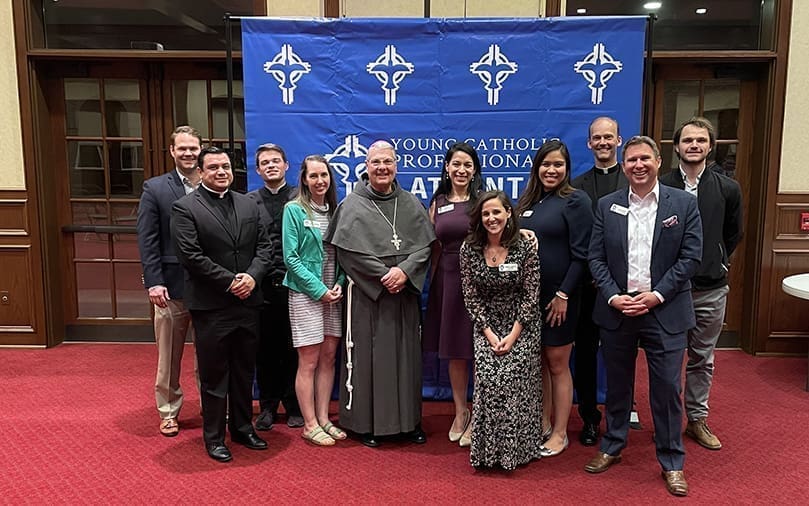 By SAMANTHA SMITH, Staff Writer
|

Published April 29, 2021

ATLANTA—The local chapter of Young Catholic Professionals (YCP) gathered recently for an executive speaker series event featuring Atlanta Archbishop Gregory J. Hartmayer, OFM Conv.

More than 50 Catholic young adults attended the April 15 event at Holy Spirit Church in Atlanta.

YCP brings together faithful in their 20s and 30s for fellowship, networking, inspiration and a spiritual connection in their professional careers. The nonprofit organization has chapters in 17 states nationwide and Washington, D.C. The Atlanta chapter has been welcoming local young adult Catholics since late summer of 2020.

The archbishop talked about the life of St. Francis, his connection with the founding saint of the Franciscan order and Pope Francis, who chose his name from the Assisi saint.

Pope Francis "stresses that preaching the Gospel is the first task of the church, and that was Francis of Assisi's commission as well," said Archbishop Hartmayer. Your way of life should "be loud enough for people to hear and see what the Gospel means and what the Gospel calls us to do."

The archbishop encouraged young adults to live out a new and bold evangelization as described by Pope Francis in his apostolic exhortation, "Evangelii Gaudium," released in 2013. The five aspects of formation to a new evangelization are an encounter with Jesus Christ, conversion, discipleship, communion and getting to know and love the Lord.

Sheila Straub, a young adult who has been watching Mass online during the pandemic was touched by the archbishop's words on being part of a community within the church.

"You really can't do it by yourself," she said.

Believers are to transform the world according to God's plan, said the archbishop.

"We can change our own world. We can change our own space. We can change how we live in this world and how we view it," he said. "That's the challenge of the Gospel."

After the talk, Archbishop Hartmayer fielded questions from young adults, ranging from thoughts on society to his religious life. He shared his experience of a life of poverty, a vow some religious orders take to live more simply.

With a vow of poverty, "it's not that I can't have anything, it's a spirit of detachment—that our possessions don't possess us," said the archbishop. "The simplicity of life is the happiest way to live. If you're looking for peace and happiness, divest yourself of a lot of baggage that you keep bringing with you."

Chris Shakal, YCP member and parishioner of St. Catherine of Siena Church in Kennesaw, thought the archbishop's words on detachment were profound.

"When you don't have possessions, you're more free," said Shakal.

That's good to keep in mind in this culture, he said.