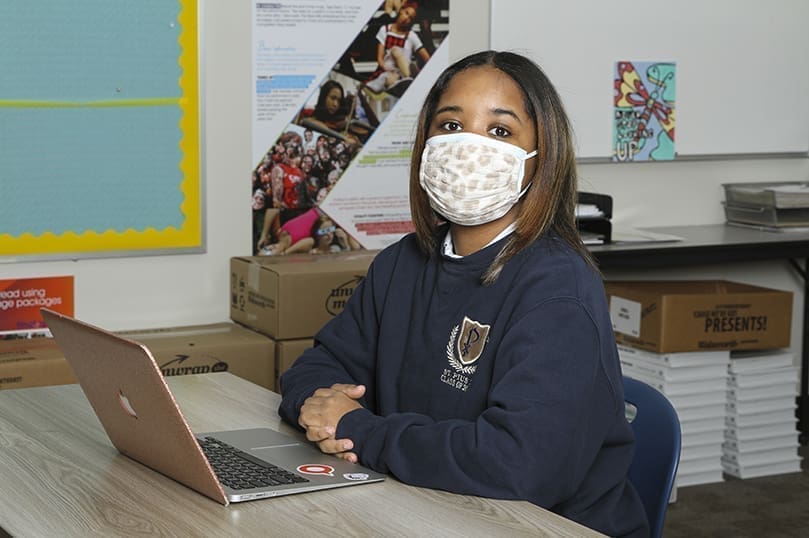 By LAUREN ASHE, Special to the Bulletin
|

Published March 18, 2021

March 13, 2020. Many remember this as the day that everything suddenly changed. Schools began to shut down, store shelves emptied and our new normal set in due to the rise of COVID-19 in the United States. But in this moment, I didn't truly understand how long-lasting and impactful the virus would be.

The first impact the virus had on my academic life was the cancellation of the college admissions test, the ACT. I'm an avid planner so this threw me off. Ultimately, this was to my advantage as I believe a holistic view that incorporates my extracurriculars, essay and GPA speaks to my true capabilities.

As summer began, the shared quarantine shaped my identity. I began doing things I wouldn't have done before the lockdown, from embracing my natural hair to taking the time to slow down and experiment with new areas of writing. I believe this was the right moment, as I had the time and freedom to experiment in private.

Similarly, I began to take a deeper interest in social justice. Because of my inability to have my voice heard in person, I began to educate others through my writing and social media and educated myself through informative books. I also spent the summer working to co-found the St.Pius X Diverse Student Union and develop ways to systematically improve our community.

August came and it was time to decide if I'd be attending school in person or virtually. With the virus infection numbers only getting worse, I decided it would be best to stay home, particularly because I live with someone who is vulnerable to COVID-19. 

This was the year that I'd been waiting on with senior-only privileges, from getting to wear a senior sweatshirt to the Pius tradition of cutting the lunch line each day. There would be no toga-wearing at the "white-out" football game. Giving this all up would be a sacrifice. But in 2020 I recognized we are all called to make sacrifices to protect the world around us. Because of this, I discussed it with my parents and I decided on my own to stay home to close out high school.

Throughout my time online, I've learned about the importance of creating a schedule and keeping myself on track. It surprised me how easy it was to learn at home. I've particularly enjoyed the ability to have freedom throughout my day, whether it was preparing my own meals or deciding to take naps at lunch. Though there were bumps in the road, from feelings of isolation and missing out, I overcame them by finding happiness within myself.

Soon after, I began applying to colleges that have strong journalism programs due to my desire to become a writer that covers race and politics for a renowned publication. 

All the while, I navigated virtual learning. Some days were harder than others, with me feeling like I was missing out on certain senior experiences. A few months into the fall semester, I realized though my time was different I could still make the best of it. As of right now, I am still participating in the virtual learning program and plan to finish out my senior year online.

In December, I received an acceptance letter from my first choice, New York University. At this moment, I knew all the hard work and sacrifices paid off. 

Ultimately, this pandemic experience has given me a deeper understanding of life. It's allowed me to step back from the busy world and find solitude within myself. Though my senior year has been different, it has been necessary for me to open up and grow into the person that I am today.
---
St. Pius X Senior Lauren Ashe, 17, will be attending New York University in the fall.