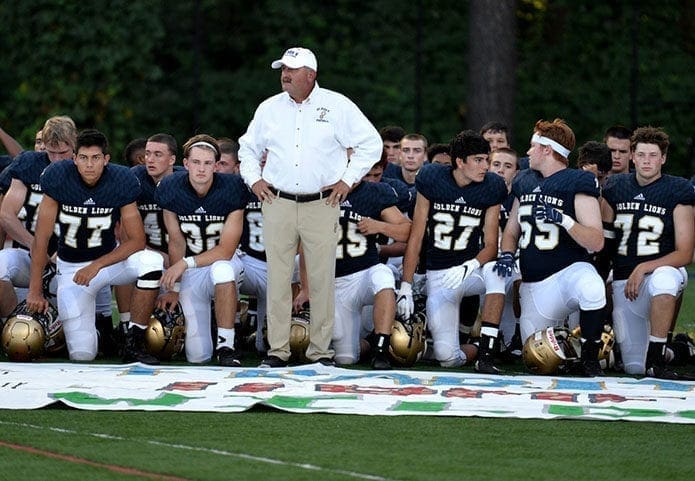 Published December 6, 2018
ATLANTA—St. Pius X High School's football coach, Paul Standard, surpassed the legendary George B. Maloof as the school's career leader in wins with a 38-6 first-round state playoff win over Cedartown High School, Nov. 2. Standard, who played for Maloof from 1976-1979, is now 159-64 in his 18th year as the Golden Lions head coach. Maloof was 158-85-12 during his tenure from 1958-1983.
"This thing with the number means we've been here a long time," said Standard after the game. "I am proud to say that we restored the tradition that Coach Maloof started 60 years ago. That means more than anything. I hope his family knows how much that means to me and how much we love Coach because this (program) wouldn't be here if it hadn't been for him."
Standard, who was named head coach in 2001, recorded his first career win in his first game as head coach, a 17-7 victory over Lakeside High School, Atlanta. Under his watch, St. Pius X has advanced to the state playoffs 16 times, with two state runners-up finishes in 2012 and 2014. The Golden Lions have also advanced to nine quarterfinal and four semifinal appearances. Teams have also finished undefeated in region play nine times in the Standard era.
"Coach Standard, a former player for Coach Maloof, has done a remarkable job in resurrecting the football program at St. Pius X, said Principal Steve Spellman. "It is a tribute to his ability and love of St. Pius X that he has reached this milestone. I believe Coach Maloof would have been the happiest person to see Coach Standard surpass his record."
Since taking over the football program, Standard has led St. Pius to 11 seasons of nine or more wins. The school posted only five nine-win seasons in 42 years of varsity play prior to his appointment. The 2003 team, which finished 10-3 and advanced to the state quarterfinals, broke a 21-year drought in the Fish Bowl, defeating Marist 20-17.  Standard holds a 6-10 record during his tenure against Marist. They defeated Marist 17-0 during the regular season, but were knocked out in the second round of the playoffs after a 24-8 loss to Marist.
"More than his record, Paul helps form good men from our Golden Lions and we are proud of the program he has forged in his love for St. Pius X," said school President Chad Barwick.