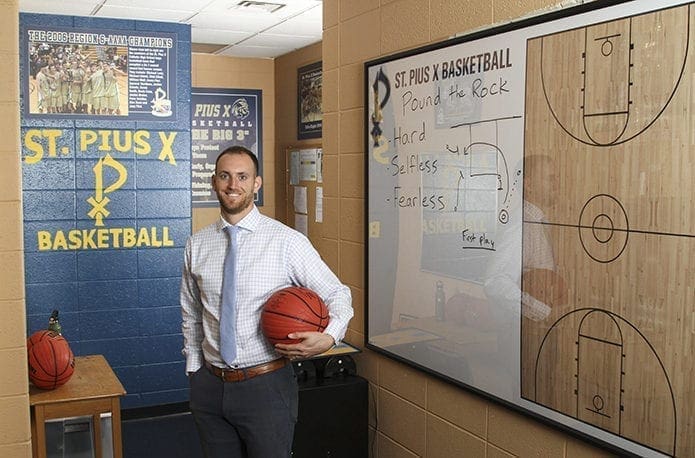 By MICHAEL ALEXANDER, Staff Photographer
|

Published November 26, 2018

ATLANTA—It was February 1998 when Aaron Parr, a fourth-grader at St. Thomas More School, Decatur, shared the front page of The Georgia Bulletin with Sister of Notre Dame de Namur Rita Adele Comber under the headline "Celebrating Excellence in Education." It was Catholic Schools Week.

In those days, Parr played basketball with the older kids every day on the school's blacktop playground and said that's when he fell in love with the game. He went on to play point guard and shooting guard at St. Pius X High School, Atlanta, where he would become the school's all-time leading scorer with 1,500 points.

After graduating from St. Pius in 2006, Parr played at Birmingham-Southern College in Alabama. He graduated with a bachelor of arts degree in history and secondary education and completed his master of arts in coaching and athletic administration at Concordia University Irvine (California).

In 2011 Parr returned to St. Pius to coach boys' varsity basketball. He is also the director of admissions and teaches a leadership class to seniors.

In his seven seasons as head coach, he has amassed an overall record of 157-54. In addition to winning two regional titles, his teams have advanced to the state playoff's "sweet 16" twice (2014, 2015), the "elite 8" twice (2013, 2016) and finished as state runner-up twice (2017, 2018).

Parr and his wife, Katie (Pius class of 2007), were married at the Cathedral of Christ, Atlanta, in 2014. Today the couple attends St. Thomas More Church with their six-month-old daughter, Emory.

St. Pius plays their first home game of the season, Tuesday, Nov. 27, against number one ranked Greater Atlanta Christian.

The Georgia Bulletin caught up with Parr earlier this month:

GB: You attended St. Thomas More School when some of the teachers were Sisters of Notre Dame de Namur. Are there any life lessons they left with you that you find useful as an adult?

Parr: Discipline. They taught me the importance of being on time, completing assignments, and organization. They cared about their students deeply, and that is one of the things I loved about the sisters.

GB: Did you play on a middle school team at St. Thomas More or in a community league?

Parr: When I was in sixth grade, we had a group of dads who put all of us in the Catholic basketball league. It was tough because we didn't have a gym, so we practiced anywhere they would let us. Sometimes we practiced outside. We played together for three years, sixth through eighth grade. Even though we never had a home gym, we never lost a game, going 40-0. It was so much fun.

GB: How did you find the transition from middle school basketball to playing for a high school team?

Parr: I made the varsity basketball team as a freshman. It was a huge adjustment, particularly the physicality of the game. I was tall for my age, but skinny. I had the skills, but needed to figure out how to hold my own defensively. That experience of being around older guys was great for my development, and I still keep in touch with some of the older players on that team.

GB: What was that feeling like the first time you heard your name called during the player introductions of a St. Pius varsity basketball game?

Parr: It was the first ever game my freshman year, and it was at home, and I was in the starting lineup. I will never forget it because we wore the tear away pants, and I forgot to put my shorts on underneath, so I had to run back up to the locker room during warm-ups. We played Paideia and we won the game.

GB: Is there a particular St. Pius team or season that stands out for you during the high school playing days?

Parr: My junior year no one thought we would be very good. We were a young team with no seniors. We ended up making a great run in the state playoffs. My senior year was special because we won the second region championship in the school's history for boys basketball.

GB: Did you ever face a high school opponent who became a college standout or a college opponent who went on to the NBA?

Parr: Oh yes, we played against many great players in high school. My freshman year we played against Dwight Howard and Southwest Atlanta Christian Academy. He was dominant and they beat us. My senior year we played against Derrick Favors and South Atlanta High School. We were able to win that game! Howard and Favors currently play with the NBA's Washington Wizards and Utah Jazz, respectively.

GB: What is it like to coach at your alma mater and to participate in faculty meetings with teachers you used to see as a student?

Parr: My first year it was weird and exciting at the same time. I was a bit nervous to start teaching and coaching at St. Pius X because of the high expectations and success of the faculty and the coaches. But the positive environment created by our principal, Steve Spellman, our former athletic director Mark Kelly, and our social studies department head, Kristin Kramer, allowed me to feel confident that first year.

GB: Last year Mark Kelly retired after 31 years as St. Pius' athletic director. How did he help you grow into your role as a coach and what did you learn from him?

Parr: Mark Kelly called me in his office when I was 23 years old and told me he wanted me to be the head basketball coach at St. Pius. The biggest thing he did was instill confidence in me. If anyone has ever been around Mark Kelly, you know that he can make you feel like the most special person in the world. He has a gift to do that. He made me feel like I was a good coach, and that I could do a good job at St. Pius.

GB: Now that you've been coaching at the high school level for nearly a decade, how would you describe your coaching style and philosophy?

Parr: I am young and still play the game for fun, so I try to relate to our players and be a positive-minded coach. I try to look at every kid on our team and figure out how he can help our team be successful, even if it is just for a few minutes a game. My coaching style is up-tempo. We play 10-12 guys and full court press the entire game. Our defense is probably the cornerstone of our program. I think that it creates excitement with our parents, fans, and alumni who attend our games.

GB: Before your players leave your program, what are some of the things you try to impart beyond the court of play?

Parr: The biggest thing I try to instill in them is how to work together as a team for something bigger than yourself. That is the best aspect of sports that directly relates to the rest of our lives. Working together to accomplish something great is such a unique feeling. Also, I try to instill mental toughness in them. We talk about a concept called "pounding the rock" almost every day. It means that each day your habits and work rate has to be consistent. I think that relates to life. I want these young men to become consistent in being hard-working, great husbands and fathers, above all else.

GB: Your basketball team made back-to-back trips (2017 and 2018) to the Class AAAA state basketball championship game, which is no easy feat. Although you were state runner-up both times, what did you and your teams learn from the experience?

Parr: The thing that has been fun about the last two years has been the journey to get to the state championship. Of course, we wanted to win it all, but just getting to Georgia Tech's McCamish Pavilion to play in the final game has been so hard to do. Our players and coaches had to be so focused each state tournament game we played. The experience of playing in the state final in front of a sold-out crowd two years in a row is something I will never forget. Walking out of the tunnel and hearing the crowd in the arena has been awesome.

 

GB: I understand your wife was a volleyball and basketball player at St. Pius. If your daughter has the athletic gene, will there be a biased attempt on your part to steer her toward basketball or will you allow her to find her own sport?

Parr: I don't want her to play basketball! I spend too much time in the gym. It would be nice if she played soccer or tennis or something outdoors. But seriously, whatever she loves to do, I will support it. Whether it's arts or sports or whatever. I just want her to have fun and be happy.

 
---
Then & NOW is an occasional series of The Georgia Bulletin. The series features people who were captured in a published newspaper photograph 10 or more years ago, along with updated news about them.