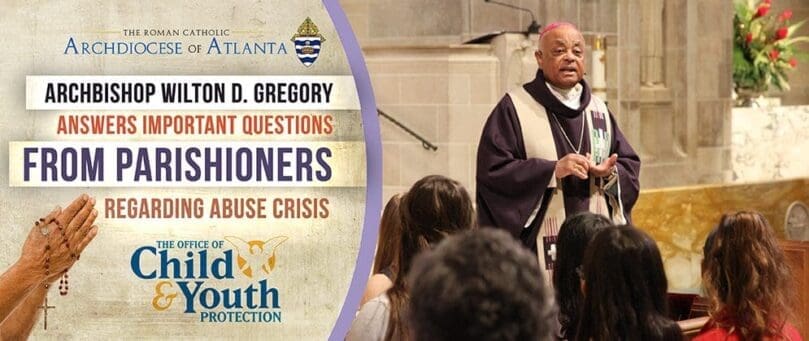 Published November 1, 2018
|
En Español
ATLANTA—In the weeks since scandals related to former Cardinal Theodore E. McCarrick and troubling revelations of heinous abuse in six Pennsylvania dioceses have come to light in the national media, many parishioners in churches across the Atlanta Archdiocese have met together for prayer and to share their concerns in an open or town hall format. Questions from these sessions have been sent from local parishes to Archbishop Wilton D. Gregory, who answered these and more.
Following are the first and second installments of such questions and answers, representing many of the topics about which people want to know more. More Q&As from Archbishop Gregory will be featured in future issues of The Georgia Bulletin.
If your parish conversations have generated additional questions not answered here, please submit them to your parish office and have them sent to Archbishop Gregory's office at the Chancery in Smyrna.
Questions from Oct. 4
When leaders of our faith are involved in scandals and cover-ups, and those responsible have not always been held accountable or punished, how can we communicate and defend our Catholic faith to our children and to those who do not share our faith?
Our Catholic faith is not based on any individual beyond Jesus Christ Himself. Throughout the history of the Church, there have been dishonest and immoral clerics and the faith of the Church has endured and in fact increased. The Church, like other institutions, has an identity beyond the character of individuals. We are a Church of sinners and saints. The same Church that is now suffering from the horrible activities of some individuals is also the Church who has produced great saints in every age, culture and nation. The difference from other institutions is that the Church is both divine and human, founded by our Lord for the sake of the Gospel and the salvation of the human race. Jesus did not promise that the lives of Christians and of the Church's leaders would be free from sin and evil. What He did promise was the Holy Spirit, His continued presence and guidance of the Church, and that the gates of Hell would not prevail against the Church, despite any evil within and without. Our trust is in the Lord.
What steps will you take immediately to put together a lay review board?
The Archdiocese of Atlanta has had a predominantly lay Advisory Board since 2002. This board meets with me quarterly and includes laypersons with legal and therapeutic expertise, as well as an individual who has had personal experience of a family member who has been abused. There is always one priest assigned to the board to bring a pastoral perspective. Allegations involving clergy who have served or are serving in the Archdiocese are immediately relayed to the Advisory Board. Allegations involving lay employees and volunteers are reviewed through our Office of Human Resources and our Office of Child and Youth Protection. Every allegation is turned over to civil authorities. The importance of this review board and the leadership of the laity cannot be overstated. I am continuing to consult with our Advisory Board and other laity about further steps the Archdiocese can take to continue to advance a culture of transparency, accountability, and safe environments for all.
Are there individuals with substantiated allegations of sexual abuse of minors currently in ministry within the Archdiocese of Atlanta?
There is no cleric currently serving in the Archdiocese of Atlanta who has a substantiated claim of the abuse of a minor. During my service as your Archbishop, every allegation of the sexual abuse of a minor by a member of the clergy has been reviewed by our Advisory Board, comprised primarily of lay people, and immediately reported to civil authorities. When an allegation against a cleric who is a member of a religious order has been raised, the religious authority has been notified and, where the allegation has been substantiated, the cleric has been dismissed from service in the Archdiocese of Atlanta. There have been historical cases that predate my service and these too have been reviewed by the Advisory Board. In all cases, we have reached out to those who have raised the allegations with an offer of counseling and/or other assistance.
Questions from Oct. 18
With all the movement of archdiocesan clergy, how can a parish be certain they are not receiving an individual against whom there are allegations of past misconduct with minors, not brought to justice or protected with a cover-up? It is our understanding in the past that some clergy have been put back into positions that put children at risk.
Simply stated, no priest against whom there has ever been a substantiated allegation of abuse of a minor is permitted to serve in pastoral ministry in the Archdiocese of Atlanta. Additionally, every visiting cleric granted authorization to serve (known as faculties) in the Archdiocese of Atlanta beyond a period of eight days must present a document attesting to his suitability from his local bishop or, in the case of a member of a religious order, his Provincial. The priest must undergo a criminal background check and successfully complete the archdiocesan safe environment program. This includes priests from outside the United States seeking authorization to work in the Archdiocese of Atlanta. For clerics visiting Atlanta for a specific pastoral activity (a wedding, baptism, or funeral, for instance) requiring a stay of less than eight days, a letter of suitability from their bishop or Provincial is sufficient.
What types of mental evaluations are administered on seminarians to detect predatory tendencies? Are clergy reevaluated throughout their careers?
Every candidate for the seminary must undergo a series of significant psychological tests before being accepted for seminary formation. Throughout his seminary program, there are multiple occasions wherein a candidate is reviewed and evaluated further. Once a cleric is ordained, he enjoys a stable position within the local Church, but ongoing support is vital, as it is for any leader and disciple. Our Archdiocese uses a group of priests called Vicars to review a priest's emotional, psychological, and physical well-being, as well as his ongoing healthy human development and performance. Healthy, holy friendships and fraternal accountability among priests are key ingredients to supporting the life and ministry of our priests, in addition to the support they receive from the laity.
Please guide us with hope in understanding how this happened, what is being done today within the Archdiocese of Atlanta and how your faithful people can assist in purifying our Church.
We are still a young diocese (established only 62 years ago in 1956) and our history, while not flawless, has a proud legacy of service, outreach to the poor, educating our youth, and sanctifying our people. This growth and development is not the sole or even primary consequence of the efforts of clerics and religious, but is also the result of the hard and generous work of lay people who have supported and engaged in the work of the Holy Spirit active in these 69 north and central counties of the State of Georgia.
I encourage every Catholic to engage in efforts to prevent abuse and reduce the opportunity for abuse both in your parish and in your community. Volunteer as a monitor in your parish school of religion. Complete the archdiocesan safe environment training even if you do not work with children, and then consider becoming a trainer. It is the responsibility of every adult to do all they can to keep our young people safe. I also thank families and parents especially for their heroic work in fostering safe environments in their homes and neighborhoods, and for learning about how you can protect your children and form them to live healthy, holy and chaste lives. The culture today is even more difficult than the culture of yesterday, especially in view of the challenges of technology, pornography and violence. We must work together—families, parishes, and schools—in educating and forming our young people in their walk of discipleship and fostering safe environments everywhere in this Archdiocese.
Question from Nov. 1
Do you believe the church's stand on celibacy contributes to the sexual abuse problem and do you think altering that stand would reduce the occurrence of sexual abuse?

Celibacy brings its own dynamics into the life of a cleric, with both blessings and challenges. However, celibacy is not the problem here. For instance, it does not explain how the criminal sexual abuse of minors occurs so frequently within families or in environments where the perpetrators are, in fact, married or non-celibate.
Priests are called to accept celibacy freely as a gift and responsibility in order to be configured more closely to Jesus Christ. Society's problems are multifaceted and include failures in chastity and in healthy integration of one's sexuality, failures in leadership as seen in the abuse of power and ultimately, failures in fidelity and discipleship. However, even these human failures are a far cry from the criminal sexual abuse of minors. The Church must be continually renewed and purified, and this includes a renewal of all those who vow to live a life of celibacy and virginity as well as a renewal of those who live the vocation of marriage, family life and good citizenship. We must all live our vocations faithfully to the Lord, according to our state of life.