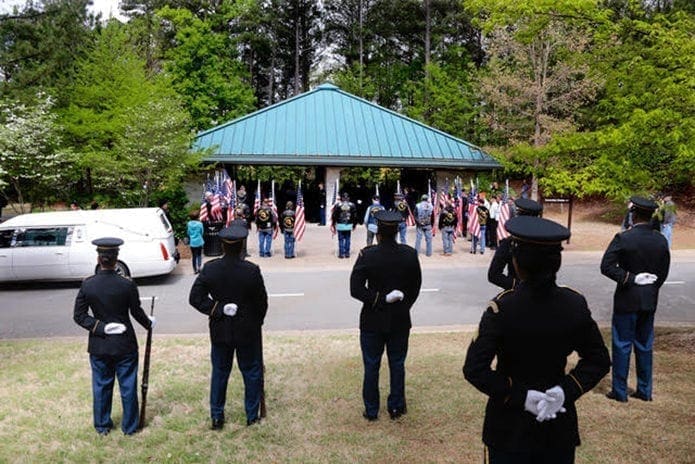 Published September 20, 2018
ATLANTA—National cemeteries are places where many veterans of military service are interred. There is one group of veterans, however, who have no final resting place—they are the Missing in America.
They are veterans whose ashes remain unclaimed even though they have burial benefits in national cemeteries. Their cremains may be found in funeral homes, storage facilities, state medical facilities and even some in trash bins.
The Missing in America Project (MIAP), a national effort, was founded to help remedy this problem and provide the honor deserving of these abandoned veterans, some of whose remains have been on shelves more than thirty years. The MIAP mission, simply stated is "… to locate, identify, and inter the unclaimed cremated remains of American veterans through the joint efforts of private, state and federal organizations … and to provide the honor, respect and dignity to those who have served this country by securing a final resting place for these forgotten heroes."
The Georgia state coordinator for the Missing in America project is Daniel Poirier, a member of St. Francis of Assisi Church, Blairsville. Poirier is also a fourth degree member of the Knights of Columbus. The Georgia state chaplain for the MIAP is Deacon Loris Sinanian.
This lengthy project requires many volunteer hours to ensure every forgotten veteran receives a dignified resting place. This is also a labor of love and a task of redemption for the debt of service that can never be repaid.
A little over 100 years ago, the Blessed Mother appeared in a small town in Portugal, Fatima. Over 70,000 people witnessed what happened there. One of the Blessed Mother's requests was that the faithful pray the rosary daily. In that prayer Catholics ask Mary to "pray for us at the hour of our death." The Missing in America include those who may have had no one to pray for them.
The work of MIAP is a patriotic endeavor, and from a Catholic perspective, a corporal work of mercy (burying the dead) deserving a high priority from Catholics throughout the nation.
In its short history, MIAP volunteers have located close to 4,000 unclaimed veterans' remains and have interred at least 3,425.
In the past few months MIAP in Georgia has held services for seven veterans at the Georgia National Cemetery in Canton, and one highly decorated World War I veteran in a community cemetery. These interments not only include religious services conducted by the state chaplain, but included representatives of Army and Air Force military honor guards, and the folding and presentation of American flags to those representing the veteran's family as surrogates. The services included 18 gun salutes, buglers playing taps, and bagpipers with hundreds in attendance. These veterans were abandoned, alone and left behind, and those who attended the burial services became their family.
The mottos of MIAP are: "You Are Not Forgotten," "It's the Right Thing to Do" and "No One Left Behind."
It is not often that one is afforded the opportunity to be a voice for forgotten heroes who have served the nation and MIAP is that voice. Catholics are invited to become part of that voice and volunteer to assist in the effort of locating unclaimed, cremated remains of service veterans.
To become a supporter, go to the Missing in America Project website at miap.us. Click "supporter registration" on the left side and complete the contact information.
To volunteer, send an email to Charlie Warthling, MIAP national vice president, at Harley4ever@miap.us.
---
To learn more about Georgia MIAP efforts, contact Daniel Poirier at 770-377-2377.