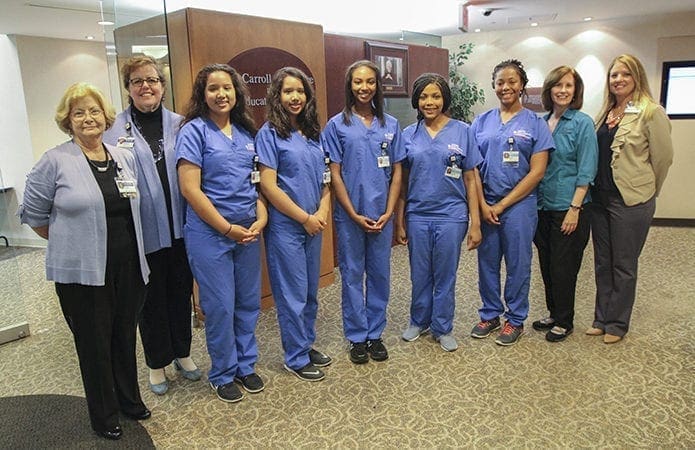 By NICHOLE GOLDEN, Staff Writer
|

Published August 23, 2018

|

En Español

ATLANTA—At Emory Saint Joseph's Hospital in Atlanta, summertime means the return of the VolunTEENS to the corridors.

Youth ages 15 to 19 from across metro Atlanta, dressed in blue scrubs, work in various departments at the hospital. It's a chance for the teens to explore careers in health care and interact with patients and staff.

"Our ultimate goal is creating the next generation of caregivers," said Allison Hager, the hospital's director of guest and volunteer services.

This year, 67 teens participated in the program, which requires working at least a four-hour shift once a week. Many of the teens surpassed the required amount of hours, and three students logged more than 100 hours of service.

The Sisters of Mercy founded Emory Saint Joseph's, Atlanta's longest-serving hospital, in 1880. Four sisters, with 50 cents between them, opened the hospital to provide care to those in need.

In keeping with the mission of the founding sisters, Hager said that staff always asks, "What are we doing to serve our community?"

The teen volunteer program not only provides extra support to patients and their families but also teaches young people professional skills.

Anne Davenport, a hospital volunteer herself, is the program coordinator and interviews all teens interested in serving, matching them to departments.

Davenport said all of the kids bring their cell phones but obey the rules and learn to turn them off while on duty. She enjoys working with the youth and has learned new ways to communicate with them about schedules and events.

"If I text them, they'll answer me," she said.

Davenport became familiar with the mobile app, Remind, to send group messages to the volunteer corps.

Most of the teens who apply are excellent students, but Davenport emphasized the program is open to all, and the slots are filled on a first come, first served basis.

"All kids need these opportunities," she said.
Discovering opportunities
Hager recalled an average student who was matched to work in the materials management department. A staff member took the boy under his wing, mentored him, and the teenager decided after the experience to go into the U.S. Army.
About one-third to one-half of applicants say, "I want to learn to talk to adults," shared Hager.
By interacting with hospital guests, staff and even helping patients into wheelchairs, young people practice the art of conversation.
"We've seen kids really blossom," said Hager.
The teens represent several faith traditions and come from across the metro area, one driving from as far as Douglasville to the hospital in North Atlanta.
Many of the teens are eyeing health care as potential career tracks.
Dr. Thomas P. McGahan, chairman of the Department of Medicine at Emory Saint Joseph's Hospital, was recently named chief medical officer of the facility. Dr. McGahan spoke to the teens as a former participant in the program. Hager said the teens were able to ask him when he decided that becoming a doctor was for him.
Christopher Wang, 17, is one of the teen volunteers keeping his career options open. A senior at Norcross High School, he also plays viola with the Atlanta Symphony Youth Orchestra.
He spent the summer, his second at Emory Saint Joseph's, working in the hospital's robotics department but also putting his musical talents to use as a therapy of sorts.
A viola player for seven years, he asked "if I could play for families in their rooms."
Wang also gave performances in the lobby area for guests.
"I could see a direct impact," he said.
The hospital held a July 26 graduation ceremony for the VolunTEENS and a lunch for their families.
Father Patrick Scully, hospital chaplain, spoke at the ceremony in the auditorium.
Father Scully said that he always feels like shouting, "Volunteers, Unite!" whenever he sees one of the teens in the hallway.
"Most people don't choose to be here, but you have chosen to be here," he told them.
The young people are looking at those suffering and their tears and providing "healing, hope and hospitality" to them, said the priest.
"You help make this a hospitable place," he added.
Father Scully commended the students for donating so many hours of their time to others.
"At the heart of our spiritual life is giving," he said.
Give and be blessed
For Agnes, Belinda and Bernadine Kumi, giving their time and talents to Emory Saint Joseph's Hospital, is an extension of their Catholic faith.
Agnes Kumi, a recent graduate of Blessed Trinity High School, recently wrapped up her second summer of volunteering at the hospital. She will join fellow VolunTEEN and friend Kyra Montes at Yale University in New Haven, Connecticut, this fall for pre-med studies.
Belinda and Bernadine, both 15, are twins and current students at Blessed Trinity. It was their first summer to participate in the program.
"They're very welcoming," said Bernadine of the hospital's staff.
For Belinda, the volunteer program has been a chance to explore the "broad medical world."
The sisters have long been altar servers at St. Andrew Church, Roswell. Together with younger sister Gladys, who attends Queen of Angels School, they raise funds to donate new teddy bears to patients at Children's Healthcare of Atlanta.
They call their nonprofit foundation, GABB, which is not only an acronym for their first names, but also stands for "Give and Be Blessed."
The girls, raised by their single mom Esther, pray together daily. The family recently began having a Bible study on Sundays.
When their mother was seriously injured more than three years ago, their parish community and others provided much support.
"Our mom was in a car accident. She was hit by another car head on," said Bernadine.
The busy family found themselves without transportation, and Esther Kumi, the family breadwinner, was recovering for weeks.
"It was a big blow," recalled Belinda.
"There were definitely some low points," said Agnes. "Going to Mass helped."
"A lot of people helped us out," added Bernadine.
The generosity of others inspired them to further action.
Agnes told her mom and siblings, "We should do something to give back."
The idea of providing comforting stuffed animals to pediatric patients at Children's was born.
"Our mom called volunteer services for our first donation," said Agnes.
Each trip to Children's, they try and bring at least 50 new bears and have donated hundreds and hundreds so far to the hospital and to the Family Promise program.
"There is more joy in giving than receiving," is their mother's constant reminder.
With their Catholic faith central in the lives of the Kumi sisters, volunteering at Emory Saint Joseph's was a natural fit.
"It's a great program," said Bernadine.
The twins are keeping possible college choices and careers open for now, but learned many new skills in their inaugural VolunTEEN summer.
"I learned how to fax this summer," said Belinda
The Saint Joseph's Hospital Auxiliary established the VolunTEEN program more than 35 years ago.
Auxiliary president Charlie Cayce congratulated students and their parents at graduation,
"Your children have been amazing," he told parents. "I hope you all have seen some growth."