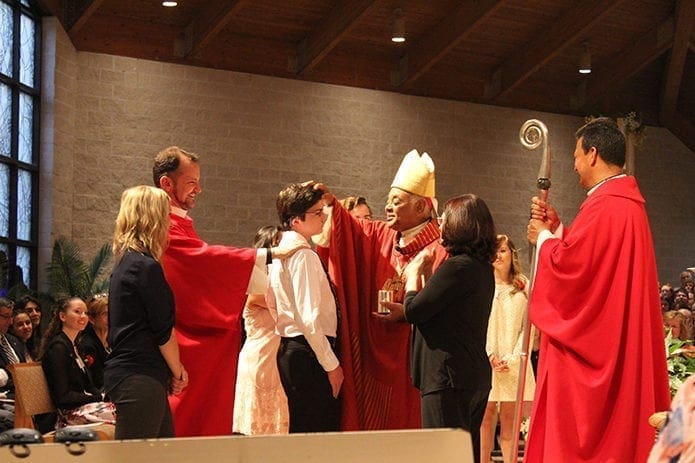 Published August 3, 2018
MARIETTA—On April 19, Archbishop Wilton D. Gregory celebrated Mass and the sacrament of confirmation for a group on young people, including Nicholas Spacht, at Transfiguration Church, Marietta. Nicholas is unique among his classmates in that he is deaf and fluent in American Sign Language (ASL).
During the years of his sacramental preparation, sign language interpreters from the archdiocese facilitated communication in classes, retreats and activities. Nicholas chose as his sponsor Father Shawn Carey, director of the deaf apostolate for the Archdiocese of Boston, Massachusetts. Father Carey is also deaf. Never before had a deaf priest sponsored a deaf confirmation student and concelebrated the Mass in the Archdiocese of Atlanta.
During middle school Nicholas and his parents were preparing to travel to Boston for him to have surgery. An Atlanta archdiocesan interpreter arranged for the family to meet Father Carey. Over the years the young man and the priest have gotten to know each other during a couple of hospital visits in Boston, as well as dining and sightseeing.
In a conversation after the confirmation Mass, Father Carey and Nicholas agreed that their connection was certainly God's plan.
Father Carey has traveled to Atlanta a number of times in support of the deaf ministry including serving as a presenter in the ASL track at the 2014 Eucharistic Congress.