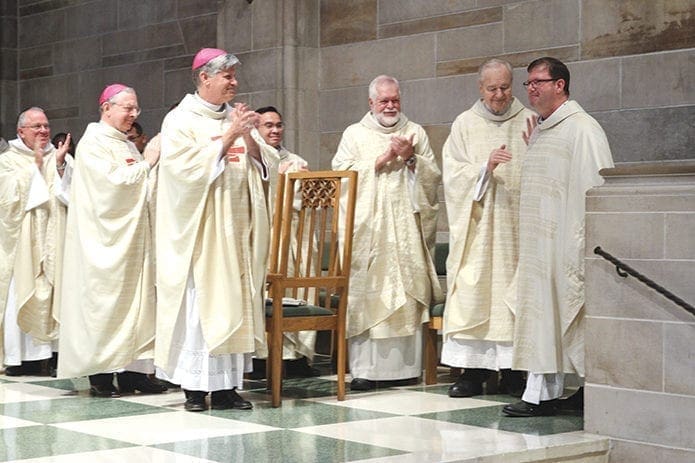 Published July 5, 2018
|
En Español
ATLANTA—As the Catholic community in Atlanta grows to reflect the global church with worshippers praying in their native languages and celebrating cultural holidays, an immigrant priest was appointed by Archbishop Wilton D. Gregory to accompany men discerning their vocations.
Father Tri Nguyen, a native of Vietnam, is stepping into position of director of the Office of Vocations for the archdiocese. Previously he had served as one of the associate directors of seminarians in addition to his duties as parochial vicar at St. Brigid Church, Johns Creek. He took on the role of director beginning July 2.
The Office of Vocations oversees the acceptance and education of men desiring to serve as priests in the Archdiocese of Atlanta. Currently, 53 seminarians attend four major seminaries and one college seminary. Thirteen of the men are from other countries.
Thanks, blessing from longtime director
Father Timothy Hepburn, outgoing director, was appointed pastor of Gainesville's St. Michael Church, also effective July 2. At a farewell lunch on June 25 at the archdiocesan Chancery, Father Hepburn thanked the staff for their friendship and support.
He especially thanked the vocations administrative staff, Sally Scardasis and Pilar Castaneda, for their work in maintaining the department and fulfilling their own vocations.
"It is best described as service. They serve far beyond what they are asked to do," he said. "I want to say thank you for all the years of service."
A native of Atlanta, Father Hepburn was ordained in 1993 and later earned a post-graduate licentiate in sacred theology at Sacred Heart Major Seminary in Detroit, Michigan. He has served as a pastor; a chaplain at Blessed Trinity High School, Roswell; and as chaplain at Emory University, Agnes Scott College and Georgia Tech. A popular speaker and musician, Father Hepburn has served as director of the Office of Vocations since 2011.
At the lunch, he applauded the more than 75 people attending who serve the Catholic community from the Smyrna archdiocesan offices.
"The greatest blessing of being the director of the Office of Vocations for the archdiocese is to see the marvelous ways the Lord brings forward vocations in the church. If you haven't heard it from me already, all of you have a vocation," he said. "It is so easy working in the Chancery to let our sights fall down, to the secular, the administrative, the institutional when really most of us know what's moving all of this is Jesus Christ. And he's the vocation, he's the main vocation for all of us. To share that with all of you has been a great blessing."
Serving in the position offers "a ringside seat to watch God's grace unfold in the lives of young people (and some not so young). So much, really all of it, is attributable to the work of the Holy Spirit and not to programs that we produced," he said in an email.
Father Hepburn said the Catholic community is growing in numbers of believers and in seminarians.
"And we should also be grateful that, at present, we do not have the scenario of one pastor serving three or four parishes, a reality so common in some areas of the U.S.," he wrote.
But the growth seems to come from immigration and migration, not by parish renewals, he said.
"If our parishes will become missionary, I know that we will see many young men and women attracted to all forms of consecrated life, and for the right reasons," added Father Hepburn.
A special care for young people
In appointing Father Nguyen as the new vocations director, the archbishop commended him for his role in ministering to young people.
Father Nguyen "has always exhibited a special love for the formation of young people and in assisting them in their vocational discernment," said Archbishop Gregory in his announcement.
Before ordination, Father Nguyen taught and counseled young people at Atlanta area schools, including St. Joseph School, Marietta; Atlanta Technical College, Atlanta; and Georgia Perimeter College, Dunwoody. He earned a master's degree from Georgia State University in teaching English as a second language.
A native of Vietnam, he lived in Stockbridge and worshipped at Our Lady of Vietnam Church, Riverdale, before attending St. Vincent Seminary, in Latrobe, Pennsylvania. Ordained in 2012, he has also served at St. Peter Chanel Church, Roswell.
At his ordination, he said he hoped to mirror the lives of men and women who shared their faith with him. Father Nguyen's focus, he said, was to share the love of God in his ministry.
Father Nguyen said Franciscan sisters and priests at his childhood parish in Vietnam were an early inspiration. After arriving in the United States in 1993, he was a leader with the Eucharistic Youth Movement, an international organization for youth and young adults active in the Vietnamese community.
The ministry in the parishes has helped him understand the faith of the Catholic community, in addition to their "expectations in the church, and in the priests," he said. "All these make up the reality of the people of our local church, and being aware of it helps me makes the appropriate decisions in recruiting and guiding the future priests for the archdiocese," he wrote in an email.
Father Nguyen said he is excited to be working with the men, helping them, but also for the chance to travel around the archdiocese visiting different parishes to better know their needs and how seminarians can serve.
For men considering priesthood, he wrote, "My advice for men in formation is: be open to God's presence in your daily life.  You are where you are and God does not cease to communicate his love to you. With a deep prayer life, it is easier to recognize and be present to his communication: through the study, through the people, through life experiences."
In writing a farewell note to the parish community at St. Brigid's, he expressed how grateful he was to serve there for the past four years—"Though we have different roles, it is your faith that strengthens my faith and your vocations that deepen my priestly vocation. Journeying with you these past four years has been faith-filled and joy-filled."