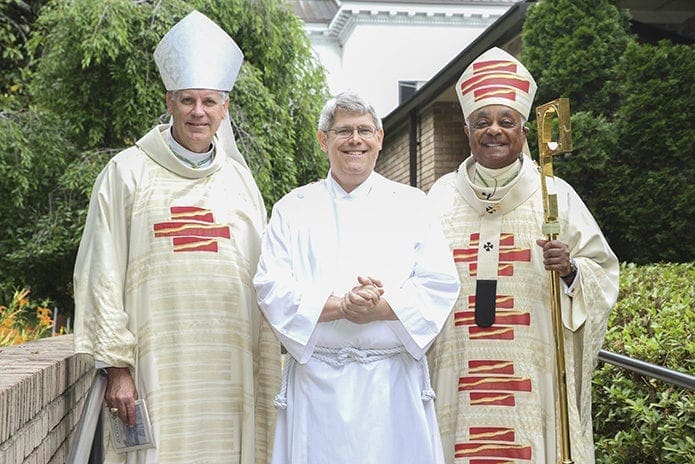 Published June 7, 2018
ATLANTA—Finding himself a Catholic is not what Mark White envisioned for himself as a young man. Growing up he wasn't hostile toward faith, he just didn't see its point, he said.
"I would have presented myself as someone who didn't care."
The journey has had many twists and turns, as he was inspired by his sister's conversion and intellectually drawn toward the faith while still holding reservations. But following his conscience, the Atlanta native joined the Catholic Church six years ago.
And, at 47, the once indifferent young man is not only a Catholic but has been ordained to the transitional diaconate, a momentous step toward becoming an archdiocesan priest.
During the ritual on Saturday, May 26, he lay face down on the marble floor of the Cathedral of Christ the King, Atlanta, as the congregation prayed to God, asking for the intercession of the Blessed Mother and other martyrs and saints.
Archbishop Wilton D. Gregory celebrated the Mass, along with Bishop Joel M. Konzen, SM, Bishop Bernard E. Shlesinger III, and other priests of the Archdiocese of Atlanta.
In his homily, Archbishop Gregory remarked on Rev. Mr. White's "awesome task" as a deacon to help people "to discover, to hear and to believe the truth" of the Lord.
"The Lord's Good News is the enduring truth, in spite of all of the other news stories that may flood social media," said the archbishop.
The archbishop drew a connection between himself and the new deacon. Both entered the church from a Protestant background. The archbishop was received into the faith while attending a Catholic grade school in Chicago. White joined in his early 30s.
"You must be a Catholic within the very marrow of your bones and heart," said the archbishop. "To be a Catholic, you must embrace the long heritage of pastoral and theological richness that is the church's heritage."
He encouraged the new deacon to bring his gifts and love of Scripture study to his ministry.
"We Catholics need preachers who appreciate the Bible, love God's word, and can proclaim that truth with zeal and inspiration," said Archbishop Gregory.
Among the duties of a deacon are preaching at Mass, assisting at weddings and baptizing new members of the faith.
The archbishop said Rev. Mr. White must not be satisfied to wait for others to approach the church with their needs.
"You must be missionary in your desire to build up the family of God," he said.
The archbishop said the new deacon must recall his brief service as a deacon in becoming a priest since it is the foundation to "understand the type of greatness that belongs to those who work quietly and without great fanfare to care for their brothers and sisters."
"You will need to recall the mission of charity and justice, which so distinguishes the diaconal ministry," he said.
Drawn by what he read
Rev. Mr. White grew up in a family that had suffered heartbreaking losses with a stillborn child and a baby who died young. His mom, he said, tried her best to instill a faith life by taking the family to church, but he was having none of it.
Rev. Mr. White has an older sister, who joined the Catholic Church several years before he did. He earned a bachelor's degree from the University of Georgia. He worked after college for his family-owned printing company.
A moment of crisis in his early 30s turned him to the Christian faith. He explored different Protestant traditions and attended a seminary with the idea of becoming a minister.
"I started reading everything I could get my hands on," the new deacon said.
Rev. Mr. White said his enthusiasm for faith wasn't an emotional draw but an intellectual pursuit. To his surprise he found himself focused on the writings of former Protestants who were captivated by the Catholic faith.
The "richer and fuller" tradition of the Catholic Church intrigued him, he said.
Meanwhile, he connects events now that seemed more than coincidences—like the time he sat on a flight returning from a church job interview sitting next to a Catholic priest. Or a woman he dated briefly whose passion for the Catholic faith he found intriguing.
"What I was doing was stepping into the fullness of what God had done, that his Son was made flesh," he said.
Entered at Mary Our Queen Church
His entry to the faith took place at Mary Our Queen Church in Peachtree Corners. He joined the church on Aug. 14, 2012. It took place on the feast of St. Maximilian Kolbe, a Conventual Franciscan priest who volunteered to die in place of a stranger in a World War II Nazi death camp.
There is a three-year waiting period for converts to apply for seminary. He got involved during that time with parish ministry by leading other adults to the church and worked with the respect life committee and the St. Vincent de Paul ministry. He has studied at Notre Dame Seminary, New Orleans.
Deacon Jim Stone, who recently retired from ministry at Mary Our Queen, assisted with investiture at the ordination.
Deacon Stone said Rev. Mr. White has great humility as well as being a good listener—gifts that will serve him well.
"Mark's eagerness to serve God and the church will make him not only a good deacon but a good priest as well. He is anxious to share his faith and has zeal to bring others to Christ and to the church. He is untiring in his desire to win souls for Christ," Deacon Stone said.
With a summer ministry at St. Jude the Apostle Church, Sandy Springs, Rev. Mr. White looks forward to preaching and welcoming youngsters into the church at baptism.
"This is a real miracle, an act of grace, a beautiful thing," he said.