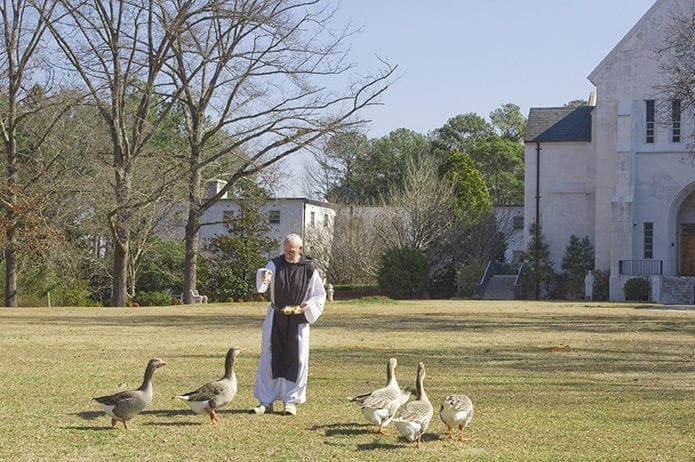 By PRISCILLA GREEAR Special to the Bulletin
|

Published June 21, 2018

CONYERS—Celebrating his 60th jubilee of priesthood this year, Father Thomas Francis Smith, OCSO, cheerfully greets visitors on weekday mornings for two hours at the welcome center of the Monastery of the Holy Spirit in Conyers after rising at 3:30 a.m. for the 4 a.m. morning vigil, followed by Mass at 7 a.m. Then in the afternoon the 90-year-old Trappist monk usually sees one or two people for confessions or spiritual direction and later relishes solitary communion with God before evening vespers, compline and bedtime by 9 p.m.—calling himself a Trinitarian.

"As long as I'm active I'm down here at the welcome center. You expect a younger monk. I enjoy meeting people but then in the afternoon and evenings I love my solitude. You know solitude is not being alone, it's being alone in the presence of the Trinity. St. John of the Cross said that you are never less alone than when you are all alone and one with the God triune," he said.

In his room, the welcome center and on a wallet prayer card, Father Tom Francis keeps his favorite religious icon entitled "Trinity" by Andrei Rublev of three divine persons seated around a chalice.

"In the course of my prayer life I became very intensely interested in the divine three. I call myself a Trinitarian rather than a Christian. Most people are fixated on Jesus and what He did for us but Jesus was fixated on opening up the inner life of God as triune and us participating in it," said the Trappist priest. "We're baptized in the name and the power and presence of the three."

Father Tom Francis grew up an only child in Baltimore, Maryland, attended Catholic schools and after high school joined the Congregation of the Brothers of St. Francis Xavier, a religious institute dedicated to teaching youth that taught at his school. After training with the community he taught at a high school in Louisville, Kentucky, for five years. But before making perpetual vows the history buff read Trappist monk Thomas Merton's "Waters of Siloe," which romanticized Cistercian life in the 11th and 12th centuries and caught his imagination, as did "Story of a Soul," the autobiography of St. Thérèse of Lisieux.

"I looked forward to being in the classroom and teaching young boys religion but the attraction to become a monk was so strong," he reflected. "I decided to leave the congregation I was in to become a monk like those Cistercians of the 12th century. I had never met one. I'm kind of a romantic type."
Choosing a life of prayer and travel
His friends and family doubted the extrovert would make it as in those days monks were largely silent and used monastic sign language to communicate. Nevertheless he chose a priestly life of deeper prayer and union with God—and never regretted it.
"I was convinced by Thomas Merton's writings that withdrawing in a monastery and leading a life of liturgical and private prayer helps the church more," he said. "I've loved it."
Father Tom Francis first joined the Monastery of the Holy Spirit back in 1951, crowding into the original wood structure with about 90 other monks before the permanent church was constructed on their bucolic 2,300 acres in Rockdale County. He was ordained a priest in 1958. In 1965 he was asked to go to Africa and spent five years bringing monastic life to Kenya, teaching monks church history, liturgy and theology while even learning Swahili and teaching catechism to children. He experienced the grinding pains of poverty in visiting families in straw huts infested with insects and watching women haul 60-pound loads of firewood. Next he was assigned two years of serving in Nigeria and later sojourned around the globe, from China and the Philippines to France and the Middle East.
"One of the happiest moments of my life was to bring monastic life to sub-Saharan Africa," he said. "I think every American young person should get to a Third World country to see the suffering … and they can appreciate what they have."
In 2001 he returned from his last foreign mission as chaplain to Trappistine nuns in Venezuela. He was then assigned to the Conyers monastery retreat house where he has enthusiastically given spiritual direction, conducted centering prayer workshops and taught contemplative prayer in retreats, conference and lectures, guiding Catholics to profound seeking.
"The old term was meditation and contemplation but that was such a put-off to many people, so we did a public relations job and turned it into centering prayer," he said. "But it really is to be in contact with God and the Holy Trinity in this life."
Having taught church history for 25 years, Father Tom Francis explained that the doctrine of Father, Son and Holy Spirit as divine coequal persons was very controversial and not established until the Council of Nicaea in 325.
Leading others to contemplative prayer
On a mission, the priest still strives to lead the faithful to abundant life in the Trinity.
"He has tragically died on the cross to introduce us to the Trinitarian life on earth and for all eternity," he said. "The source, center and summit of Christian life are the Trinity because Jesus came from the triune God, revealed the triune God and ascended."
The slim, wiry monk even offered retreats on exercise and contemplative prayer at the monastery. While chuckling that now he can't even bend over, he himself practiced yoga as a form of exercise for decades and "was a pretzel in those days," which "brought me to the 90s." But now he speaks of "sanctifying your diminishment" and accepting peacefully the loss of memory, energy and loved ones—while lamenting that he no longer recalls when Julius Caesar crossed the Rubicon.
When he's not welcoming visitors, Father Tom Francis now enjoys all his reading as lectio divina (Latin for divine reading), whether a spiritual book or the monastery subscription to Newsweek, and the one TV show monks are allowed to watch weekly, usually historical or religious in nature. For quiet recreation the sprightly soul has made thousands of wooden finger rosaries sold in the gift store.
"I want to counteract that natural tendency after 50 or so to take it easy. I'm now in my 90s and keep going. I don't fear death but I'm not going to invite it," he said.
Abbot-emeritus Francis Michael Stiteler, OCSO, will always remember Father Francis' welcome when as a young monk he first arrived at the monastery in 1974. "Father Tom Francis was very gracious and friendly and easygoing, somebody I could joke with and be friends with, very easy to be with in that way," he said, adding that he still sometimes pinches the senior monk's earlobe from behind. "I'm not sure I hope to live as long as he does, but if I have to live as long as he does, I hope I can be as gracious and gentle and kind as he is."
And he admires his dear friend Father Tom Francis' intellectual vigor, noting how they recently discussed Mary Magdalene in church history.
"After Mass there's a little room for coffee. He might show up and has got some question about some pope you've never heard of, some kind of historical, theological question … It's just amazing at 90 he's still lively and asking these questions. He's a beautiful, sweet soul," he said.
Never having worked the retreat house himself, the former abbot also appreciates Father Francis' extensive community outreach at the retreat house and welcome center.
"It's really amazing," he said. "He's very bright. With the centering prayer, retreat house stuff, he has listened to and talked to and ministered to tens of thousands of people."