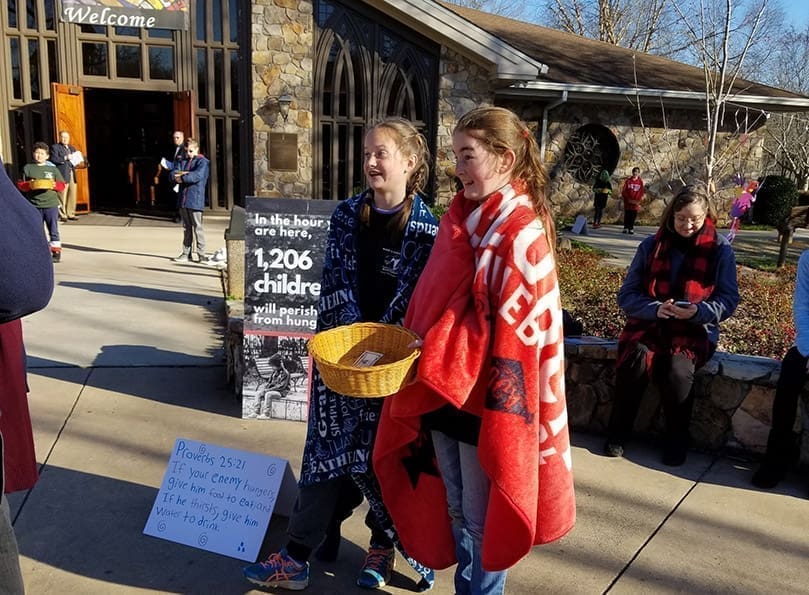 Published May 25, 2018
ALPHARETTA—On March 3-4, a group of middle school students at St. Thomas Aquinas Church, Alpharetta, participated in a Cardboard Campout retreat to raise awareness about hunger and homelessness in the community, the country and around the world.
The goal was multifaceted. Anne Renkes, middle school coordinator at St. Thomas Aquinas, said leaders wanted the students to see what it felt like to have to depend on others. Fundraising efforts required the youth to raise $365 ($1 dollar a day to feed someone for a year) on their own before the event began. Parents were not allowed to write a blanket check. The kids evangelized family and friends by explaining what they were going to do and what they hoped to learn from the experience.
The objective was for students to understand life without the comforts that come easily to most and to walk in the shoes of a homeless person for a short time.
The retreat participants went without the comforts of food, electronics or a warm bed for 20 hours. They slept outside in cardboard boxes and carried their belongings with them wherever they went. They also took part in a poverty simulation coordinated through North Fulton Community Charities to learn how families make ends meet for a month with limited resources, using the mechanisms in place for assistance.
"We wanted them to become aware of how big the issue of hunger is in the world. We talked about our brothers and sisters in developing nations who struggle with hunger, clean water and lack of opportunity," said Renkes. "We discussed Catholic social teaching and how we as Catholic Christians are called to respond."
They advocated as citizens by writing letters to the president and congressional representatives requesting funding for programs that will support helping those in need. Several prayer experiences focused on hunger and homelessness throughout the night.
The campers raised awareness and funds for the poorest of the poor. They accomplished both, by being witnesses on Sunday morning and raising almost $12,000. Their efforts supported the parish St. Vincent de Paul Society, North Fulton Community Charities and Catholic Relief Services.
"It is our hope, that somewhere in the world, someone will go to bed without the pain of hunger and that we provided a little help along the way," said Renkes.