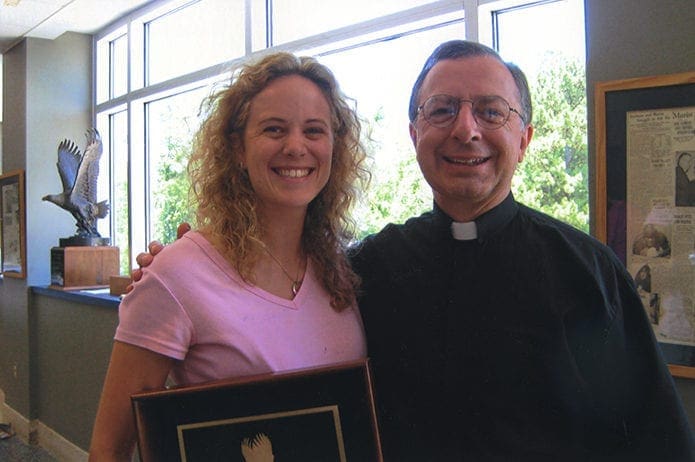 By NICHOLE GOLDEN, Staff Writer
|

Published April 20, 2018

ATLANTA—The teachers of Marist School, Atlanta, know firsthand the qualities that longtime school administrator Bishop Joel M. Konzen, SM, brings to his work.

In 2015, then-principal Konzen earned the Educational Excellence Award from the National Catholic Educational Association. He was one of seven award recipients nationwide, selected from more than 100,000 educators serving in U.S. Catholic secondary schools. The award honors educators who have made significant contributions in a variety of roles. A coeducational independent Catholic school, Marist serves 1,100 students in seventh through 12th grade. It is the oldest Catholic secondary school in metro Atlanta.

Bishop Konzen helped start the Reach for Excellence program at Marist. The program helps underserved middle school students in public schools to be successful in college preparatory schools.

Karen Dessables, director of Reach for Excellence at Marist, said that sadness was her first reaction when she learned Pope Francis had appointed her colleague as an auxiliary bishop for the Archdiocese of Atlanta.

"I will miss his eloquent sermons and expertly placed humor at school Masses and events," said Dessables. "The blessing for the Archdiocese of Atlanta is that Bishop Konzen will now enrich more lives, the entire Catholic community, the way he has for the Marist community for so many years."

Reach for Excellence was launched in 2001 as Marist School celebrated its centennial anniversary.

Dessables said the bishop was instrumental in the program's creation.

"He and a group of Marists visited High Jump at the Latin School in Chicago to get a better understanding of what Reach for Excellence could be modeled after," she said.

True to the Marist mission of meeting the need for dignity for all, Reach for Excellence provides tuition-free academic and leadership enrichment programs for youth with limited financial resources.

"Reach for Excellence scholars are determined youngsters who commit to three years of Saturday classes and three summer sessions to prepare them for success in college preparatory programs or schools of their choice," she explained.

Reach for Excellence is preparing for its 18th summer session. More than 350 young people have successfully completed the program.
Remarkable concern for others
Marist science teacher Kelly Mandy has known Bishop Konzen since 2000, when he hired her fresh out of college at 22 years old.
Mandy called him an "amazing guiding force" to have as leader of faculty.
"He was also someone who you knew you could turn to in times of hardship as well as times of joy," she said. "He had high expectations that everyone did their best to meet, but also had a gentle demeanor that put you at ease."
When the appointment was announced Feb. 5, Marist Father William Rowland, president of Marist School, called it an "indisputable gain for the people of the Archdiocese of Atlanta."
"In many ways, Father Konzen's commitment to Catholic education, his fidelity to the mission of the Society of Mary, and his many positive personal qualities have readied him, thanks to God's guiding hand, to serve the Church in Atlanta as bishop," said Father Rowland in the official statement.
Theology teacher David Donahue said Father Konzen inspired an environment of dedication to the faith and excellence of scholarship.
"It is an environment of professional friendship, each helping the other achieve the goals of Marist for each of its students," said Donahue, who has known the new bishop professionally for more than 11 years.
He said that Mary was the example all faculty members were urged to use, perhaps most importantly in being an instrument of divine mercy. Donahue said the longtime school principal was open-minded to new ideas that benefited students and teachers. While Father Konzen didn't always implement practices presented, he always gave them an honest listen, said Donahue.
One gift of the bishop's is his personal caring demonstrated by knowing everyone's whole name, he said.
"If you mentioned a teacher or student from years gone by or the present student body, he would always say 'that's Billy Smith, graduated in '98, working in New York as a stock broker.' Or in the case of the present students, he would say 'that's Billy Smith, struggling a bit with his math.' His care for the other person was and is amazing," said Donahue.
The teacher said Bishop Konzen will be great in the new role because of closeness to people, listening skills and the consultative nature fostered by the Society of Mary, but most of all for "his love of God and his dedication to bring Christ to everyone."