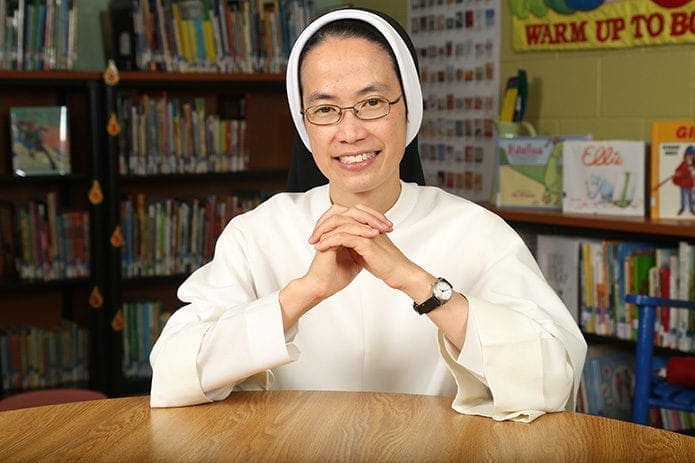 By PRISCILLA GREEAR, Special to the Bulletin
|

Published March 9, 2018

|

En Español

KENNESAW—Founded in 1860, the Nashville Dominican Sisters of St. Cecilia have staffed St. Catherine of Siena School in Kennesaw since 2004. Sisters live in close community, attending Mass together, eating and praying the rosary together plus morning, afternoon and evening prayer.

"Because of my religious vows, my consecration, everything I do is done first of all out of love for God so I think it gives me the joy of knowing everything I do has eternal meaning and value," said principal Sister Mary Jacinta. "Not that laypersons can't do that but in having made my religious vows that dedication is guaranteed even when I'm having a bad day … So that brings an incredible degree of peace and enthusiasm."

Sister Mary Jacinta, 42, has served six years at the school and 22 years as a religious. She grew up in British Columbia and was referred to the order by a priest friend. She followed her heart's desire and headed to the order's Nashville motherhouse, where sisters undergo four years of formation. And while as a teen she enjoyed fashion magazines, her long white habit with black veil is now her treasured wedding gown.

The order draws between 12 and 20 women each year with an age limit of 30. Many are drawn to their teaching vocation and most work in Catholic schools.

"We are in a world very hungry for truth right now. I think God raises communities at different times to address the needs of the world," she said. "Our order was founded precisely to preach God's word and truth."

They are also faithful to church tradition, she noted. She said their orthodoxy, their radical witness to God and their full embrace of vows draws the interest of other young women.

"Many young people want to live a radical life, they don't want something watered down," she said. She believes that the example they give—"a very traditional religious life with full habit and vows of poverty"—inspires other young adults to give their all.