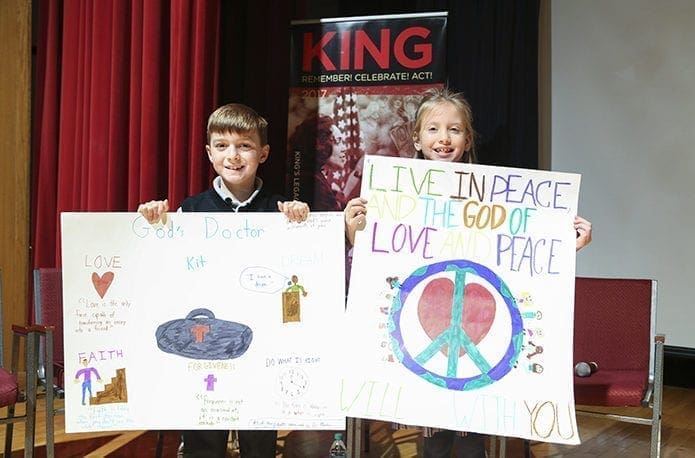 By ANDREW NELSON, Staff Writer
|

Published January 25, 2018

ATLANTA—Two Catholic school students were recognized Jan. 9 at The King Center for Nonviolent Social Change, Atlanta, for their artwork depicting the legacy of Rev. Dr. Martin Luther King Jr.

Tinsley Lutz, from St. Thomas More School, Decatur, and Grant Crunk, from St. Jude the Apostle School, Sandy Springs, created colorful art that will be preserved in the archives of The King Center.

Tinsley, who is 7 and in the second grade, attended the ceremony, with her mother, Mary Helen, and father, Jay Lutz. Her older sister, Addie, came to support her. Her art teacher is Cate Miller, and her classroom teacher is Margaret Becsi.

She filled a poster board with a colorful drawing of a peace sign and a heart. Tinsley's message was, "You should always be nice to people, you should love everyone."

To be of service to people as King advocated, she has joined others to make food bags for people in need.

Grant, 7, is also a second-grade student. He was inspired by learning how the civil rights leader was a doctor of theology, not of medicine. That gave him an idea to create "God's Doctor kit" that used different quotes from King's speeches and writings to illustrate values like love, faith and dreams.

Grant attended with his parents, Ashley and Keith Crunk, and sister, Grace. His art teacher is Debbie Molnar and classroom teacher, Lisa Wenke.

Grant toured the King historical site, visiting the leader's childhood home and Ebenezer Baptist Church to learn more about him. Grant's family emphasizes not to judge people on appearances, but on how they treat others.

The King Center is a nonprofit founded in 1968 following his assassination. Its purpose is to promote and train people on the life, legacy and teachings of King.