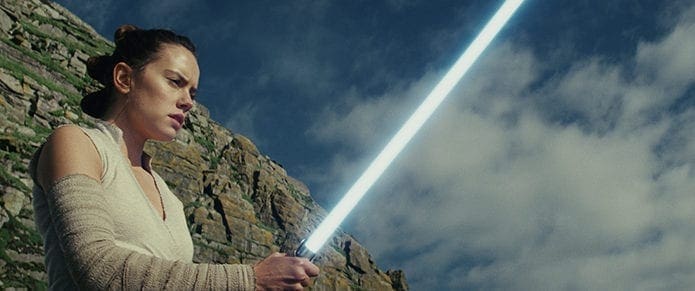 By JOHN MULDERIG, Catholic News Service
|

Published December 21, 2017

NEW YORK (CNS)—Despite the high price of a movie ticket these days, patrons are unlikely to come away from a showing of the engrossing sci-fi epic "Star Wars: The Last Jedi" (Disney) feeling shortchanged.

Vast in scale and operatic in intensity, this 152-minute visit to that galaxy far, far away is both satisfying and, for the most part, family-friendly.

With the mayhem inevitable in a movie about a war kept gore-free and only minor blemishes on the dialogue, parents may be more concerned about the nonscriptural notions centering on the famous Force that are here collectively referred to as the "Jedi religion." Teens able to take this fictional faith, a sort of dime-store Taoism, as just one more element in a fantasy world will benefit from lessons about the value of hope and the true nature of heroism.

The "Star Wars" saga has often been characterized as the Iliad of contemporary culture. So perhaps it's fitting that the opening of writer-director Rian Johnson's eighth episode of the narrative initiated by George Lucas in 1977 finds Luke Skywalker (Mark Hamill) imitating Homer's Achilles by holding aloof from the great struggle in which he once took an active part.

Rather than sulking in his tent, as Achilles did, Luke is leading a solitary life of self-imposed exile among the small stone huts of a distant planet. (These scenes were shot on the Irish island of Skellig Michael, site of a medieval monastery.) His isolation is interrupted by the arrival of Rey (Daisy Ridley) who has come as a messenger from Luke's twin sister, Leia (the late Carrie Fisher).

As the leading general of the embattled Resistance—the latter-day version of the Rebel Alliance for which Luke once fought—Leia urgently needs her brother's famed skills as a warrior if the struggle against the fascistic First Order (successor to the evil Galactic Empire), and its malignant leader, Snoke (Andy Serkis), is to continue.

Luke refuses to join the conflict. But he does agree to train Rey in the ways of the Force. Rey will need the power of this mysterious spiritual energy, the source of Luke's own prowess, when she eventually confronts Leia's son, Ben Solo, aka Kylo Ren (Adam Driver).

Originally a good person, Ben has gone over to the side of darkness, and now serves as Snoke's chief lieutenant. Even so, he still has some elements of good remaining in him, and his ongoing moral struggle has the potential to sway the outcome of the intergalactic battle.

Though it gets off to a slow start, once it hits its stride "The Last Jedi" sweeps viewers along with stirring action and audience-pleasing plot twists. While not as taut as last year's "Rogue One: A Star Wars Story," this sprawling installment of the great franchise makes, in the end, for a more memorable experience.

The script's portrayal of the Force as capable of endowing those who cultivate it either with goodness or iniquity may strike moviegoers of faith as establishing a false equivalence of power between these two poles of morality. Some may even see in this an implicit denial of the rule of divine providence and God's ultimate supremacy over sin.

Yet, in keeping with a Christian worldview, characters do make their ethical choices more or less freely. And the idea that a change in basic identity should be reflected by a change of name echoes a recurring trope in Scripture—and in the church's sacramental practice.

Audience members young or old are unlikely to spend much time meditating on these aspects of the picture, however. Instead, they'll be content to ride this cinematic whirlwind while it lasts, and leave its mythos behind them like so much popcorn on the theater floor.

The film contains frequent but bloodless combat violence, a scene of torture, a couple of mild oaths and a few crass terms. The Catholic News Service classification is A-II—adults and adolescents. The Motion Picture Association of America rating is PG-13—parents strongly cautioned. Some material may be inappropriate for children under 13.
"The Greatest Showman" (Fox)
NEW YORK (CNS)—The life of pop entertainment pioneer P.T. Barnum provides the subject matter for the big, brash musical "The Greatest Showman" (Fox).
Ironically, the film arrives in theaters almost seven months to the day after the demise of the 19th-century impresario's most lasting legacy, the Ringling Bros. and Barnum & Bailey Circus.
Though unlikely to engage the youngest viewers, an emphasis on marital fidelity and family values in general, together with the virtual absence of objectionable material, makes this screen biography appropriate for most others. Moviegoers' appreciation of it, however, will likely depend on their taste for the Lloyd-Webber style of Broadway and West End theater, whose approach it imitates.
Hugh Jackman leads with his chin in playing Barnum with bring-on-the-lions enthusiasm. Jenny Bicks and Bill Condon's script, meanwhile, traces its protagonist's rise from impoverished beginnings to worldwide fame with the kind of occasionally challenged, but ultimately unquenchable, optimism that might have appealed to novelist Horatio Alger.
Barnum gains support in his ascent from his childhood sweetheart, Charity (Michelle Williams), who eventually turns her back on her wealthy and well-bred parents to marry him. Also shunning a genteel background to bolster Barnum's career is his unlikely business partner, New York socialite Phillip Carlyle (Zac Efron).
Assembling an ensemble of such unusual figures as Lettie Lutz, aka the Bearded Lady (Keala Settle) and dwarf "General," Tom Thumb (Sam Humphrey), Barnum turns a large profit by exciting the curiosity of the masses. Tensions arise, though, when he shifts his focus away from these loyal performers and friends to concentrate on backing the American premiere of Swedish diva Jenny Lind (Rebecca Ferguson).
Barnum risks his fortune in the effort to promote Lind, hoping thereby to gain the elite standing that has previously eluded him. The fact that this breakthrough may require him to shun those on whom he has built his success fails, initially at least, to deter him.
He is equally blind to the danger his absence on the road with Lind poses to his bond with Charity and their children—not to mention the foreseeable temptation arising from the beautiful soprano's prolonged company.
There is an implicitly pro-life message underlying director Michael Gracey's feature debut since its treatment of the social outsiders with whom Barnum surrounded himself strongly vindicates their inherent dignity and entitlement to respect. The picture's portrayal of Carlyle's convention-defying romance with African-American trapeze artist Anne Wheeler (Zendaya) is equally in line with Christian morals.
Both these aspects of the plot, however, betray historical naivete in projecting a contemporary outlook backward onto Victorian-era America. The audience is left with the impression that all the gaping inequalities of Barnum's day might easily have been effaced by a few brassy songs delivered with the requisite zest.
Still, parents on the lookout for wholesome holiday fare will probably refrain from such nitpicking as, perhaps with teens in tow, they take in a love and success story that's old-fashioned in the best sense.
The film contains some nonlethal violence, a mild oath and a racial slur. The Catholic News Service classification is A-II—adults and adolescents. The Motion Picture Association of America rating is PG—parental guidance suggested. Some material may not be suitable for children.
"Ferdinand" (Fox)
Good values help to redeem a somewhat padded plot in this animated adaptation of Munro Leaf and Robert Lawson's 1936 children's classic "The Story of Ferdinand," directed by Carlos Saldanha. Escaping the confines of the stable in which he and other bulls are prepared for their fateful confrontation with a matador, the peace-loving protagonist of the title (voice of John Cena), who prefers smelling flowers to locking horns, is adopted as a pet by an affectionate and growing girl (voices of Julia Saldanha and Lily Day). But a misunderstanding sets him back on the path to the bullring where his commitment to nonviolence will be put to the ultimate test. Lively secondary characters (the most prominent voiced by Kate McKinnon) and charming pastoral landscapes surround a theme that all those who base their ethics on the Gospel, and parents in particular, will find congenial. Scenes of peril, some mildly irreverent humor, a vague scatological reference, one slightly crass expression. The Catholic News Service classification is A-I—general patronage. The Motion Picture Association of America rating is PG—parental guidance suggested. Some material may not be suitable for children.
"Pitch Perfect 3" (Universal)
Discordant and exceedingly unfunny musical comedy, directed by Trish Sie. The members of an award-winning a capella singing group (Anna Kendrick, Brittany Snow, Rebel Wilson and Anna Camp, among others) have graduated from college and entered the real world. Job prospects are slim, and they long to reunite and sing again. A USO tour offers that chance, and a silly romp through military bases in four countries ensues. The tour is also a competition to become the opening act for hip-hop artist DJ Khaled (playing himself), the contest filmed as a documentary by a duo who judged the ensemble in a previous tournament (Elizabeth Banks and John Michael Higgins). Although the film reunites the cast of the 2012 kickoff and 2015 sequel, and features the expected toe-tapping tunes and lowbrow humor, it lacks originality and runs out of steam well before the end credits roll. An out-of-wedlock pregnancy, vulgar humor, sexual banter, a couple of crude terms. The Catholic News Service classification is A-III—adults. The Motion Picture Association of America rating is PG-13—parents strongly cautioned. Some material may be inappropriate for children under 13.