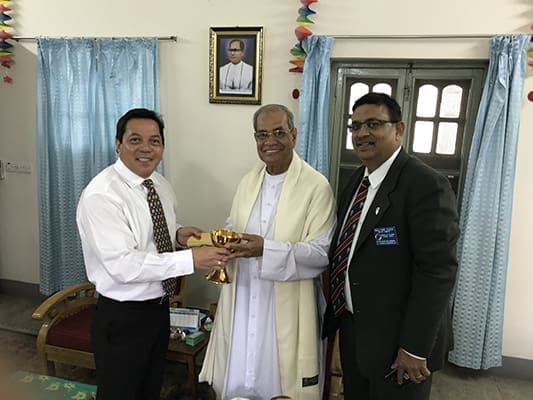 By NICHOLE GOLDEN, Staff Writer
|

Published December 21, 2017

ATLANTA–Catholics make up less than a quarter of one percent of Bangladesh's population of 163 million, yet they have "tremendous joy," said Donald "Danny" Sequeira, parishioner of St. Patrick Church, Norcross.

Sequeira and Deacon Rick Medina, CEO of Catholic World Mission in Roswell, made a pilgrimage to Bangladesh coinciding with Pope Francis's trip to the Asian country Nov. 30-Dec. 2.

At the invitation of the Archbishop of Dhaka, Bangladesh, Cardinal Patrick D'Rozario, the two Georgians visited Bangladesh from Nov. 29-Dec. 5.

"The whole trip to Bangladesh was truly a work of the Holy Spirit," said Sequeira.

He and wife Sharon are first-generation immigrants from India, having moved to the U.S. more than 25 years ago.

They focus on the importance of the universal church, particularly the church in Asia. For the last five years, the Sequeiras have organized a commemoration of India's Independence Day on the Feast of the Assumption, Aug. 15, at different parishes in the archdiocese.

Last year, Sequeira took a mission trip to India and Sri Lanka. India native Missionary of St. Francis de Sales Father Joe Mendes, parochial vicar at St. Marguerite d'Youville Church in Lawrenceville, encouraged the trip to Bangladesh.

"He kept goading us. He's the real reason," said Sequeira.

Although he had never thought of visiting Bangladesh, businessman Sequeira began looking forward to seeing how the minority Catholic population was thriving in a predominantly Muslim nation.

Security was tight for the papal visit, and the Georgia duo stayed at the same hotel in Dhaka as many of the visiting cardinals and bishops, who celebrated Mass daily for them.

While Sequeira and Deacon Medina did not meet Pope Francis, they came close and attended several papal events. They even climbed in the Popemobile and papal rickshaw after the Holy Father left events.

Pope Francis ordained 16 men to the priesthood at a Mass in Dhaka's Suhrawardy Udyan Park.

Deacon Medina and Sequeira were able to meet with the men before their ordination.

"They were really excited to get going," said Deacon Medina, who serves at All Saints Church in Dunwoody.

On behalf of Atlanta Knights of Columbus Councils, the deacon and Sequeira presented two chalices and patens to Cardinal D'Rozario.

"I wish we could've presented 16 chalices," said Medina, thinking of the newly ordained priests.

It is "important to support the priests there," emphasized Sequeira. "No priests, no sacraments."

While the Holy Father spoke in Italian during his trip, a priest kindly translated for Deacon Medina and Sequeira.

The theme for the papal trip was "Harmony and Peace." Sequeira said Bangladesh is an embodiment of all the world's religions peacefully co-existing.

A call to care for others

At the beginning of his trip, the pope urged the international community to take decisive measures to resolve political issues that have caused the mass exodus of Rohingya Muslims in Myanmar's Rakhine State.

"I was so impressed by the Holy Father's determination to bring focus to the least of our brethren and push for an immediate solution to rid them of their persecution," said Sequeira. "It did not matter to Pope Francis that they were of a different religion. He truly saw the image of God in them."

Pope Francis thanked the nation of Bangladesh for welcoming the refugees and later met 16 Rohingya who traveled from Cox's Bazar, where camps are overflowing with more than 620,000 Rohingya who have fled violence in Myanmar. He listened to each of them share their experiences and asked for forgiveness for the world's indifference.

"That was such a touching moment," recalled Deacon Medina. "It's a heartbreaking situation."

Pope Francis asked the bishops of Bangladesh to show greater pastoral closeness to the lay faithful.

"A lot of work is done there by the laity," explained Sequeira.

He said the church there has 12 bishops, 372 priests, 1,500 catechists and almost as many lay missionaries. The laity has been responsible for constructing the Catholic schools and hospitals in Bangladesh.

The Catholic faith is strong on the Indian subcontinent.

"We can learn a lot from the church in Asia," said Sequeira. "It is alive. You see the face of Christ in the poor."

"A whole lot more"

Sequeira, who is already planning a mission trip to neighboring India next year, said the people of Bangladesh were happy to have them visit.

"They realized we in America care," he said.

One of the highlights for the visit for both men was visit to an orphanage, run by indigenous sisters, on the last day.

Sister Mary Bijoya met Deacon Medina and asked, "Could you please just visit our orphan children?"

"I was trying to come up with an excuse," he admitted.

Deacon Medina decided to go and visit and began asking the girls what they wanted for Christmas.

His question was met with silence, and then one girl replied, "I'd like to learn a new Christmas song for Jesus."

A gift was a foreign concept for these orphans.

"They've never had that for Christmas," Sister Mary Bijoya told the visitors.

"They are things we take for granted," said the deacon.

On behalf of Catholic World Mission, Deacon Medina promised to support a Christmas lunch for the 150 children and staff members of the orphanage in addition to providing the girls with new dresses. The meal will include two types of meat, which is a luxury.

"I got more than I bargained for," he said.

"My heart went out to the orphans there," said Sequeira. "They're going to get a nice, splendid Christmas meal."

Deacon Medina said he thought seeing the pope would be the focus of the trip, and while that was exciting, "it turned out to be a whole lot more."

The deacon had discussions with some of the local bishops to see how Catholic World Mission could assist in seminarian support and support of their missionary diocese in spreading the Good News. Catholic World Mission presented a check for $10,000 to Cardinal D'Rozario on behalf of benefactors to assist the church in Bangladesh.

"Over there … I call them missionary bishops. They live with the people."

When Deacon Medina came on board at CWM five years ago, the organization was only serving in Mexico. It now works to build the church and help the poor in more than 30 countries.

"We should never be afraid to say, 'what can I do?' We've seen miracle upon miracle."

CWM has seen amazing growth in that five-year span.

"It is a privilege, an honor and a blessing to be able to work with so many dedicated cardinals, bishops, priests, missionary priests and sisters and lay people who have dedicated their lives to help the poor, and the marginalized, especially women and children, and are ensuring they receive the message of love and hope of our Savior, Jesus Christ," he said.
---
For information on Catholic World Mission visit www.catholicworldmission.org.