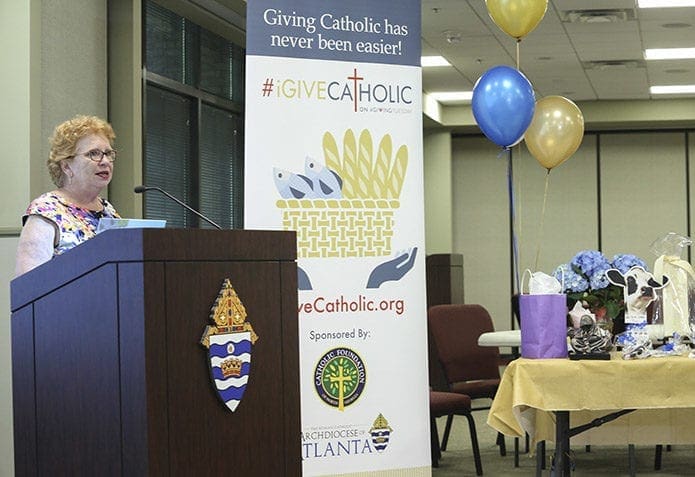 By ANDREW NELSON, Staff Writer
|

Published November 27, 2017

ATLANTA—Donors in the Archdiocese of Atlanta are opening their wallets for the #iGiveCatholic fundraising campaign, which offers a new way to support local Catholic parishes, schools and organizations.

Some $21,000 was raised for ministries during the first week of the early bird giving preceding the campaign's official start. Atlanta contributions made up about 29 percent of the total $73,000 raised nationally in the early stages of the campaign.

According to its website, #iGiveCatholic is a rallying of the Catholic community during 24 hours of donating on #GivingTuesday, Nov. 28—a global day of giving. Donors can make tax-deductible donations to their parish, alma mater and favorite ministries.

Throughout the daylong campaign, people can go to igivecatholic.org and select a specific ministry listed to make a financial contribution with a credit card. Look for Archdiocese of Atlanta at the top of the groups listed (on igivecatholic.org), and click to visit the Atlanta groups participating.

The home page includes "leaderboards" to show viewers how their favorite ministries are doing and encourage others to contribute.

The national goal is to raise $3.5 million for 17 participating dioceses.

In Atlanta, 66 parishes, schools and ministries are participating in the event.

Nancy Coveny, executive director of the Catholic Foundation of North Georgia, said the local goal is to raise $200,000 for the participating nonprofits. Coveny said the effort already surpassed its first goal, which was to enlist more than 50 organizations in the first year.

Archbishop Wilton D. Gregory said in a statement that this campaign offers people a chance to draw people closer to each other and God.

"At this time of year especially we give thanks for the many blessings in our lives. Among the things for which I'm grateful this and every year is the generous support of our Catholic community for our parishes, Catholic schools and the many ministries that serve us so well," he said.

Each of the participating nonprofits has identified particular needs for their fundraising, described on their individual #iGiveCatholic webpages.

At St. Philip Benizi Church, Jonesboro, the parish wants to replace its playground, used by young people from the community, pre-kindergarten students and families waiting in line at the parish food pantry. The parish's goal is $50,000.

Catholic students at Kennesaw State University set a goal of $10,000 to update its nearly 20-year-old ministry house. The money would pay for additional benches in its chapel to accommodate more people attending Mass, replace rotting wooden deck supports and make interior upgrades.

Our Lady of Assumption School, Atlanta, hopes people support its plans for a state of the art technology lab for the 534-student school. The goal is to raise $10,000 for 3-D printers, computers and software to make the lab work. It will be a teaching tool for all students.

Gayle Delmonte, development director, said this is the school's first time with an online giving campaign.

"We'll be able to reach Catholics all over. We're hoping to encourage new donors," she said.

There's excitement about encouraging Catholics to give to ministries important to the church, while people donate to #GivingTuesday, said Delmonte.

"It's all wrapped up nicely at this time of year," she said.

#iGiveCatholic is sponsored in the archdiocese by Atlanta Consulting Group (presenting sponsor), the Catholic Foundation of North Georgia (lead sponsor) and by Georgia United Credit Union and MAI Consulting (supporting sponsors).

A goal for the campaign is to encourage new donors to engage with Catholic ministries. Early numbers show 47 percent of givers are first-time donors to the ministry.

The advanced giving period ended Nov. 26.